Intramural sports have long played an important but under-recognized role down through the years in the Oakland City College/University culture. When the college started to see increases its enrollment in the early 1950s, and veterans were returning on the GI Bill in large numbers, there was a call for more organized physical activities, especially activities connected to sports. At that time the only major sports activity for students involved playing at the tennis courts in the middle of the campus. Here, both men and women played during class breaks, after classes were over for the day, and on weekends.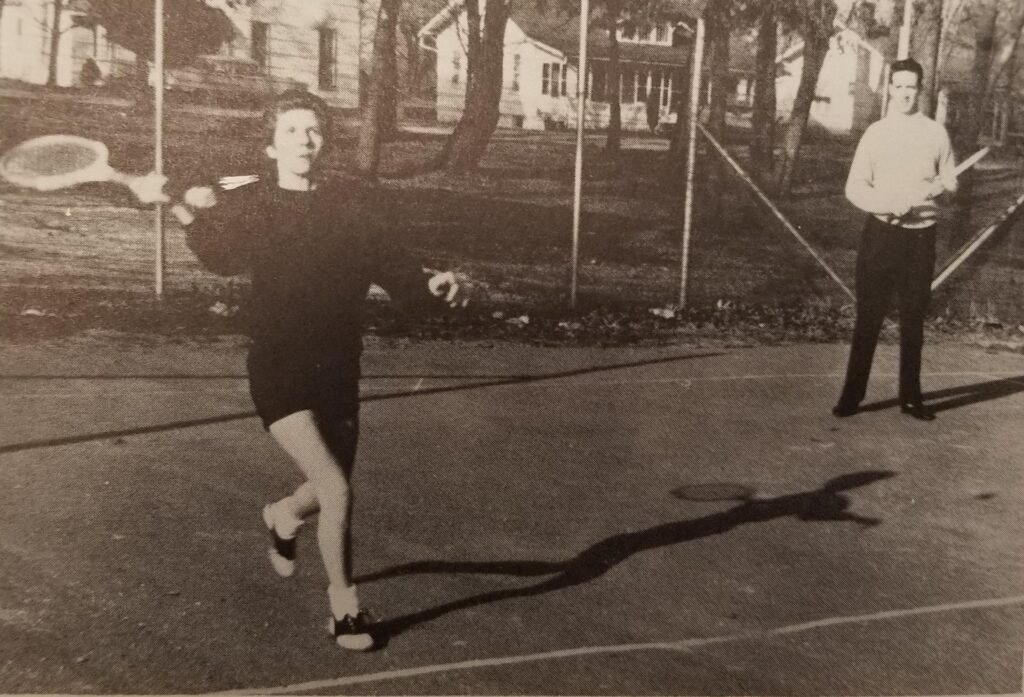 The first effort to establish an intramural program, however, was not made until the late fall of 1956 when an intramural basketball league was created. OCC was, according to the school's newspaper, "bursting at the seams and with so many on campus, there were enough folks to create several teams. Boredom was another issue driving the creation of this league. Few students had cars in those days, and basketball, the OCC administration believed, would be seen as something of interest to do, whether one was playing or observing. 
The first half of the season, however, did not draw many fans, leading one school reporter for the O. C. Collegiate, Jim Harbison, to write,
Have you attended any of the intramural basketball game sessions on the campus? If you have you are aware that the program is lacking in moral support usually supplied by and expected of spectators. If you haven't been present, you don't know what you are missing. Throughout the first round of play, humorous incidences occurred that prompted the most highly serious participants, coaches, and spectators to respond with laughter. On one occasion, a player appeared on the scene decked out in a pair of blue Bermuda shorts. When put into the game, he got the ball and dribbled wildly down to the other end and scored a basket that knotted the game. He was so winded, however, he had to be taken out for the rest of the game.
The worried reporter went on to ask, "Will the student body participate by enlarging the crowd? Or, will the program die in infancy?"
The problem of poor play and lack of attendance was taken care of in the next session of the basketball intramural season in early 1957 when four teams were created. They were to be better prepared and directed by four selected "coaches": Bob Carnahan and his Comets; Jake Fettinger and his Flashes; John Donoho and his Dodos; and Jarvis Reed's Ramblers. According to the O. C. C. Collegiate, Rex May, Jerry Aydt, and Nick Goble were among the leading scorers in the league that year.

By the late 1950s, regular seasons of intramural basketball and softball were occurring, along with tournament championships. Tennis also remained popular, along with horseshoe pitching contests which took place in the area on the immediate south side of the gym.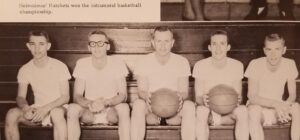 By the late 1960s, flag football and volleyball had been added to the list of intramural sports. The program would continue to evolve and improve, especially when Ron Malin became the director of the program in the 1970s. He took the program to new heights by expanding the team sports, including women's sports, and creating a special banquet and other events to honor teams and individual participants.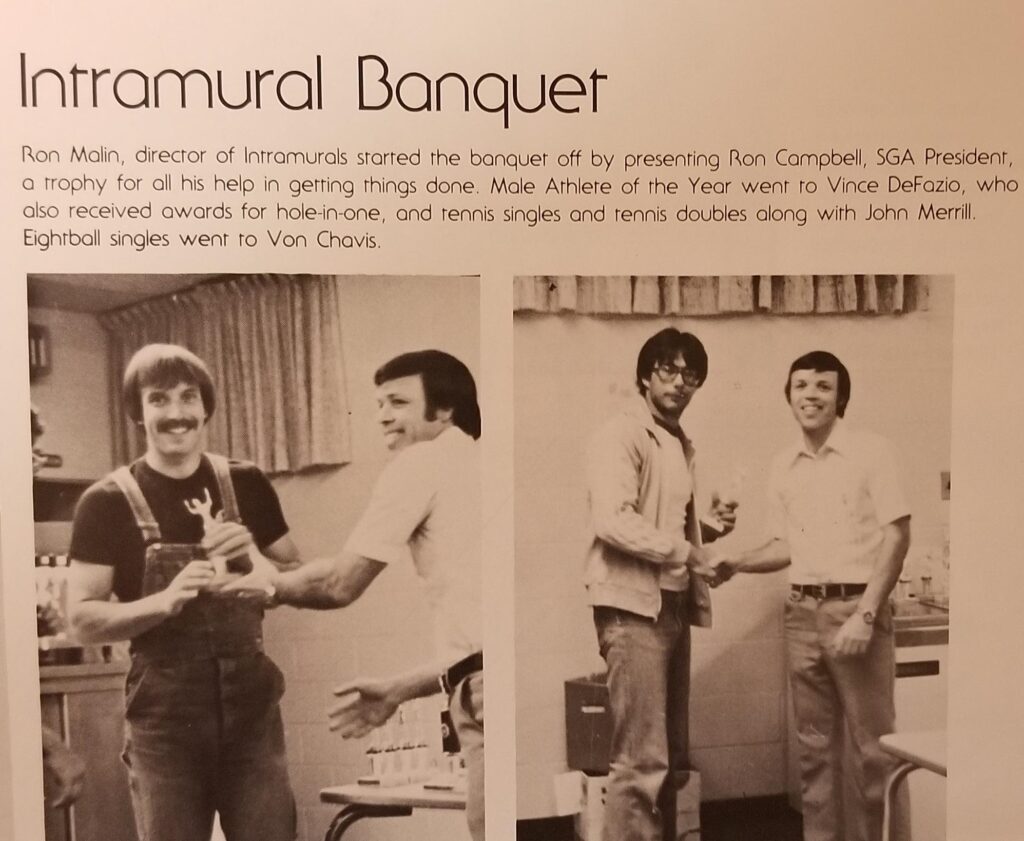 ***************************
My own reckoning with the OCC intramural sport program involved basketball. When I finished my senior year at Bluford High School in the spring of 1969, I thought I had had enough of the game. Although I had played on a team where I enjoyed working together with my fellow teammates, and our small school squad had achieved many successes, including owning the longest winning streak in the southern Illinois region, I was burned out. Playing had not been fun that last year, mostly from the high expectations placed on the team and upon me, to win. I was surprised then, when I arrived at Oakland City College that fall of 1969 as a freshman and found myself eventually becoming excited about the possibility of joining an intramural basketball team. There was a back story.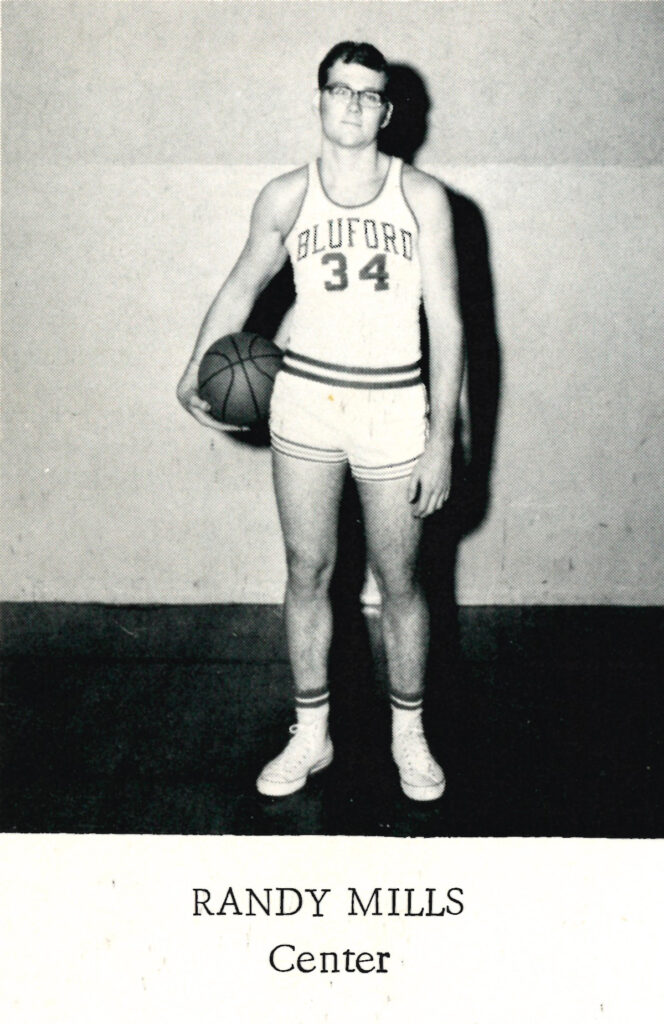 I have never been as homesick as I was those first few months as a freshman at Oakland City College. I spent a lot of time my first few weeks at the college trying to find my classrooms and my way around. Meanwhile, we freshmen had to wear a ridiculous looking little beanie whenever we were outside our dorm rooms for a full month. The sophomore class eagerly enforced the rule, passing out fines, and even meting out a paddling with a thick board for the worst offenders. It was also at this time I began hearing right and left about an annual basketball game called the Battle of the Beanie.
The Battle of the Beanie contest was "a big deal at the college," one older and very pretty OCC coed explained to me after I had asked her what the game was all about as we were leaving a morning history class. If the freshmen won, and they rarely did, she went on to explain, they could put away the ugly little green beanies early.
When I made a face at the mention of the beanies, she smiled and said, "Wearing a beanie is a very important college tradition here." Then she playfully tugged at the beanie I wore.
Did I mention she had really blue eyes?
I quickly went to check and see how a freshman like myself might join the freshman "beanie" team. To say I was very disappointed to discover the team had already been selected would have been an understatement.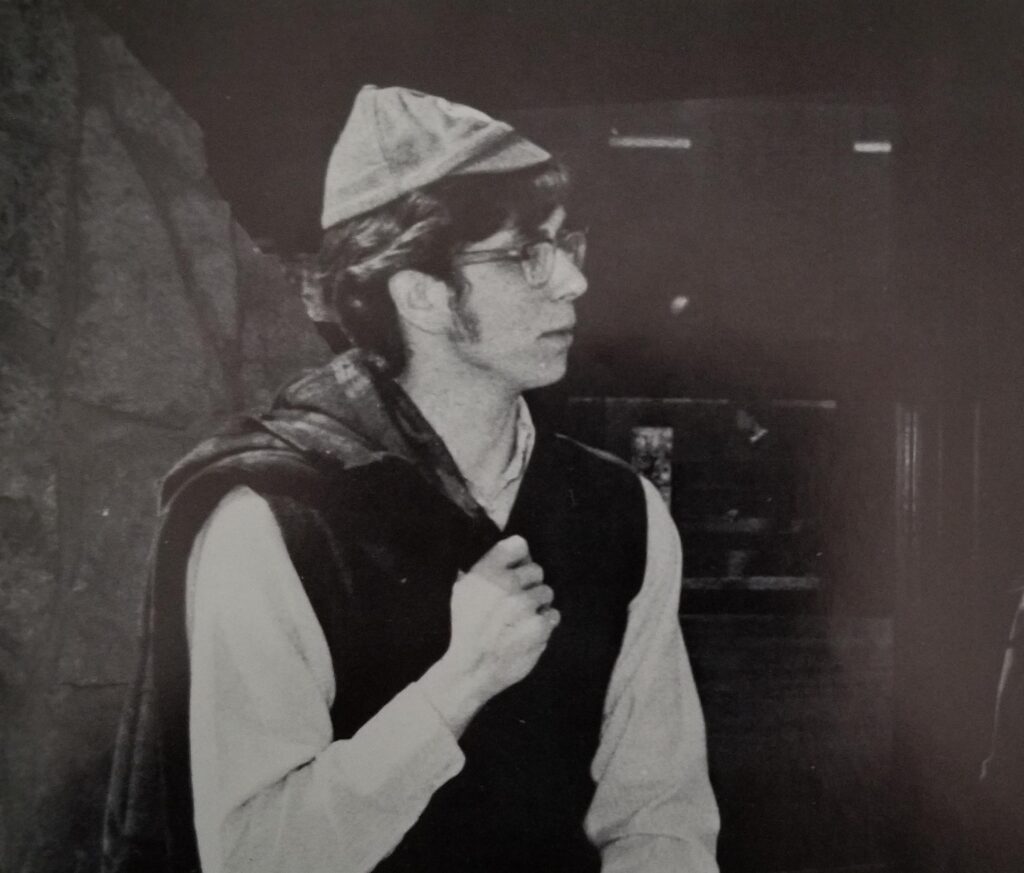 In October, I sat in the bleachers of the college's ancient "Cow Palace" gymnasium and watched a team of sophomores beat a team of my fellow freshmen in the "Beanie Battle." Watching the game brought back memories of what I had liked about playing basketball while in high school and I was also able to see what some of the upperclass athletes were like. I thought to myself, "I can play with these guys in intramural games."
Something else also pushed me towards playing.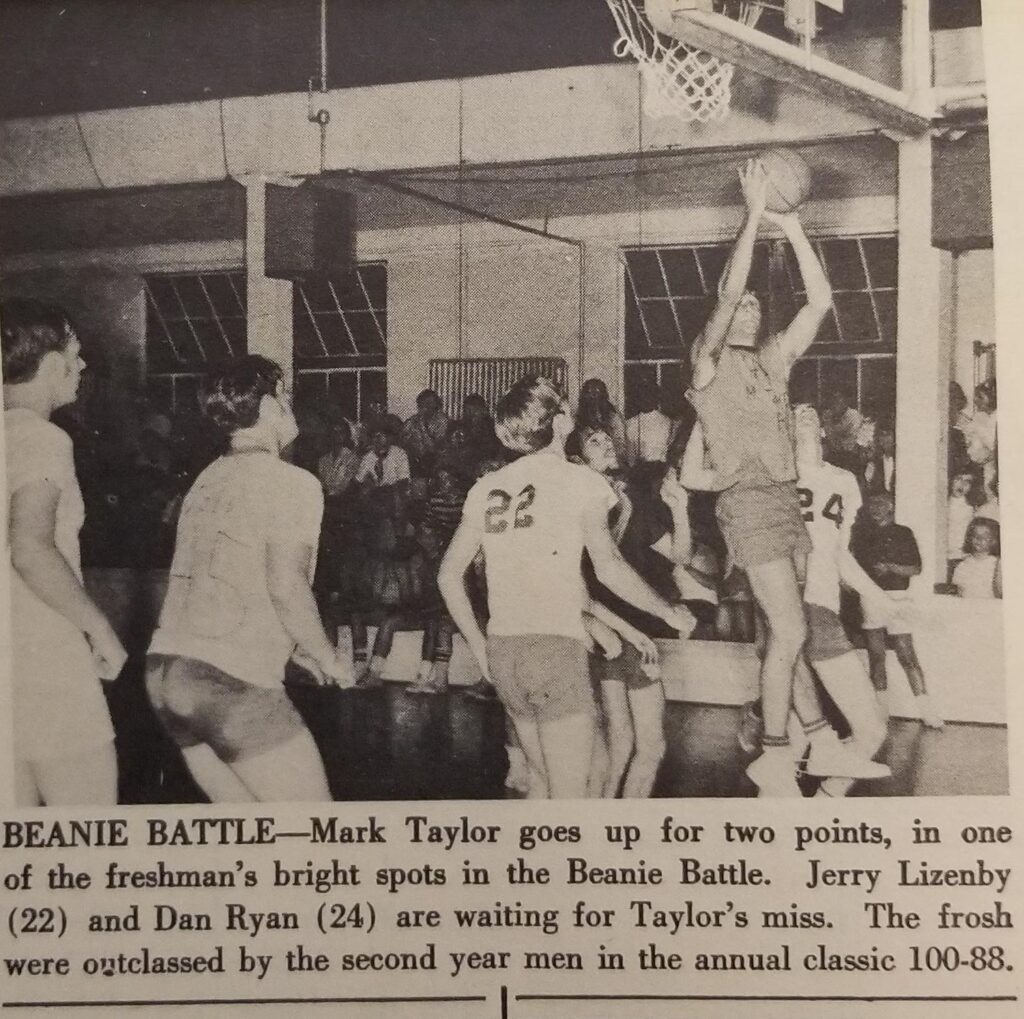 The college newspaper, the O. C. Collegiate, announced the upcoming intramural basketball season in early December of 1970 in an very exciting manner, noting, "The sweet sound of basketball fans love to hear, that of leather smacking on hardwood, can now be heard at nights in the local 'cow palace.' Yes, sports fans, that fatal disease is once again sweeping across Indiana. The intramural version of 'Hoosier Hysteria' can be caught most nights in the OCC replica of the Astrodome."
After reading this article in the Oaks sandwich shop one morning before going to class, I realized I still had not gotten basketball out of my system. I decided then to find a way to get on one of the intramural teams, thinking in the back of my head that maybe the coed with the blues eyes might come to see me play.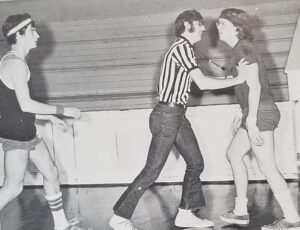 There were several teams organizing, and most of them had upper class men who were good athletes. I would soon discover that fights were not uncommon during intramural games and that playing attire often left much to be desired. Participants played in all sorts of "uniforms," sometimes in cut-off jeans, and at best a team all wore white tee shirts with different team numbers written on the back with a black marker.  In the beginning, I was confident of doing well, coming off that last year in high school where we had won twenty-five games in a row and I had been an important part of the team. I even kept a newspaper clipping in the desk in my dorm room to remind me of how good we were, a clipping where Merle Jones of the Southern Illinoisan, the premiere sportswriter of the region wrote, "Bluford plays with more poise and skill than most big school teams I have seen this year."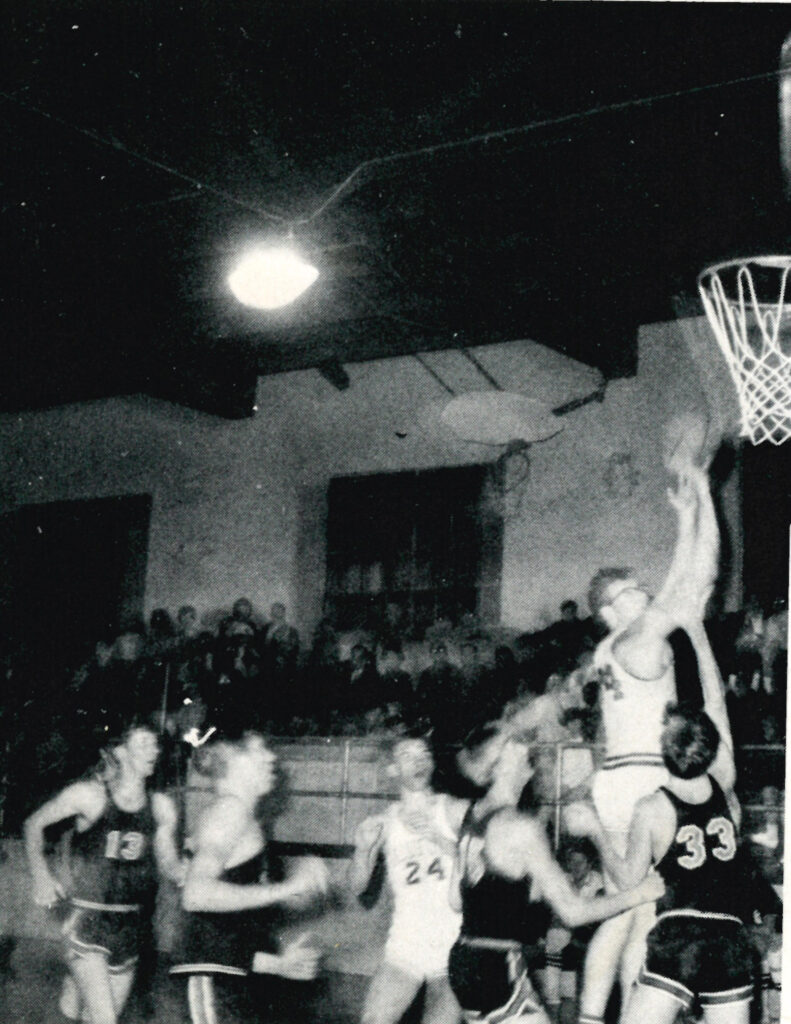 Being a green freshman, I was still unsure about how to get on a team, but that problem was answered like a prayer. Among the groups I hung around with that fall of my college freshman year were the religious study majors, and some of them asked me to join their intramural basketball team called "The Theologs."  I jumped at the chance. As it turned out, they may have been excellent ministers and potential ministers, but if they were praying that we would do well at basketball, their prayers went unanswered. I remember one of the opponent teams had a guy who was a former football player at the University of Tennessee who had flunked out there. He was tall, athletic, and huge.  It was a humbling experience playing against him. If he was Goliath, I was no David. The Theologs team lost every game it played.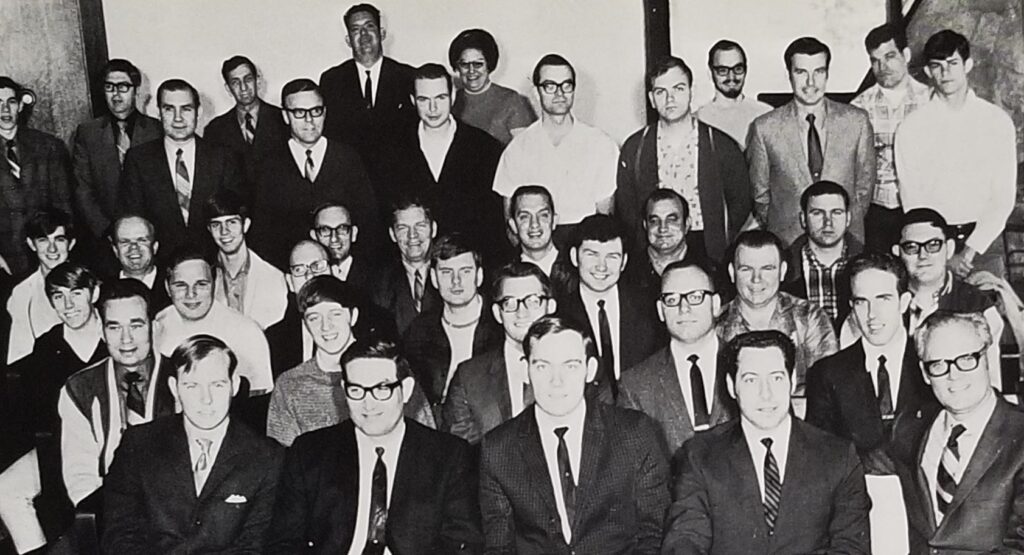 I also discovered that the intramural basketball games I played in my freshman year were not for sissies, and I was surprised too at how often I misjudged some of the guys whom I played against. I assumed one tall lanky opponent was something of a weakling, as he had major roles in some of the plays for the drama department. In the games I played against him, he tore down rebounds and pushed me around like I had never played the game before. Another very overweight opponent on another team walked on my heels an entire game, daring me to fight. For a big heavy guy, he had some moves too. I stood my ground, but my act of being unconcerned about his threats and tauntings, amplified by his beer breath, was more theater than even the drama guy could have produced. 
These were the dues a freshman must pay.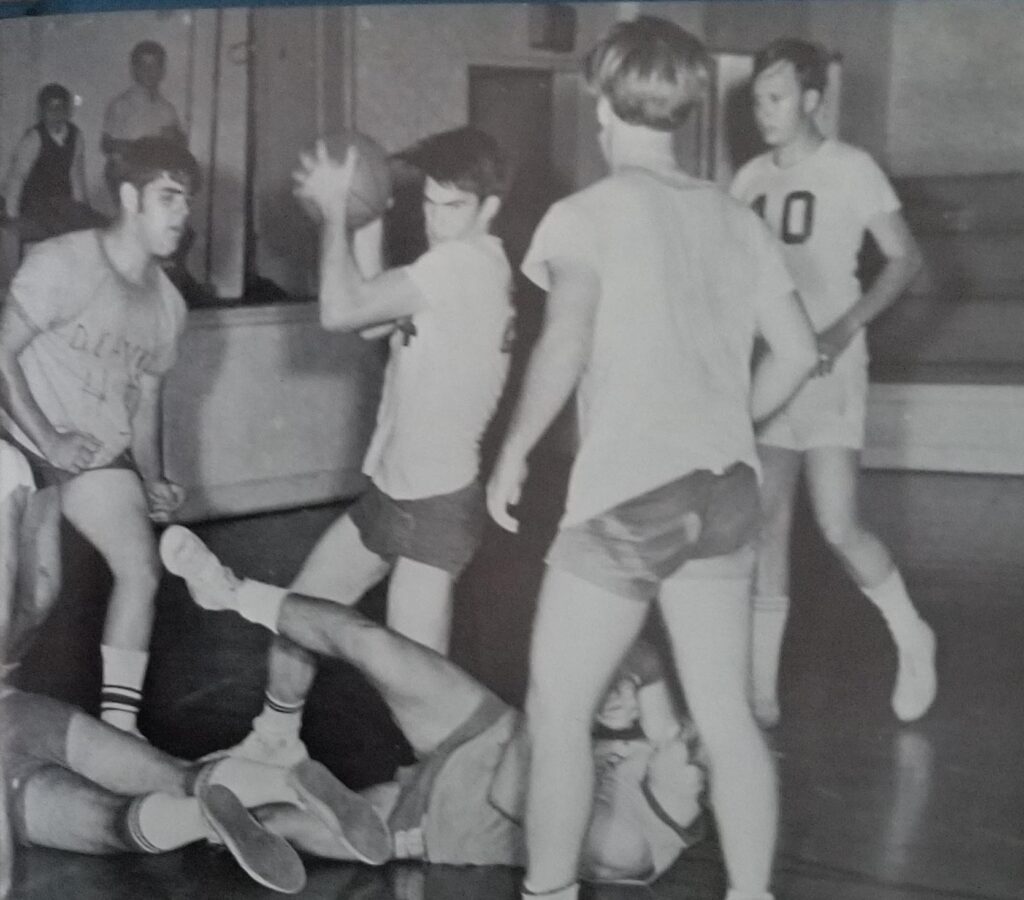 I gained back some of my confidence about my basketball performance after my freshman intramural season finished by playing half court pick-up games almost every evening, and on the weekends in the old gym. In this more relaxed setting of two on two or three on three teams, I played well, developing both an outside shot and a rugged offensive and defensive inside game. As I had in high school, I tore down rebounds and blocked shots with great authority. I even knocked a few upperclassmen down, and when they got up they just went back to playing. One day, an upperclassman even gave me an odd nod of respect, calling me "the bulldozer."
All this gained me a starting spot for the sophomore team in the Battle of the Beanie the next year. I did poorly in the game, however, not scoring a single point. Further, in one of those rare occasions, the sophomore class lost the game! As I recall too, the pretty coed who had explained to me the beanie tradition to begin with never talked to me again.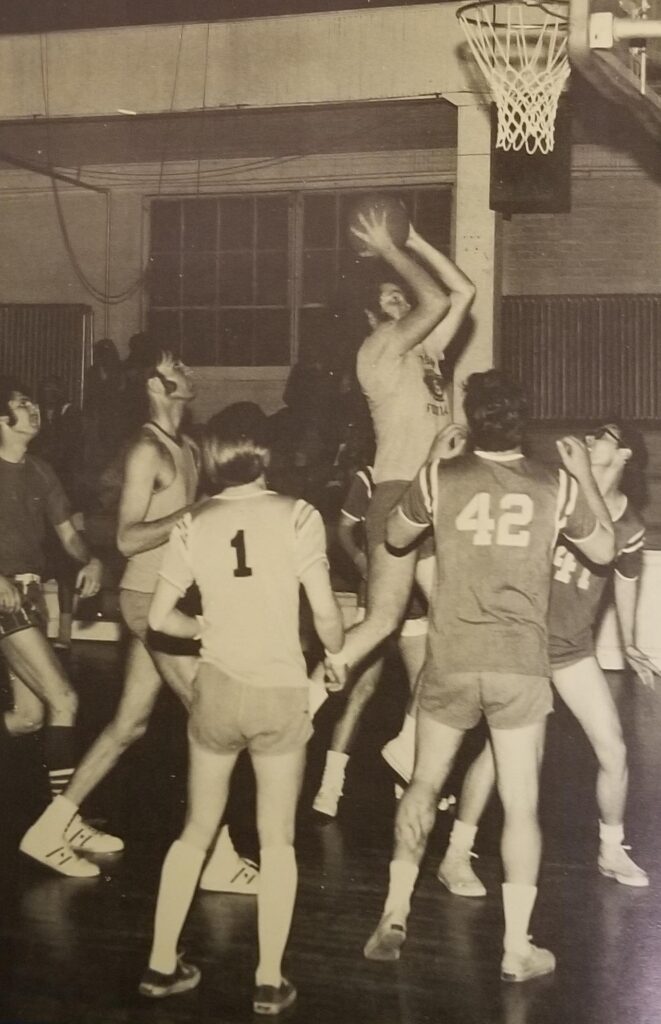 After the Beanie defeat, I quickly put my sense of failure aside and began working on creating my own intramural team with another student. We went after a couple of tall guys, along with a good shooter and ball handler and a few others solid athletes. One of the team members, Larry Leathers, got hold of some older uniforms from his high school so we were clad in completely matching outfits that had the team's name of "Mules" stitched across the fronts of our shirts.
We may have been the team with the best uniforms, but we only won two games that year.
My junior year was more of the same, so bad I do not remember the particulars. Then something happened the fall of my senior year of college that gave me hope I could put together a solid intramural basketball team after all. That event involved me being asked to play on an intramural football team, the PBRs, a team that went undefeated. After the championship game, Lil'Joe Betz, who had also played on my intramural basketball team the year before, came up to me and said, "Mills, basketball's coming up and I'm tired of us getting our butts beat. Let's get together a blow-out basketball team this year." The moniker, blow-out, referred to a team that was so good that they simply blew their competition out of the gym.
So, Joe and I did.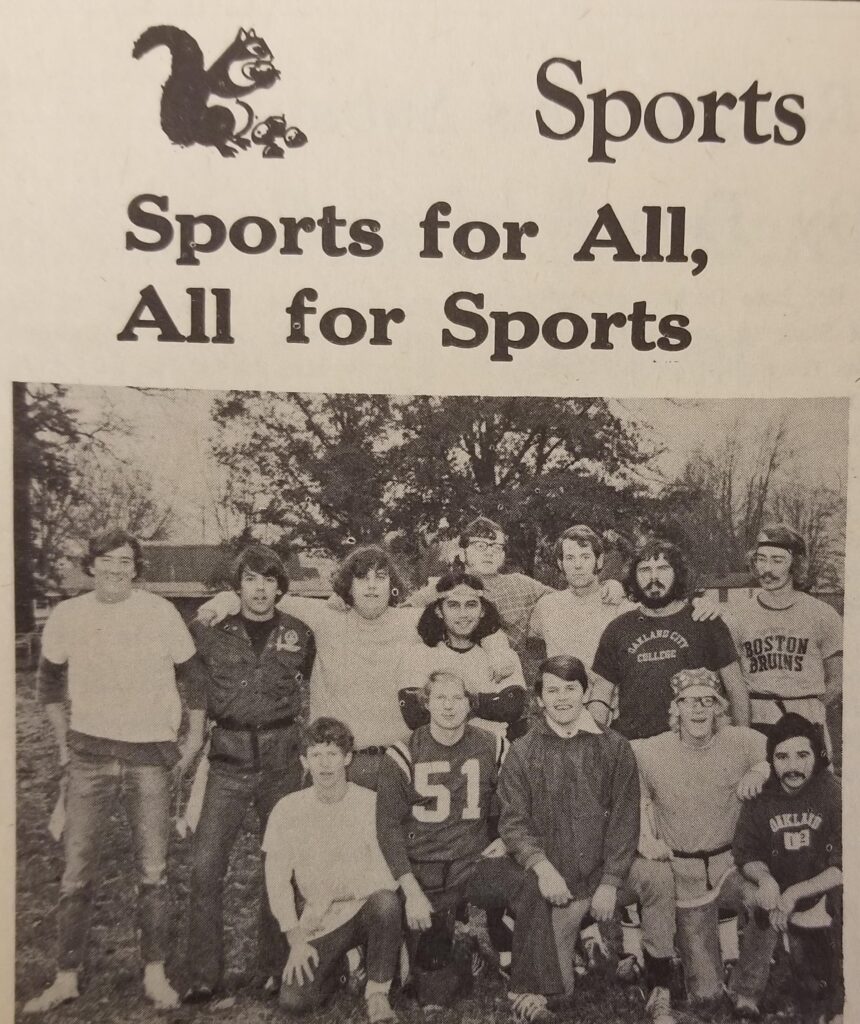 Joe and I had the advantage of being upperclassmen, knowing pretty well what the talent pool consisted of, and having senior class influence. Two of the better players Joe and I recruited, Steve Morris and Bruce Adams, had been on our football team.
We called our basketball team the Dukes, in honor of John Wayne. The team we put together consisted of Joe Betz, Steve Morris, Bob Mullens, Mike Julian, Monty Eckert, Bruce Adams, Tim Hawkins, and me. Eight other teams were assembled for that season, with some cool names: Bohemians, Lemons, Hawks, Crazy Bunch, Snakes, Hole-in-the-Wall, Rebels, and Zits.
The fruits of Joe's and my labor soon became evident. Bob Mullens led the league at the midway point, averaging 31.5 point a game, followed by Bruce Adams with 30.7, and Steve Morris with 28 points a game. Tim Hawkins stood in seventh place with a not-so-shabby average of 21 points a game. As a team, we averaged 127.7 a contest. As I had in high school, I concentrated on blocking shots and rebounding. I continued knocking down players as well. One O. C. Collegian newspaper report halfway through the season noted, "With the men's basketball league half over, there are three teams which appear to be in strong contention for the championship. They are the Lemons, coached by Nat Snellenberger; the Bohemians, coached by Ron Slaton; and the Dukes, coached by Bob Mullens. All four teams have won four games and lost none at press time."
Having four good shooters, instead of just one or maybe two like the other teams, made us very good, but our strong defensive play moved us into an even higher level of success. For my part, I was able to recreate the role that I had played on my successful high school basketball team- clogging up the middle, blocking shots, and pushing people around to throw off their game. Best of all, there were no family or community expectations in our intramural games, just bragging rights and a group of young men having fun and seeing what the limits of their team's performance might be.
We went undefeated in the regular season and then got into the championship game of the league tournament after beating the Zits 133-72 and the Rebels 124-76. We then crushed the Lemons in the championship game. I remember one shot attempt of the Lemons' Brad McCandless that I blocked in the championship contest, one that I stuffed down on him so hard, it opened a cut on his forehead. I was not playing maliciously, just playing my part. For the rest of the game, no one tried to slash to the basket to score. Interestingly, a photographer for the college paper captured the exact moment of the block in a snapshot.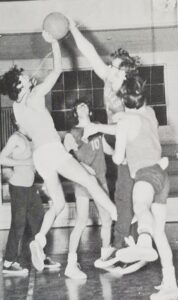 The season was not over. So dominant had we become that the other teams asked if they could put together an "all-state team" made up of all the better players on the other teams and then play the Dukes in a "super championship." We crushed them too.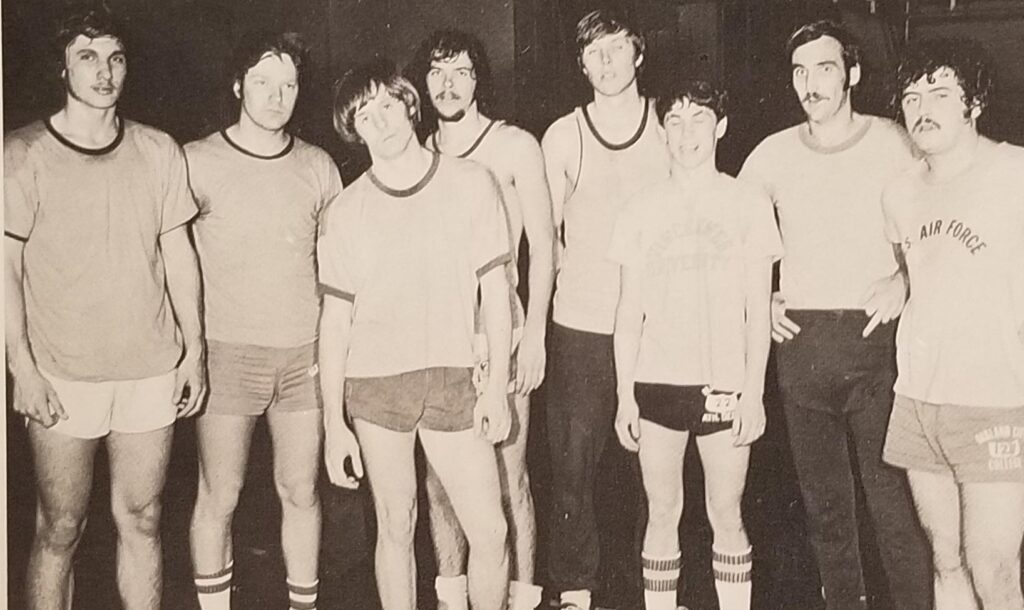 More than fifty years have passed since the beginning of my intramural basketball days at Oakland City College, and much of what happened in those games has been lost to me with the passage of time. I do remember the four year ride starting out as a very humbling experience and ending in exhilaration. However, I think my biggest take away from when I played intramural basketball is that it's more fun and fulfilling to be a late bloomer than an instant star. Nothing I have experienced in life since then has changed my mind.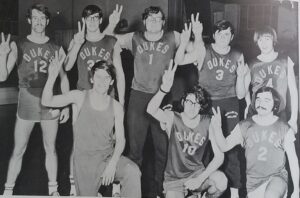 l