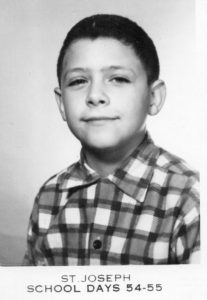 Randy and Roxanne Mills will be giving a presentation on the story of Richard "Dick" Wolfe, a Saint Joseph Church parishioner who died in Vietnam in 1968. The presentation will take place on November 16, 2017, and begin at 6 p. m. in the Celestin Center Meeting Room. Many of the Saint Joseph church family will remember his mother and father, Rosemary and August "Butch" Wolfe. The presentation is based on a just-released book by the Mills authors, Summer Wind: A Soldiers Road from Indiana to Vietnam. Signed copies of the books will be available for purchase after the presentation. Their presentation will emphasize the role of the St. Joseph's Parrish in the lives of the Wolfe family during the difficult time of Dick Wolfe's overseas service and death.
The Details
When –
Thursday, November 16, 2017; beginning at 6:00pm (central time)
Where –
Saint Joseph Catholic Church, Celestin Center Meeting Room
Facebook Event
RSVPs to the event are not required, but you can RSVP on Facebook to get reminders about the event and let other people know you are going.
Save
Save