In my book, An Almost Perfect Season, I make the case that the 1960s era was a golden age of high school basketball in rural and small-town America. In southern Illinois, and throughout the Midwest, a local team's basketball season often brought a community together, bringing excitement into that often-mundane world and offering adolescent boys an initiation into young adulthood. As with any phenomenon, the essence of that long-ago basketball world had many hidden dynamics, among them the unseen webs of human personalities and their interactions, interactions that often brought lasting changes to the lives of those involved.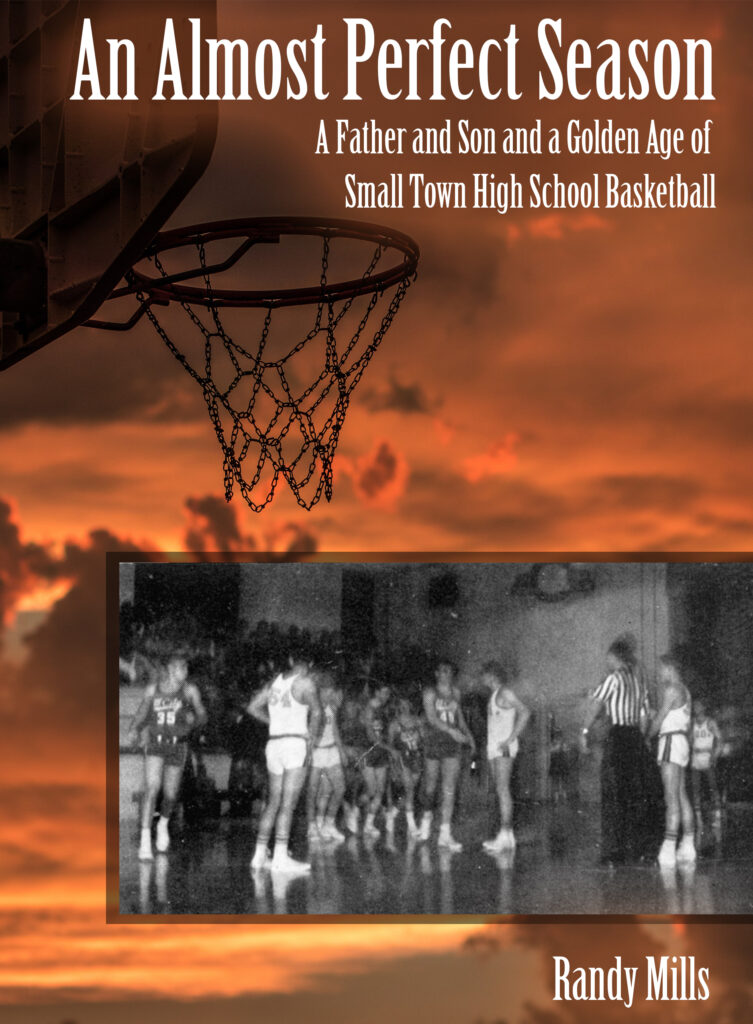 My own sudden awareness of the sheer wonder of high school basketball occurred in 1964 when I was twelve. My dad, a die-hard Mt. Vernon Rams basketball follower, took me, along with some of his car salesmen buddies, to a high school basketball game in Harrisburg, Illinois, in the old Davenport gymnasium. Here I saw the great Guy Lee Turner, the "Elegant Elephant," perform his amazing basketball feats for his Harrisburg Bulldog team.
I got so excited cheering for Turner, that my dad had to pull me back down into my seat by my shirt tail, as we were supposed to be Mt. Vernon Rams fans, and were sitting in their cheering section.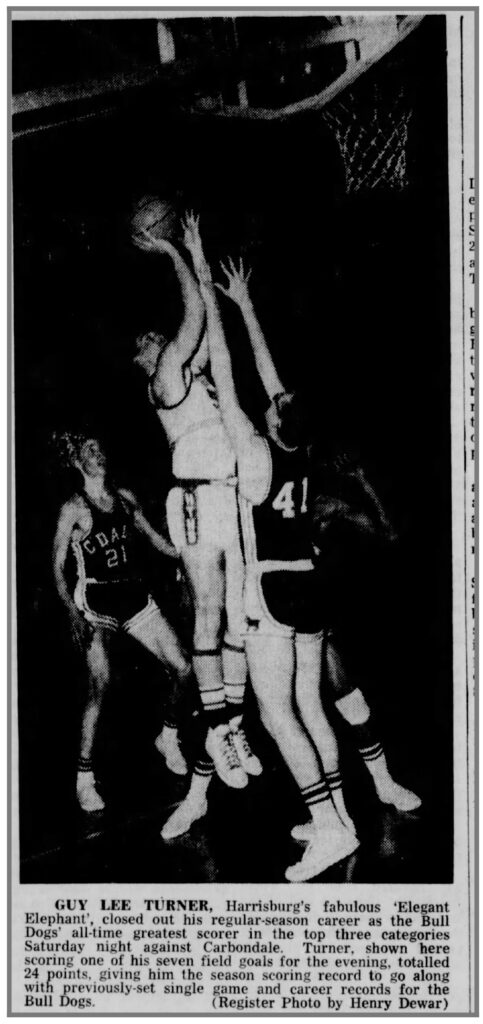 I left that hot stuffy gym elated, plotting how I might play on a floor like that someday and in front of all those cheering people.
Many other future southern Illinois high school basketball players experienced that same magical thrill. Wayne City High School star Max Allen remembered his dad taking him to his first contest in 1950. "The first high school basketball game I saw was when Max Hooper played. I felt like I had gone to heaven."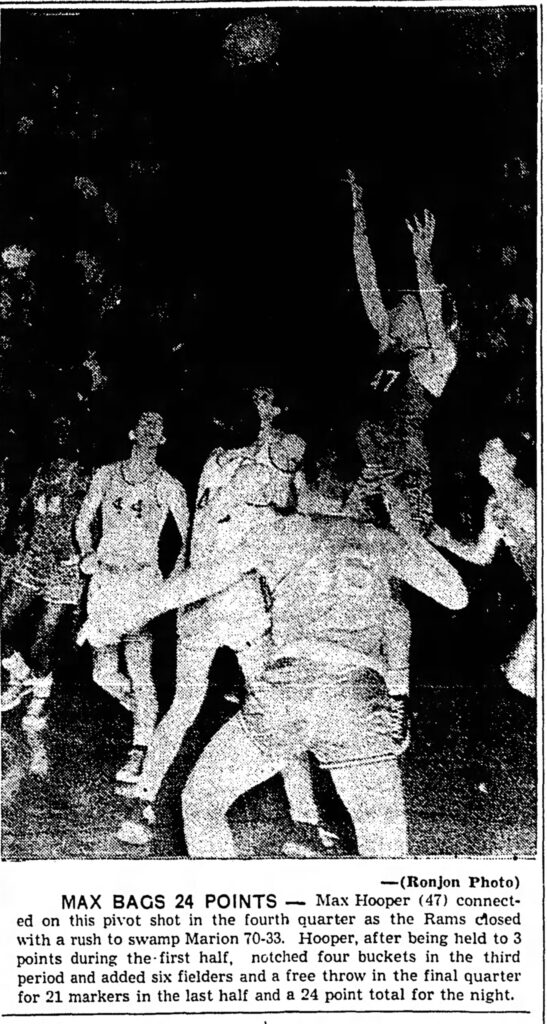 Seeing Hooper and the Rams play that evening changed Max Allen's life in the same way my seeing Guy Lee Turner changed mine. Thinking about basketball would, from that point on, take up much of Max Allen's time, leading him to dedicate a big part of his life to coaching grade school basketball.
Max Allen's coaching story is of importance, as it lends an understanding to an essential but often-forgotten key element that was a part of so many of the great southern Illinois high school teams in that day. That element involved the pivotal role of good grade school and middle school coaches who instilled the fundamentals of basketball in the younger players before they arrived at the high school level. In southern Illinois, Mt. Vernon's Casey Junior High had a coach, Everett Thompson, who Merle Jones, sportswriter at the Southern Illinoisan, called, "The dean of southern Illinois grade school basketball." Max Allen's success at Bluford Grade School was no less spectacular.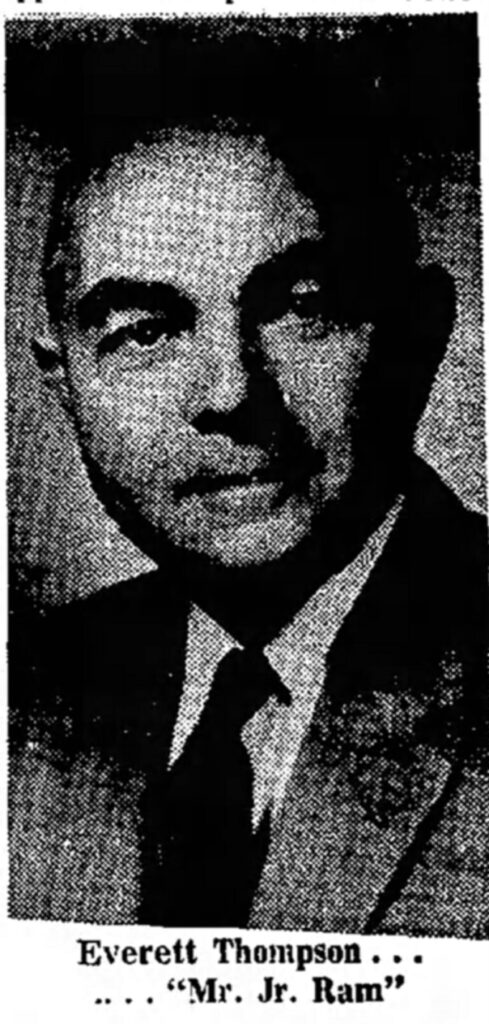 Max Allen certainly laid the foundations for the many of the great Bluford High School teams, especially the high school teams during the three year 1967-1968 to the 1969-1970 stretch. The 1968-1969 team would have the longest winning streak and best winning percentage of any Bluford basketball team, being recently inducted into the inaugural Bluford/Webber Sports Hall of Fame. Max Allen had a pivotal part in that team's accomplishments, as if his spirit hovered over every game the team played that amazing year.

Interestingly, Coach Allen's coaching successes were framed by a larger journey, and, at several points, his journey and mine would converge.
________________________________________________________________________________
Max Allen was fortunate, as his boyhood wish to play high school basketball matched his athletic skills. He played at Wayne City High School for legendary coach Conrad Allen, who was not related. Sports newspaper reports often noted Max's prolific scoring. He consistently scored in the twenty-point range.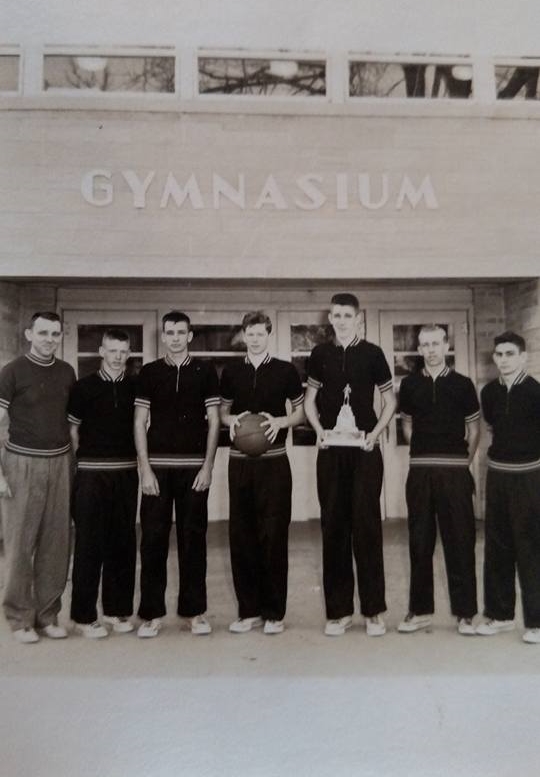 Allen had led the Indians over arch rival Bluford 81-71 his senior year before the Trojans came back to defeat Wayne City in an upset, 88-78 at Bluford later that 1955-1956 season. Max did his part in that game, however, scoring twenty-eight points from all over the floor.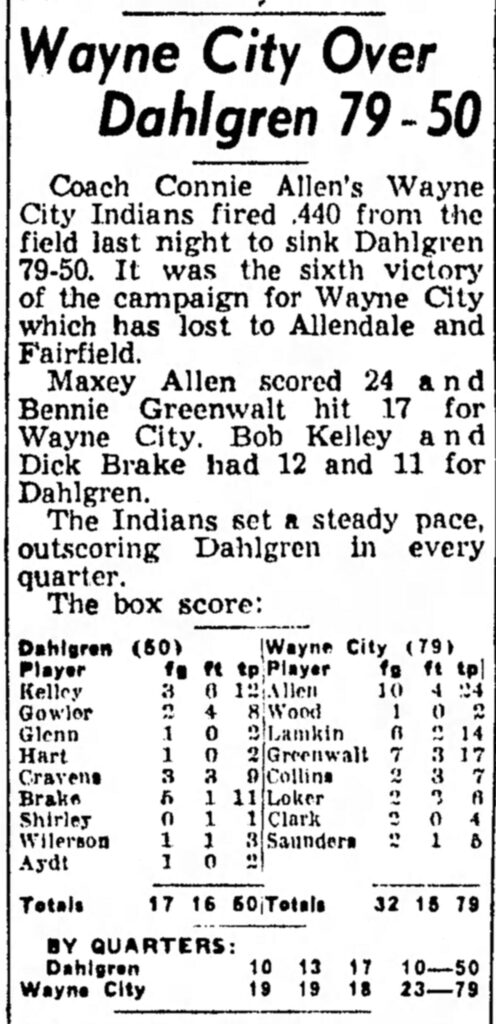 After high school, Max played basketball at Mt. Vernon Community College, before finishing his last two years at McKendree College where he pitched and played first base on the McKendree baseball team. While playing sports, he also made the honor roll.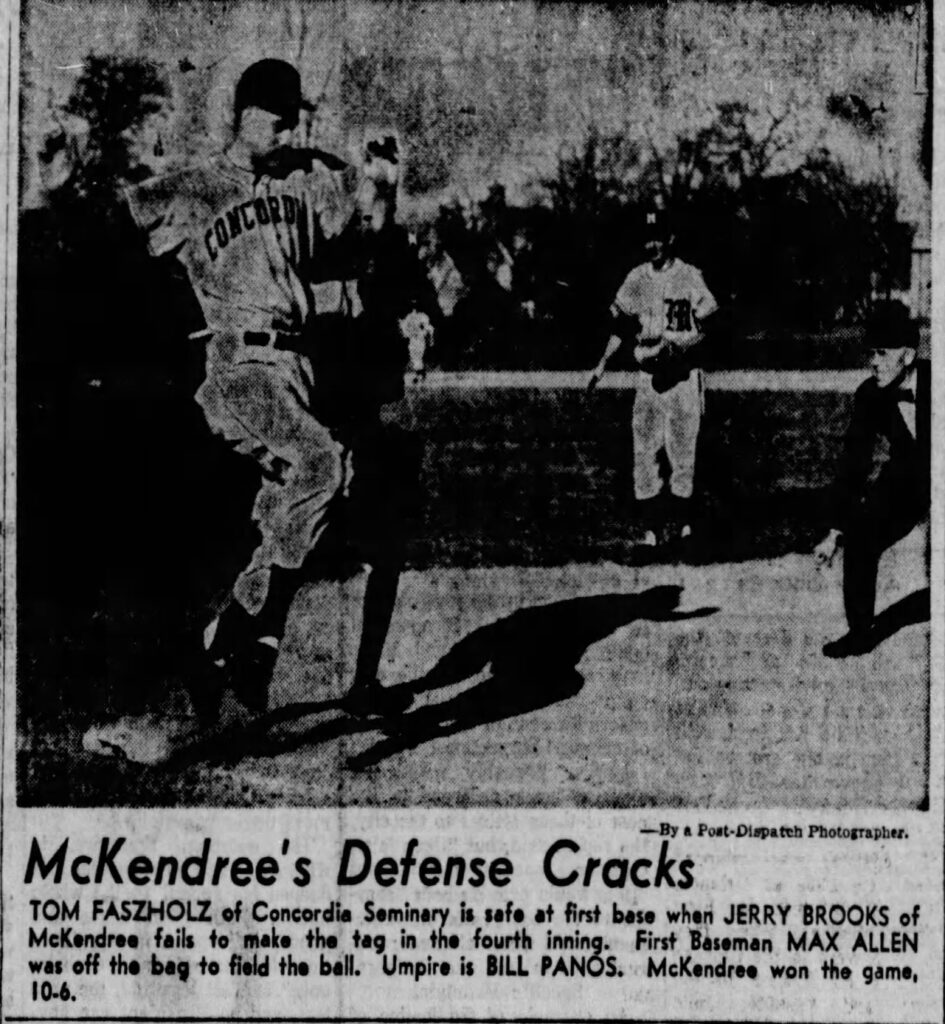 After college, Max returned to Wayne County, his first job being a principal and a teacher of grades 5-8 at a two-room school in Keenes, Illinois, in 1960. He also coached basketball. In the fall of 1961, Max traveled across the county line and began teaching and coaching at Bluford Grade School. I could find no record of his wins and losses that first year, but in the years that followed, his coaching successes would fill the sports pages.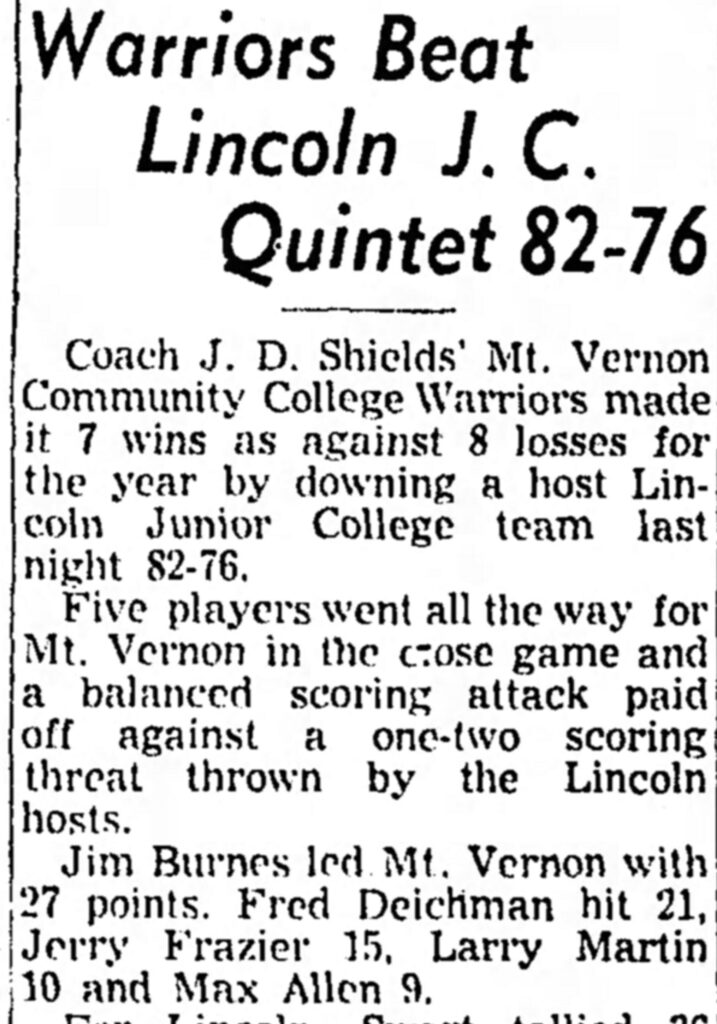 Jefferson County Illinois was a hotbed for basketball in the 1960s. Mt. Vernon, the county seat, had many great high school teams that decade, with the 1968-1969 group going to the state tournament finals. Two other teams made it to the sweet sixteen level that decade.
Three smaller high county high schools, Waltonville, Woodlawn, and Bluford, also fielded teams. In the 1960s, the Bluford Trojans would achieve the greatest success in a season among these smaller schools, gaining the longest winning streak in southern Illinois in the 1968-1969 campaign and the second longest win streak in the state. As mentioned, Max Allen would have a big hand in that milestone.
Mt. Vernon's Casey Junior High played other big city junior highs, while the smaller Jefferson County rural grade schools played among themselves. There were sixteen of these small-school teams in the county, and the competition was often fierce. Rome, Woodlawn, Fields, Waltonville, and Bluford were always prime competitors. The Mt. Vernon Register News carried wide coverage of these grade school games, including interesting and informative narratives and box scores.
Rome Grade School, coached by former Woodlawn High School star, Jim Burnes, were the county champs for the 1961-1962 season, Max Allen's first year at Bluford, but this would all soon change.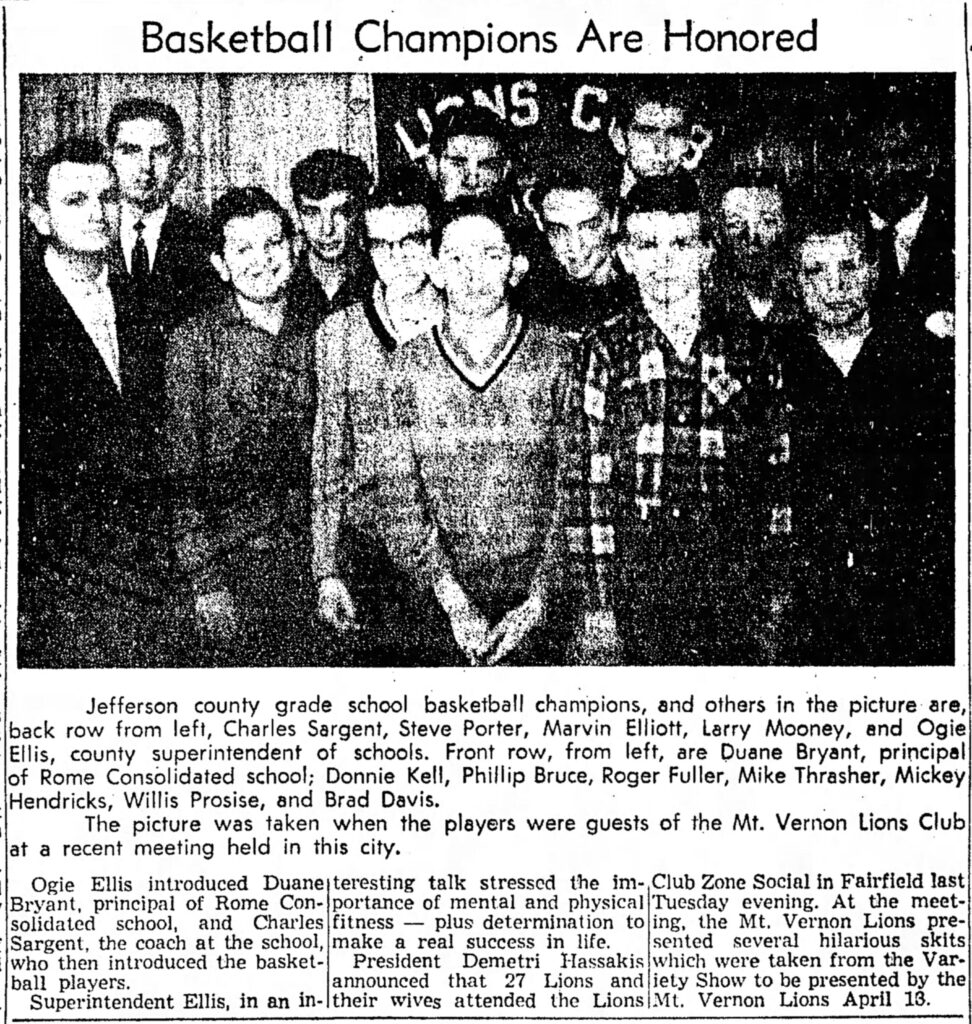 Max was a hard driving practice coach and a fiery competitor at games, walking the side lines and giving loud tense instructions to his players. His players would receive as good of a training in the fundamentals of basketball from the serious, sometimes volatile coach as any grade school players in that part of the state, learning the basics of shooting, dribbling, passing, and defending, along with the ability to work together as a single unit. These skills were strictly drilled into Max Allen's players until it became second nature. One former player remembered the experience as being "like a military school. We'd drill over and over. Mr. Allen did not tolerate mistakes and demanded absolute hustle."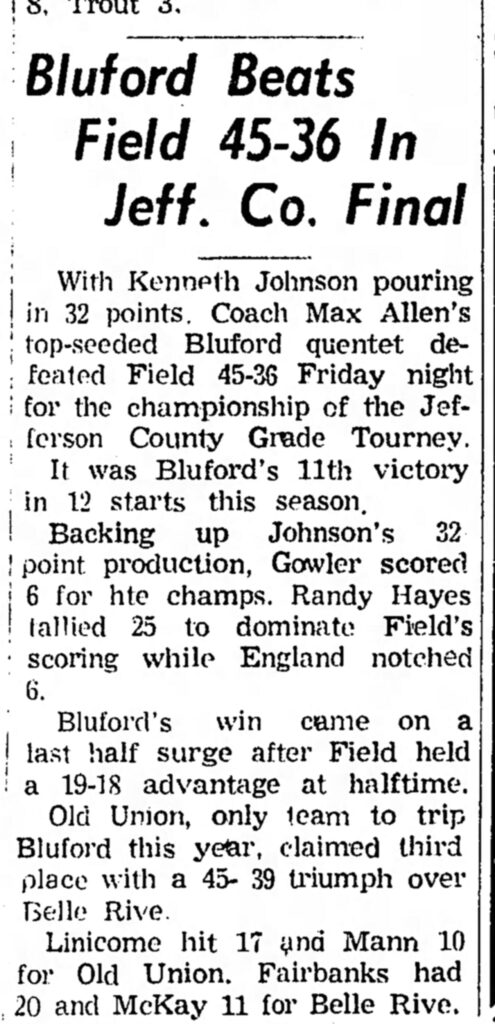 Max was also one to work the referees, letting them know when he did not like a call. One of his players remembers hearing the coach get after the two officials at halftime. "The walls were thin between where the team rested at half-time and where the refs were lounging. We heard the coach come in and let them have it in no uncertain terms. It must have worked. We got great calls, and then some, the second half of the game."
Whatever the nature of the hardships for the Bluford players, all the players loved the results at the end of the season.
_______________________________________________________________________________
I too can speak to Max Allen's intensity as a coach, as I witnessed his coaching style the first time I laid eyes on him. My little country grade school, Farrington, played the powerful Bluford grade school team in our little gym during the 1964-1965 season. Farrington kids went to Bluford High School and my dad had great hopes I might play basketball there. Our playing Bluford gave Dad and me the chance to check out my future competition.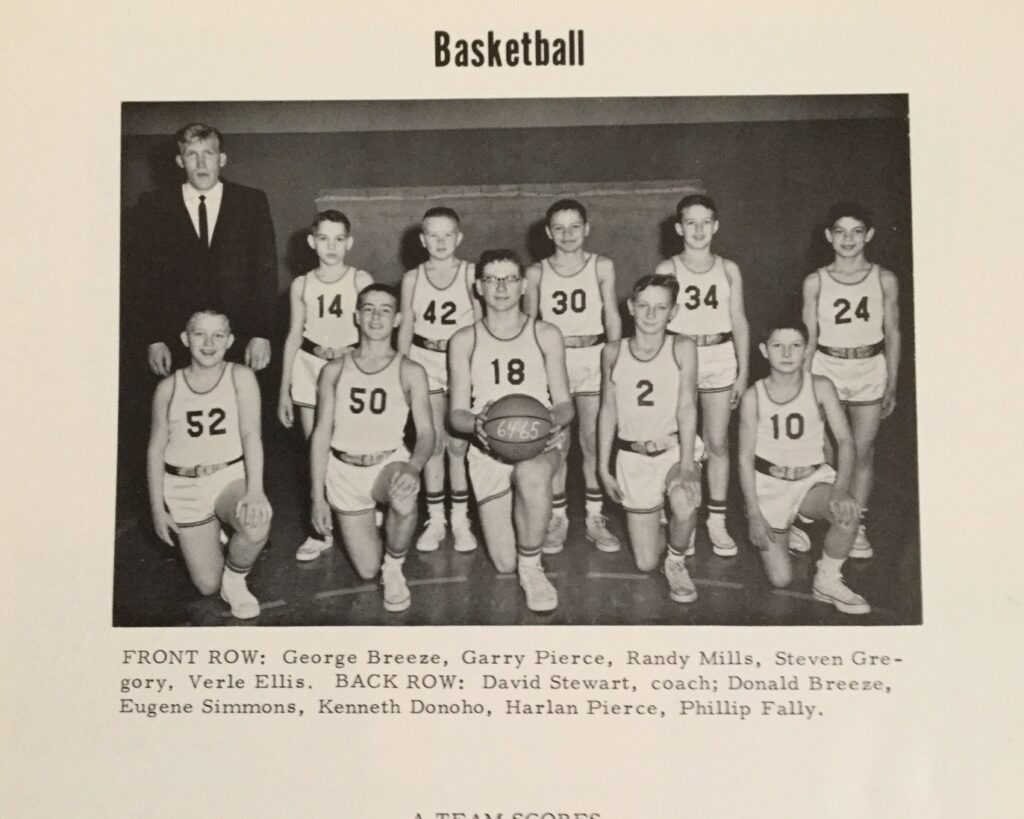 The Bluford team came out of the dressing room looking more like young men than eighth grade boys, especially Tom Crouch, whose biceps were as big as melons. We Farrington Eagles watched with our mouths opened while the Bluford team pumped in shot after warm-up shot from all angles without missing, the net swooshing and dancing during the entire performance.
But it was Coach Allen who finally caught my attention. He was tall and lean, his posture suggesting he did not suffer fools kindly. But he was distinguished looking too, and probably handsome, someone who I imagined could carry on his end of a complex discussion, and maybe with a touch of humor added in.
I was in awe.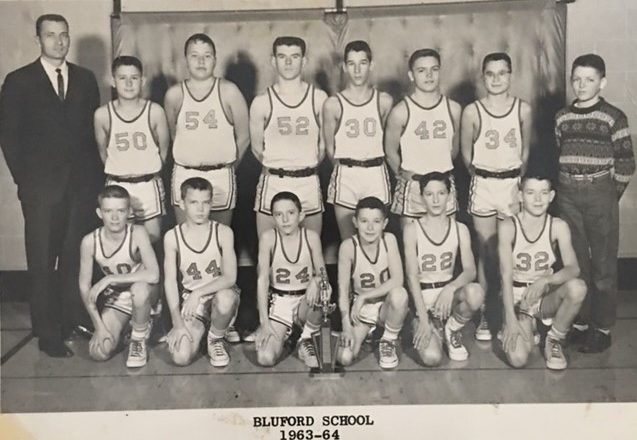 Once the game started, Coach Allen changed in a way that might only be defined as being possessed, as if he had magically expanded his own force field to include the entire gym. He moved constantly on the sidelines, often stomping his foot, hollering at the referees, and giving loud sharp directions to any player whose work did not please him.
All of this did not seem to faze the Bluford players, but I wondered at the time what it would be like to try and play for such an intense man.
Only the tiny size of the Farrington gym, throwing off their fast break rhythm, kept the Bluford players from beating us to smithereens. I got far less than my usual numbers of points but blocked several shots under the basket. I saw in the surprised looks on their faces that this was something the Bluford guys were not used to. My dad, however, was pretty grim after the game. He saw what I saw, the guys I would be in competition with if I went out for basketball at Bluford High School.
As far as Coach Allen, it had been interesting watching him. The thing that really stood out that night Farrington played Bluford in our tiny country school gym was Max Allen's fierce insistence that the game of basketball be played as perfectly as possible. Pity the Bluford player who made a poor bounce pass when he should have passed the ball with a crisp hard chest pass.
But the most upset the coach became occurred when a Bluford player who took an ill-advised shot. Max Allen's explosive verbal response, "What kind of shot was that?," caused the entire gym to go silent for several seconds.
Such mistakes did not happen often that night, making me wonder what the practices had been like to get Max's players to such a high level of performance. Most fascinating to me was when Max did get after a player, he did not cringe one bit.
_______________________________________________________________________________
At the beginning of his grade school coaching career, Max guided great players like Dale Green, Gary Sigwerth, and Tom Payne. In the 1963-1964 season, Bluford lost by two points in the title county championship clash against Rome, but the rest of the sixties belonged completely to Bluford. In 1964-1965 Bluford won it all behind the playing of seventh graders Ed Case, and Ed Donoho, along with eighth grader Tom Crouch and Bob Ed Osborn.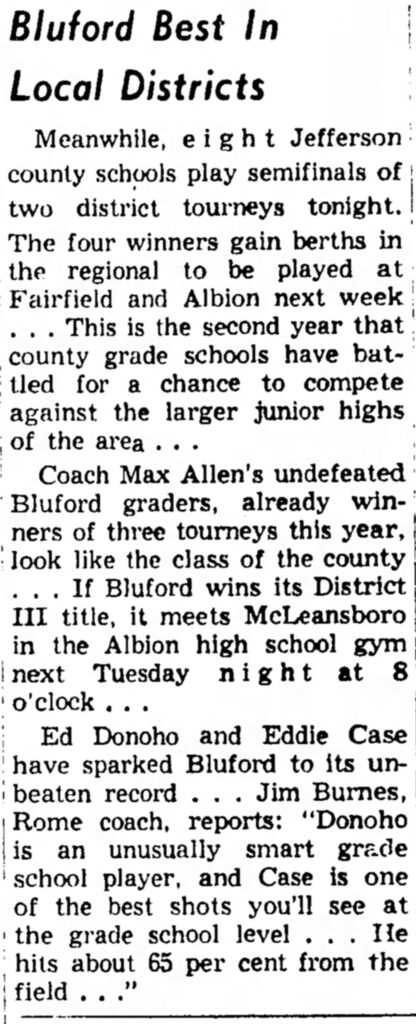 That next year, when I was a freshman at Bluford High School, I was surprised to start junior varsity with four Bluford players. This was a new and exciting thing for me, a Farrington boy, to be part of a basketball team that came storming down the floor, executing a play with precision and then dropping back on defense until we got the ball back again and repeated the scoring process. It was simply exhilarating to play long durations of fluid almost flawless basketball.
It turned out too that I was something of the missing piece, a big guy in the middle to play defense and rebound. I played my role, often imperfectly, while the other Bluford guys operated like a well-oiled machine, as if their old grade school coach moved along the sidelines, watching.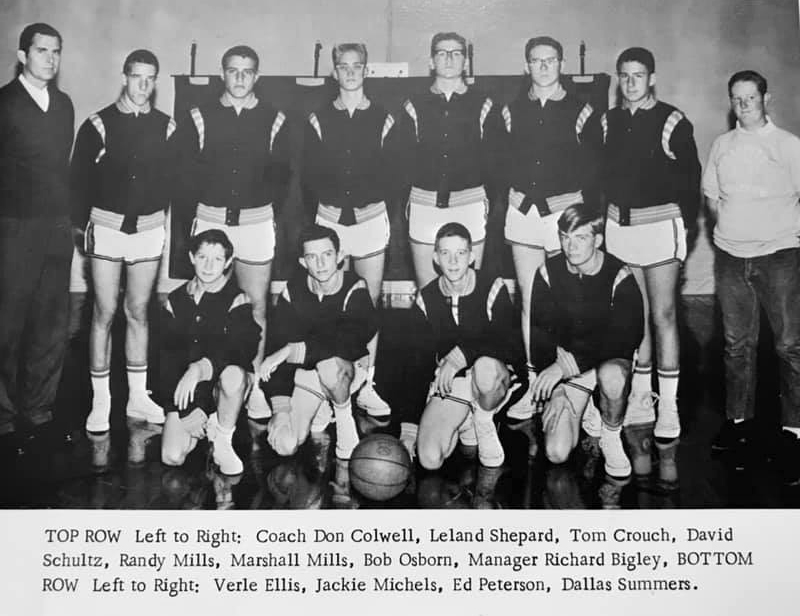 We ended up winning almost all our junior varsity games that year, the gym having a larger group of fans than ordinarily before our games even started, as if they understood this was going to be a special Bluford basketball team in the near future.
_______________________________________________________________________________
While I was enjoying playing with the Bluford guys that freshman year, Max Allen was coaching one of his best grade school teams ever. The Bluford team was undefeated that year and had won three invitational tournaments before beating Rome for the county championship. The Rome coach was especially amazed at Ed Donoho's "smart play" and the shooting accuracy of Ed Case, telling a sports reporter, "He hits 65 percent from the field."

Bluford grade school under Max's guidance also dominated the Jefferson County basketball world in other ways. The team ruled the prestigious Rome Invitational tourney during the sixties, winning four championships by 1968. Other great players groomed by Max Allen in the later 1960s were Jerry Furby, Rick Gutzler, Bill Osborn, Ken Johnson, Rick Huff, Lanny Donoho, and Steve Gowler.
Max's grade school coaching work really showed up in Bluford High School play by the time the 1967-1968 high school season started. The Trojans won over 20 games that year and 25 in a row the next 1968-1969 season. That amazing year Bluford won the regular season conference title and conference tournament title, along with the prestigious Wayne City Holiday tourney and the district tourney. In the 1969-1970 season, a year after I graduated, the Trojans again went over the 20-game win total.
In all the games, you could just feel Max Allen's presence every time a precision pass was made, a nice assist executed, or someone made a wise shooting decision. One sportswriter said our play was all but "seamless."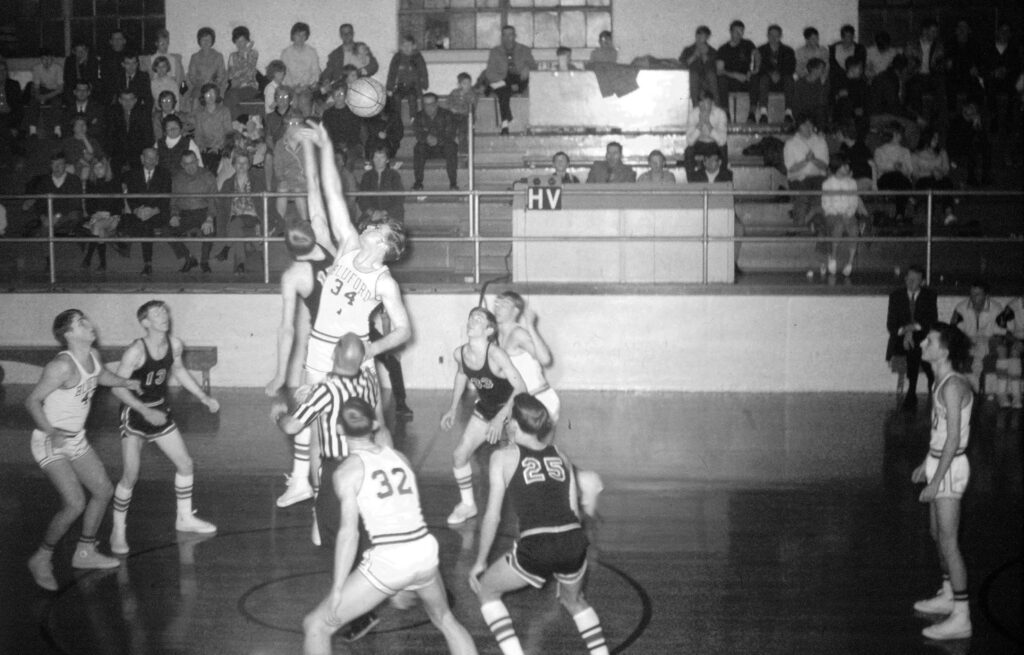 As for me, playing on that team changed my life.
Most folks had little or no inkling of what I struggled with as I entered high school. While I radiated confidence to those around me, inside I felt like a failure, unsure of my place in the world. It did not help that in the rural farming world of my youth, I was not very mechanical. Playing on those great Bluford teams with fellow players who respected my work and efforts gave me a true confidence that I sorely needed, one I would build on in the future.
___________________________________________________________________________________
I had one last convergence with Max Allen back then, this one a direct encounter. It was the early fall of my junior year and the upcoming varsity played an alumni group in the high school gym. Max played with the "old timers."
I was a little nervous when he came into the game, but my confidence soared when I scored against him under the basket with a little hook/jump shot, one I probably would not have tried in a regular game. At the time I knew it was a cheeky thing to do but thought little of it.
After the game, and to my surprise, Max was waiting for me as I came up from the dressing room. Hardly anyone else was in the gym.
I had never talk to him before, so I was a little afraid he was going to say something about the circus shot I had made against him.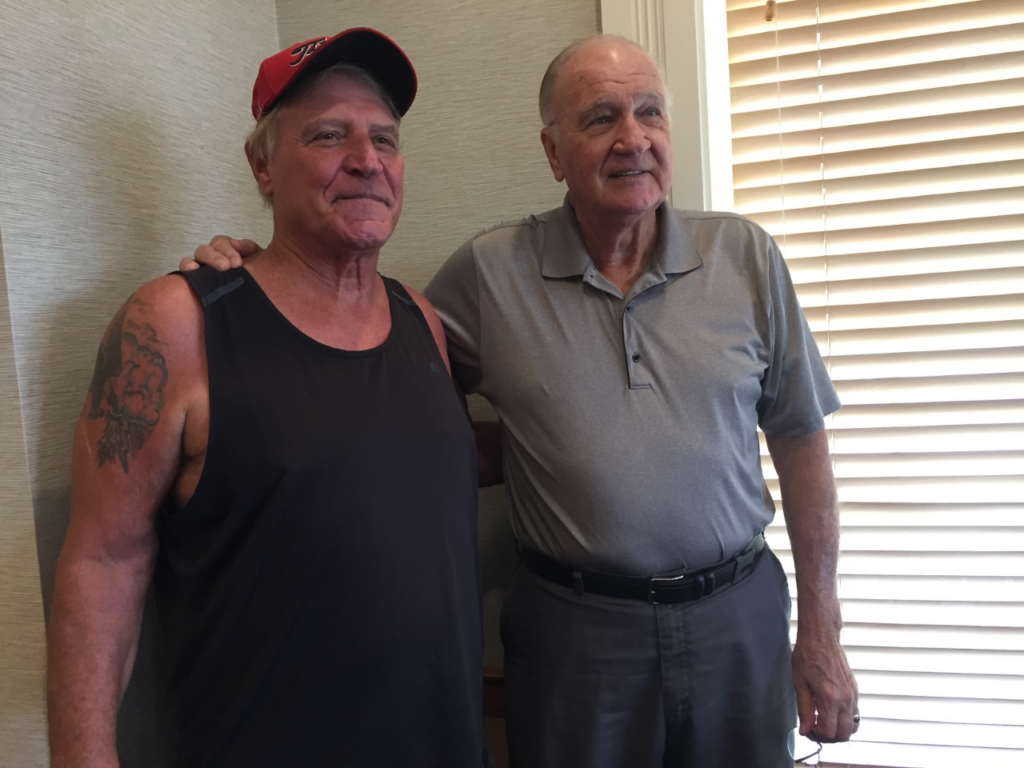 Max came and stood square in front of me and spoke.
"Randy, you've made some great improvements since your Farrington Grade School days."
Then he shook my hand with a handshake so firm, it surprised me.
If I had had the wisdom then that I have now, that of knowing there exists an invisible web that connects us to others, I would have thanked him from the bottom of my heart for helping to create the great team I would soon be playing on. As it was, I just smiled shyly and walked out the gym.
It was only later, as I drove back home in an old work car Dad had brought home from the car dealership where he work for me to use, that I felt I had somehow been blessed and anointed.