It was late October in southern Illinois, a time when the leaves were morphing into astounding colors of yellow, gold, and red, causing one to be at least wistful, if not delighted. Not so, however, in 1960 for eighteen-year-old Jerry Sloan. The young man brooded over a horrible failure with the thing he most loved to do, playing basketball, plunging him into some of the darkest days of his life. And if you could have gone back in a time machine and told him not to worry, that he was destined to lead a college to back-to-back NCAA Division II basketball championships, the last one including an undefeated season; that he would be drafted into the NBA where he would play for a decade for the Chicago Bulls and become a two time NBA All Star and six time All Defense Team member; and that he would coach an NBA team, the Utah Jazz, to fifteen consecutive playoff appearances; I am sure he would have called you crazy. Or worse. But why would he not have? That fall of his college freshman year he had gone to the University of Illinois on a full-ride scholarship to play basketball. Things had almost instantly fallen apart, collapsed to the point that he had dropped out of college completely, thinking he would never return.
Ironically, just the spring before, Jerry Sloan stood like a god at the pinnacle of the high school basketball world in Illinois.
___________________________________________________
Since Jerry Sloan was a small boy, he dealt with harsh realities, leaving him to take nothing for granted. He was the youngest of ten children, and his father had died when Sloan was just four years old, leaving Jerry, his mother, and his siblings to do all the harsh farm work on a spread out in the middle of nowhere in rural Hamilton County, in southern Illinois.[1] The Sloan farm was sixteen miles from McLeansboro, the county seat, and the Sloan children went to school at a one room school house that was eventually expanded to four rooms by Jerry's eighth grade year.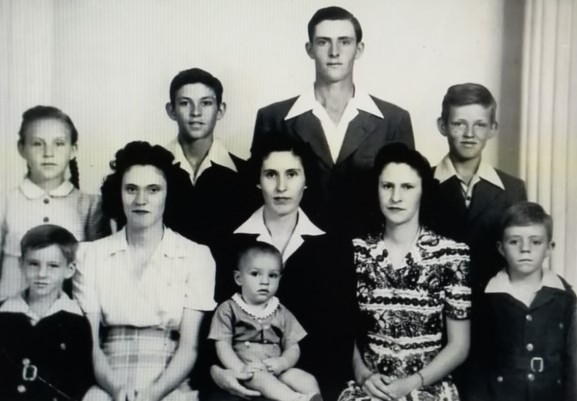 Jerry's basketball playing abilities were instantly noticeable in grade school, even though he played under difficult circumstances. "We played basketball on a dirt court," Sloan recalled. "My brother Roger and I and three girls were on the school's basketball team. We won the Hamilton County Rural tournament [of 16 team] three straight years."[2]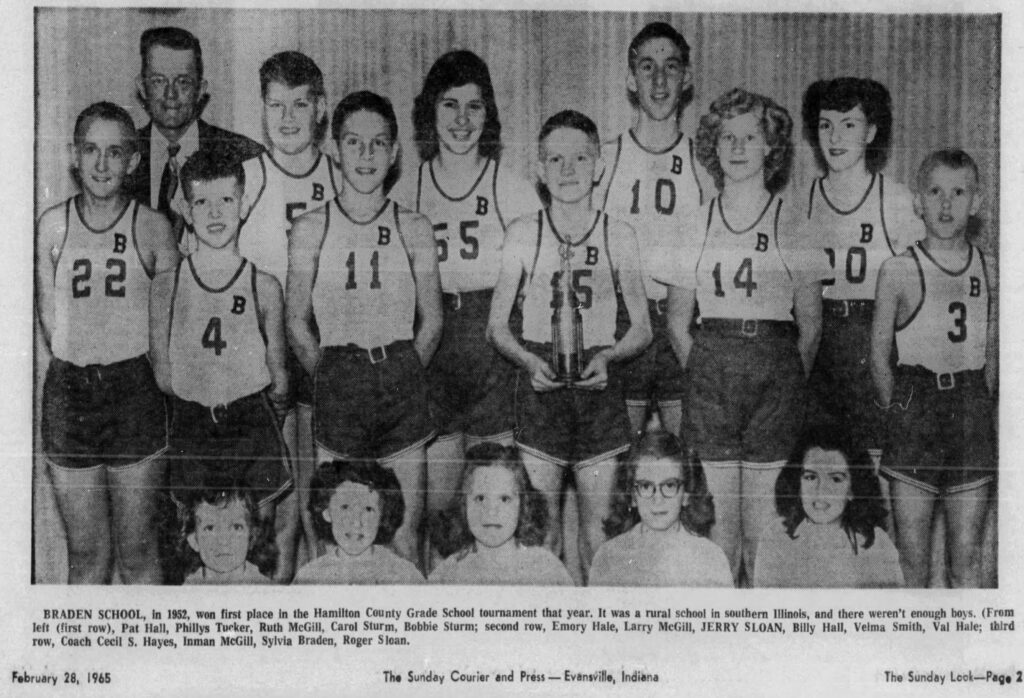 In high school Jerry would letter in four sports—basketball, football, baseball, and track for the McLeansboro Foxes—often hitchhiking the sixteen miles home after practices, hoofing "the whole 16 miles a few times."[3]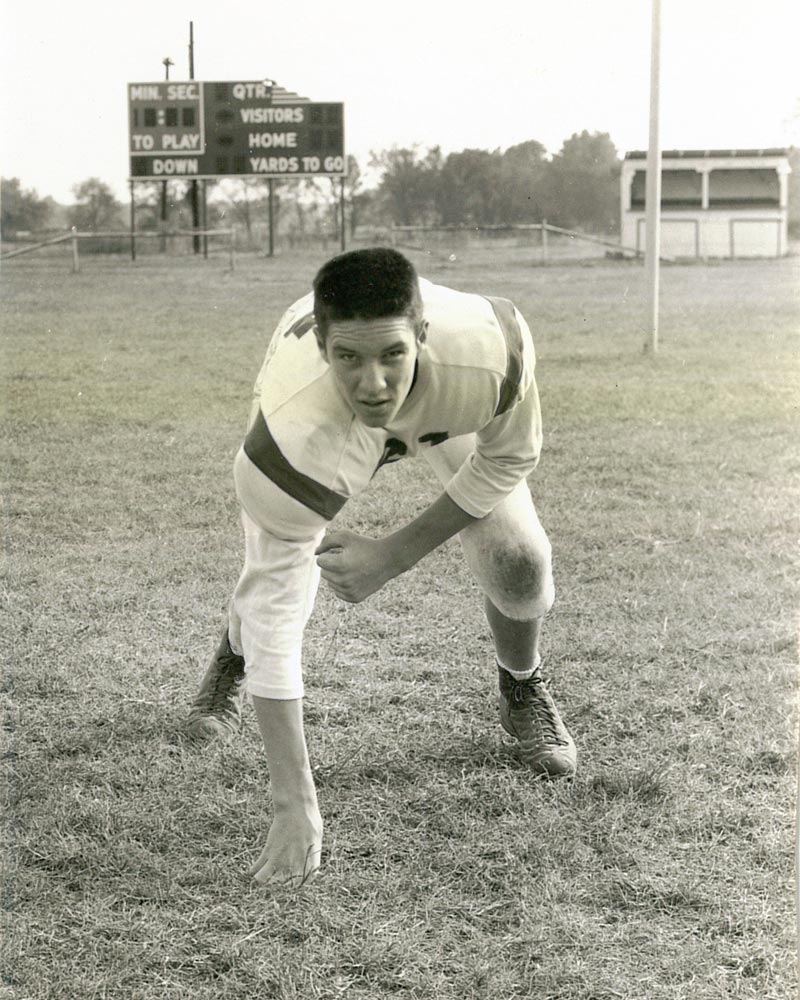 Sloan's total dedication would pay off. Towards the end of his junior year, sports writers in the region began noticing his almost flawless basketball play. John Rackaway, head sports writer at the Mt. Vernon Register News, declared, "Sloan is that rare bird, the big one who moves like a small one." Merle Jones at Carbondale's Southern Illinoisan assessed Sloan after watching Jerry simply take over a game, noting, in his typically precise writing style, "Sloan has a fine touch on his shots (he scored 27 points), handles the ball and passes expertly, shows exceptional drive, and rebounds with authority."[4] Salem High School Coach Walt Kirk also joined the chorus of praise, calling Sloan, "One of the greatest players I've seen in s long, long time."[5]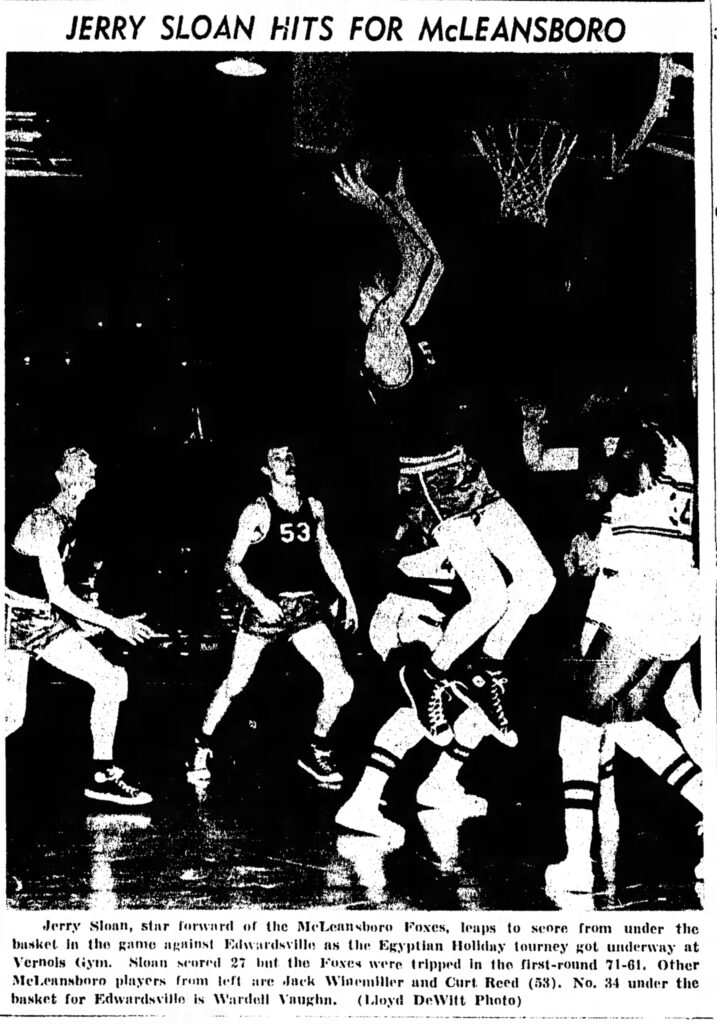 Sloan's senior year, the 1959-1960 basketball season, witnessed the McLeansboro Foxes gaining a 23-2 record and winning fifteen games in a row coming into state tournament play in Illinois' then single class system. The Foxes were not a one-man-team either, having future college stars David Lee and Curt Reed, along with Jerry Sloan. Reed was a rugged 6-2 and had led southern Illinois high schoolers in football scoring that fall. Yet, even in this crowd, Jerry Sloan's work stood out as simply amazing.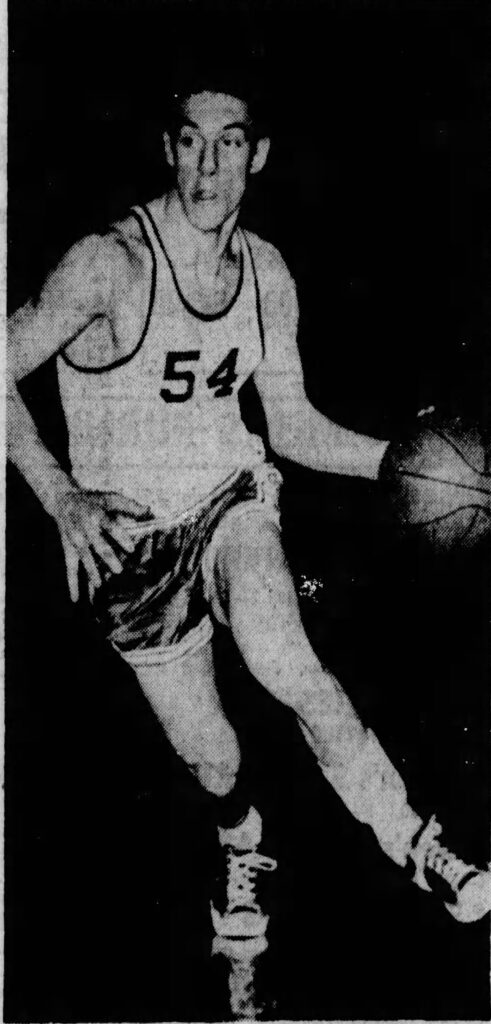 After Sloan had scored 45 points against Norris City, a southern Illinois sportswriter proclaimed him the "Fabulous Fox," a nickname Sloan loathed. "They just ran it into the ground at high school," Jerry remembered.[6] Sports reporters, on the other hand, loved the name and could not say enough about Sloan's skills. At six-five and weighting almost two hundred pounds, he was athletic enough to play any position. Most believed he was the best player in the state that year. One sports reporter noted that Sloan was "averaging 26 points per game. His best single game performance is 52 points in which he sank 18 field goals out of 23 attempts and 16 free throws in 17 attempts. He seems to have no peer in the rebounding department, yet he is one of the best out court performers I have ever seen."[7] Arad McCutchan, Evansville College's basketball coach, emphasized another often over-overlooked feature of the high school star, Sloan's great defensive skills.[8]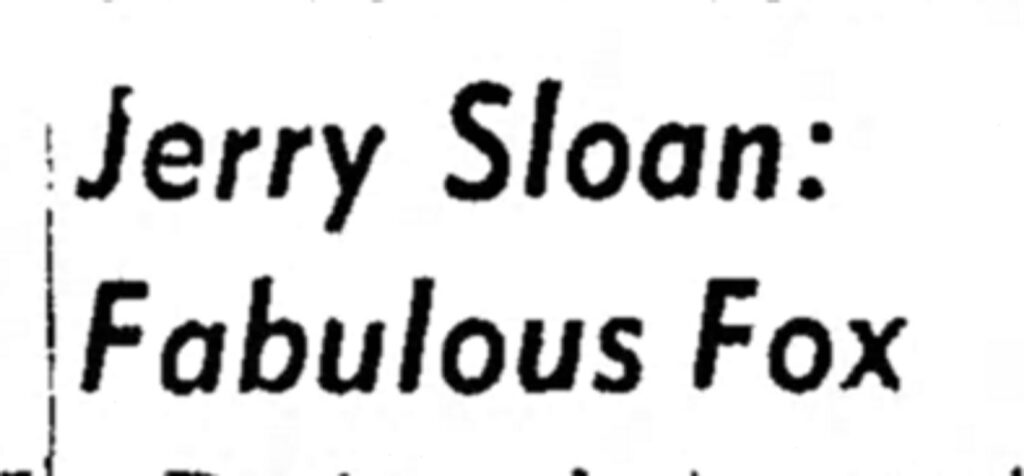 Reporter Merle Jones had some fun with Sloan's all but flawless skills during Sloan's senior year, telling of a coach who "came up with a special defense aimed to stop McLeansboro's ace, Jerry Sloan, in a recent basketball game, but all he got for his trouble was a 30-point night from Sloan. All Sloan did was to make 11 of 16 shots from the field and eight out of eight free throws."[9] When the 1959-1960 season drew to a close, and regional state tourney play began, all basketball eyes in southern Illinois were on McLeansboro, everyone wondering how deep Sloan and the Foxes might go in state tournament play.
In the final game of the regional, the Foxes faced the Shawneetown Indians, the only undefeated team in the state. The Indians led by four at the end of the first period but lost the lead by half time and never threatened the Foxes from that point on.[10] Merle Jones playfully reported that the gym had more college scouts than fans.
McCleansboro would next face the Mt. Vernon Rams, which had the largest high school enrollment in southern Illinois and a storied basketball tradition. More disheartening, the Foxes had yet to beat the Rams in basketball.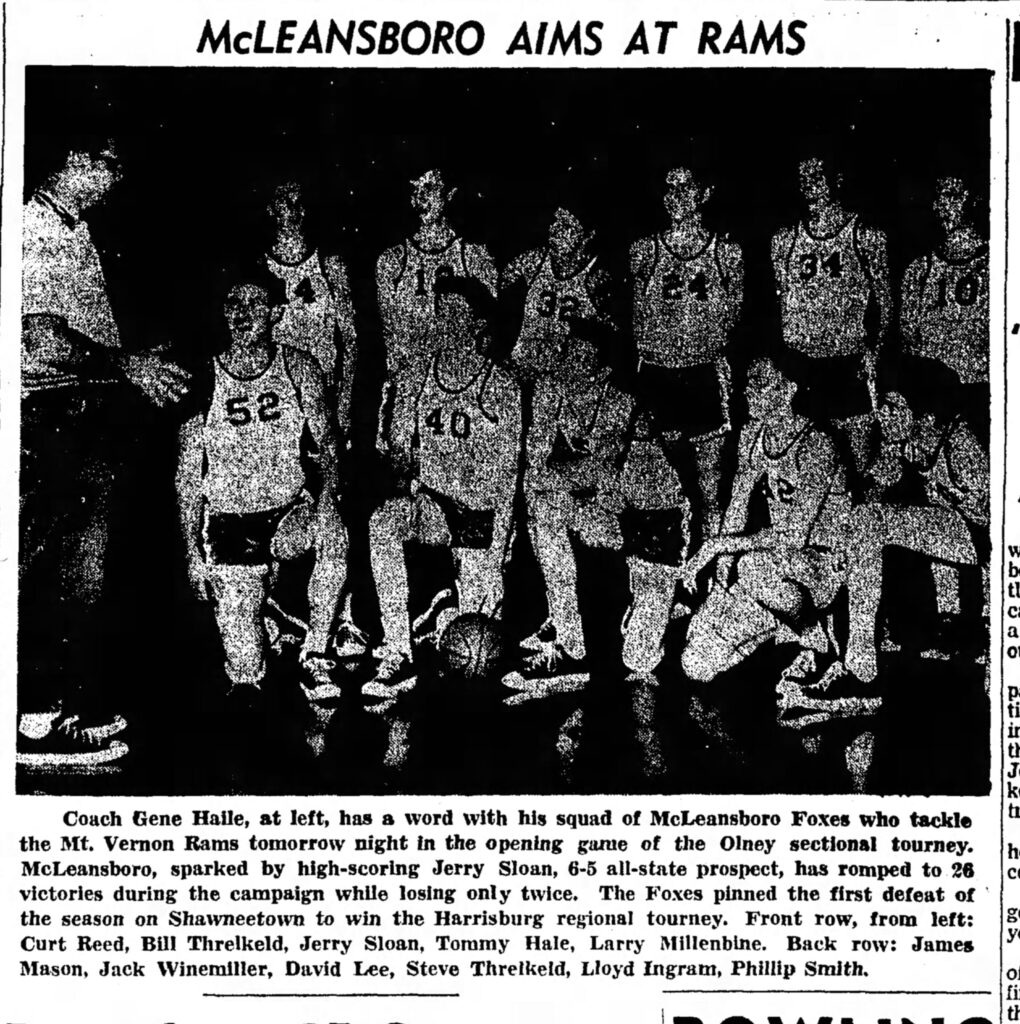 McLeansboro's town population stood at 2,951 compared to Mt. Vernon's 15,546. Fortunately, a basketball team could only put five players on the floor at a time, and the Foxes starting five played together like a well-oiled machine. The Rams, on the other hand, were 19-7 going into the first round of the sectional but had played much larger schools in the regular season than most of the teams the Foxes played, having won several big games against some very tough competition. The Rams also had a fantastic player of their own, a senior named Coleman Carrodine, whose later scoring records at Western Illinois University still stand today.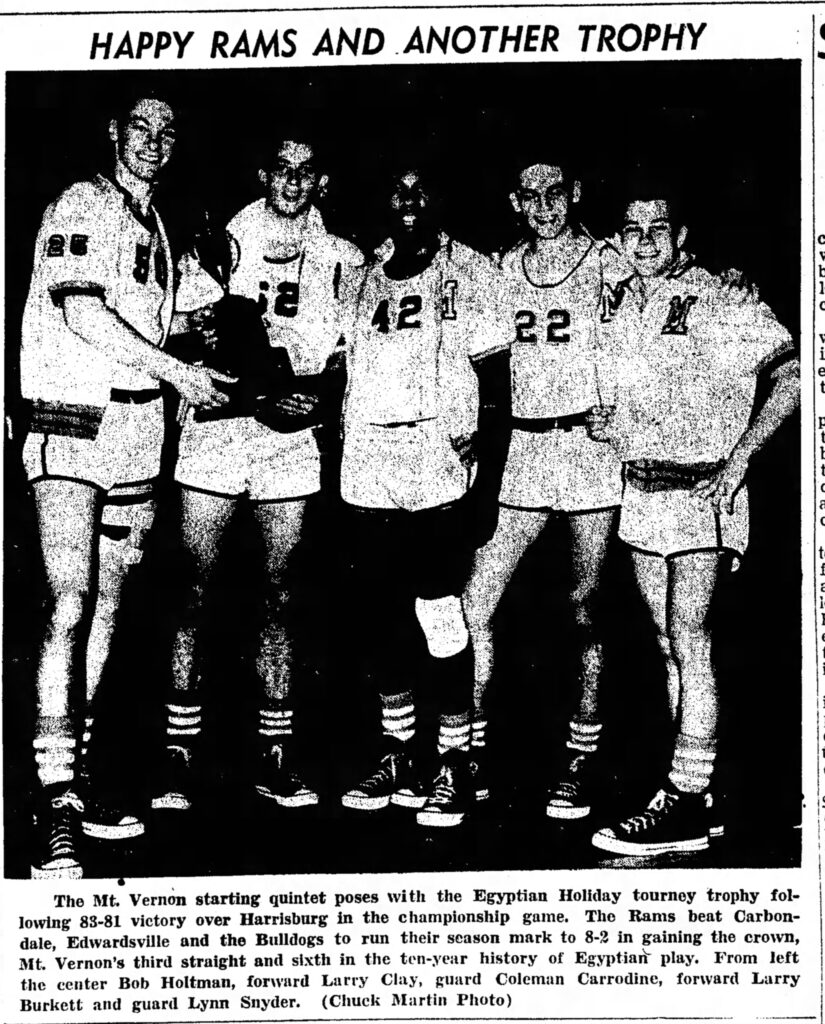 John Rackaway, sportswriter for the Mt. Vernon Register News had a blast reporting about the upcoming game. Under the heading, Here We Go Again! Foxes or Rams, Rackaway wrote,
When a basketball fan in Mt. Vernon or McLeansboro says, "What d'ya' think?"- this week means just one thing. Will the Rams or the Foxes win that sectional battle at Olney on Wednesday night? On the record, McLeansboro (26-2) has the upper hand on Mt. Vernon (19-7) this year. With phenom Jerry Sloan, Curt Reed, the Threlkelds, Steve and Bill, and Dave Lee, the Foxes have a great prep quintet which many tab as the best in McLeansboro's history. Mt. Vernon doesn't have its greatest team but the Rams are capable of excellent basketball and have jelled into a solid, dangerous unit at this stage of the season. Coleman Carrodine can be a one-man gang. He's proven it by coasting to the scoring title in the South Seven Conference.[11]
The game started with a bang, Fox fans going wild when their team scored six quick points, and then blew up the lead to 11-3. The Foxes led by five points at the ends of the first two quarters, up 37-32 when the two teams went to their half-time locker rooms.
The second half brought heartbreak. Reed opened the third quarter with a basket that put the Foxes up by seven, the fans again rising to their feet, their shouts and foot stomping shaking the walls. Then Mt. Vernon scored nine straight points to put the Rams up by two. The quarter ended with the Rams up 51-42.
Sloan and company were not done yet, the Foxes clawing back to make the score 61-60 in favor of the Rams with a minute to play. McLeansboro then got possession and held the ball for a last shot. A Ram player blocked the attempt, and the Foxes were forced to foul. Mt. Vernon hit a foul shot and made the last basket on a put-back, leaving the score at 64-60.

Jerry Sloan received one more chance to show his tremendous abilities before he was done with high school basketball career, wearing the number one jersey and leading the South All Stars in a thrilling upset victory over the Illinois basketball North All Stars. Illinois was loaded with great players that year, but Johnny Erickson, basketball coach at the University of Wisconsin who watched the game called Sloan, "The outstanding player on the floor."[12]

By the spring of 1960, almost one hundred recruiters from across the country had offered Jerry Sloan a basketball scholarship. But the shy McLeansboro High School player detested talking to recruiters, so much so that he found an unusual way to relieve himself of the pressure from the recruiting drama, telling the press and any recruiters who approached him that he would only consider Southern Illinois University, University of Illinois or Evansville College. In the end, the process backfired, making Jerry Sloan's life even more miserable.
________________________________________________
Merle Jones, dean of southern Illinois sportswriters, kept basketball fans up to date on the Sloan ongoing recruiting story in his column, "Sports Talk," adding drama to the story while he was at it. It was Jones, for example, who pointed out the problem with Sloan's anti-recruiters plan.
Jerry Sloan, McLeansboro basketball star, may have scared all other schools away when he announced he had eyes only for Illinois, SIU or Evansville. But he probably did not realize the bait he set for the three schools would mean one or more representatives from each school would practically be sleeping with him till he made his announcement. He is still keeping his decision a secret but says he may make his announcement after his graduation Friday.[13]
Sloan's sympathetic high school coach, Gene Haile, was kinder when talking about the strategy. 'He just tells the other coaches he isn't interested. Unlike other high school stars who visit college campuses at every opportunity even though they have no intention of going to the school visited, Jerry has been staying home." Haile then added another tidbit that could only have made recruiters' mouths water. "I don't think he's reached his basketball potential yet. He was 18 years old only recently. I expect him to put on more weight and be a rugged 200-pounder. He will get stronger."[14]
Merle Jones now moved to assessing the three likely schools' chances, although it seemed he was pulling for the local school, SIU to be victorious. In one write up, he observed, "Sloan wants to stay close to home when he does make his selection. The fact he is a farm boy whose father is dead might be a point in Southern's [Southern Illinois University] favor if he should come to feel Illinois is too big and Evansville too much of a city atmosphere."[15] Ultimately, the battle to win Sloan became a circus, with Jerry leaning toward whomever he talked to last.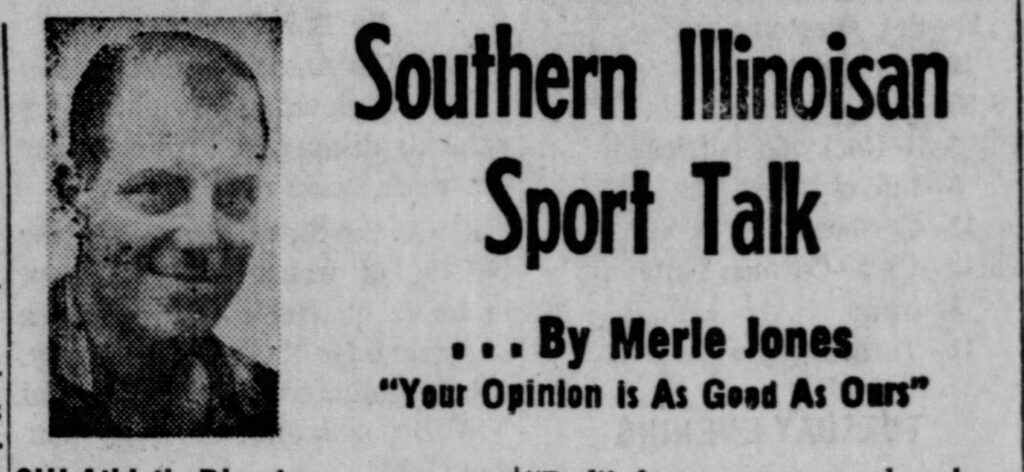 The fight over who would get Jerry Sloan now seemed to come down to personalities. Coach Harry Combes at Illinois placed Sloan at the top of his wish list and was forceful but not overbearing, letting the possibility of Jerry playing in the Big Ten speak for itself.
Evansville College Coach Arad McCutchan had been a star player for the Evansville College Aces in the 1930s and came back to the school to coach in 1946 after his release from the navy. Hired as a math instructor at the college, the soft spoken McCutchan held a master's degree from Columbia University. Coach McCutchan's teams had won Division II championships in 1959 and 1960 and the Aces played in the 10,000 seat Roberts Stadium, features that would surely attract Sloan. Perhaps letting his math instructor side do the talking, Coach McCutchan was friendly but short and to the point when approaching Sloan.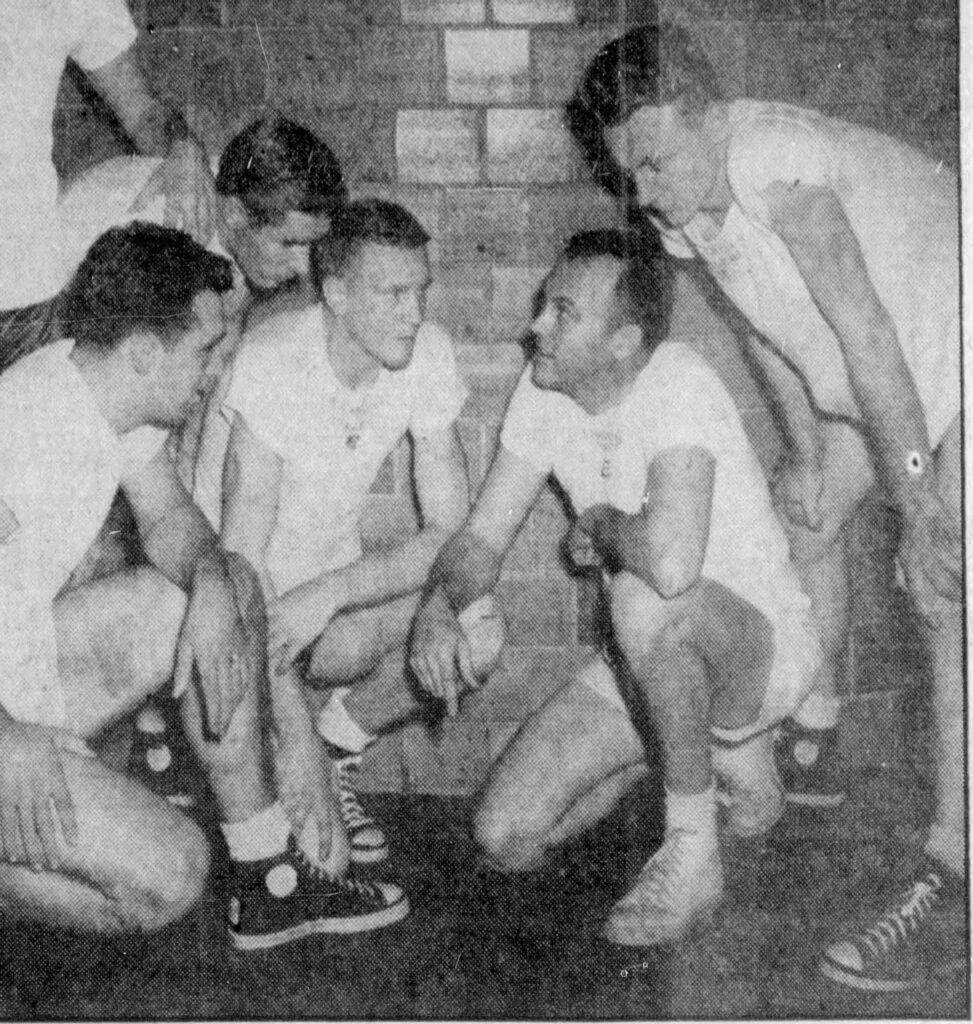 Meanwhile, no recruiter ever worked harder to win over the shy basketball star from McLeansboro than SIU's head basketball coach Harry Gallatin. The former NBA star seemed completely frantic about getting Sloan to SIU. The determined coach had been working at it for over a year, saying that with the likes of Sloan, "I hope to have an SIU basketball team playing in Madison Square Garden."[16] A sports writer for the Evansville Press called "the likeable Gallatin" the "hardest recruiter in the business."[17]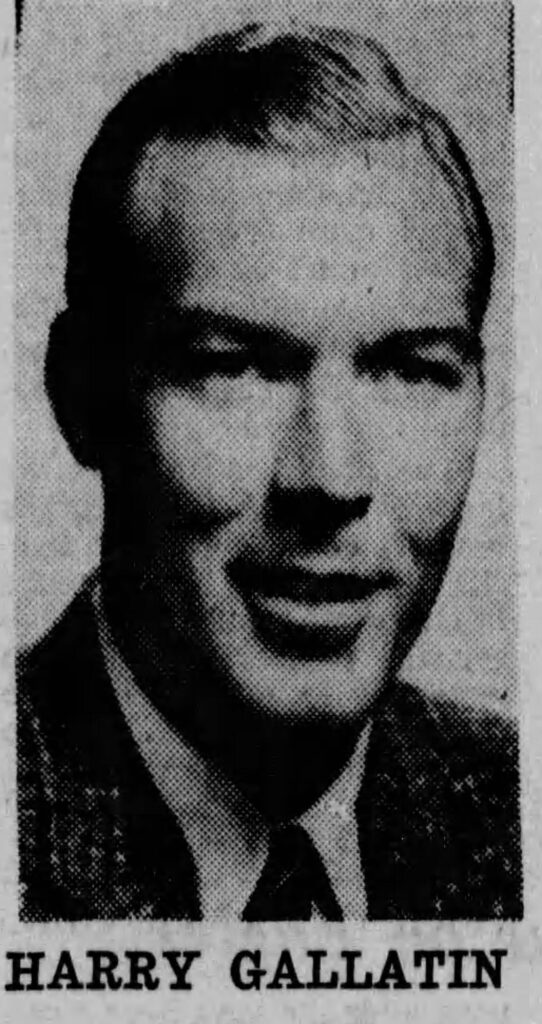 Sloan, while polite and respectful, could not seem to be pinned down by the SIU coach, although in an April 22 article, Merle Jones noted, "If Sloan does not pick SIU, it won't be because of any lack of effort on the part of Gallatin, Iubet (SIU's freshman coach), and Bill Brown. They have been to see him a dozen times or more."[18] Two days later Jones reported,
Harry Gallatin and Bill Brown of SIU spent two hours visiting the Sloan family Wednesday. It was supposed to be the night of decision. "All we found out for sure was that Bill Brown is a distant relation to the Sloans," Gallatin said. "Jerry did tell us he does not plan to leave the state to go to college but I feel Illinois and Evansville are the chief schools we have to contend with." Gallatin had been after Sloan for more than a year. The battle of nerves has become a little aggravating because the coach never gives up hope so long as he thinks he has a chance. The coach is in the position of a salesman who has a hot prospect on whom he cannot close a sale.[19]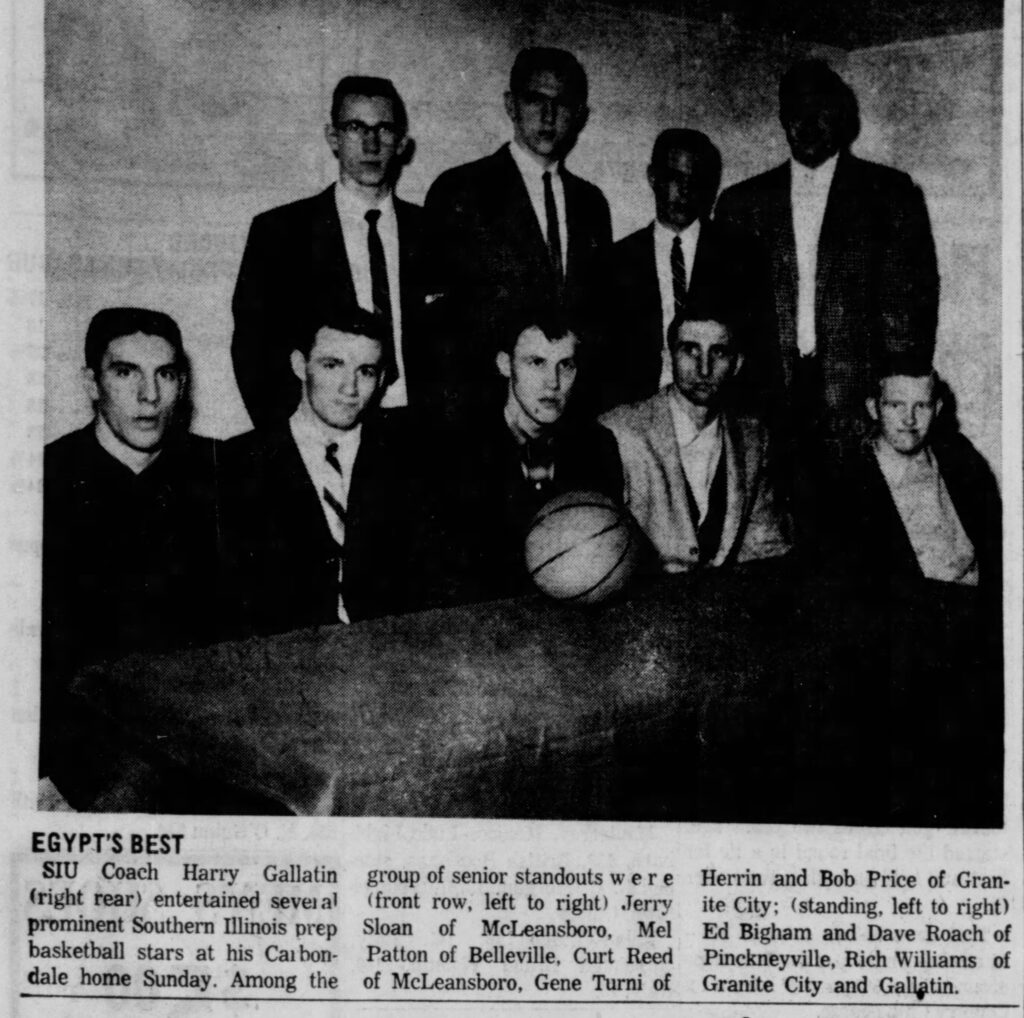 As Gallatin pushed even harder, Evansville and Illinois began to do likewise.
An Evansville reporter declared that Evansville College, SIU's arch rival, was still in the hunt, observing, "People around Carbondale way are pushing Jerry for Southern Illinois, but Coach Arad McCutchan hasn't given up."[20] Two weeks later Evansville Courier sports writer Eddie Cole reported,
Although McCutchan has been occupied with weekly speaking engagements and college duties as a math instructor, he has remained in contact with Sloan. Three freshman aces, Marv Pruett, Walt Henry, and Dave Fulkerson paid a visit to Sloan's home Thursday and came back feeling optimistic. "Sloan told us he liked Southern Illinois but his mother and relatives favor Evansville. We asked him to name some advantages SIU had over EC and he said, 'You know, I can't think of any.'" SIU Coach Harry Gallatin isn't about to give up on Sloan, however, and the likeable coach has literally 'parked on his doorstep." In an effort to sign the tall farm boy. Fulkerson, Pruett, Henry, and McCutchan are presently making plans to talk to Sloan soon.[21]
The wild card in the mix was the University of Illinois, coached by Harry Combes. Sloan had finally told SIU in late May that he was coming their way, but when Coach Combes came to the McLeansboro High School sports banquet, and spent time talking to Jerry and his family, the high schooler suddenly changed his mind. The Illinois recruiters had waved "whatever magic wand they possessed," wrote sports reporter Merle Jones. Jones added, "The Illini shot in their first team of recruiters and Southern had better hustle or get left at the post." [22] The University of Illinois incident also indicated there was another kink for Jerry Sloan in the choice selection.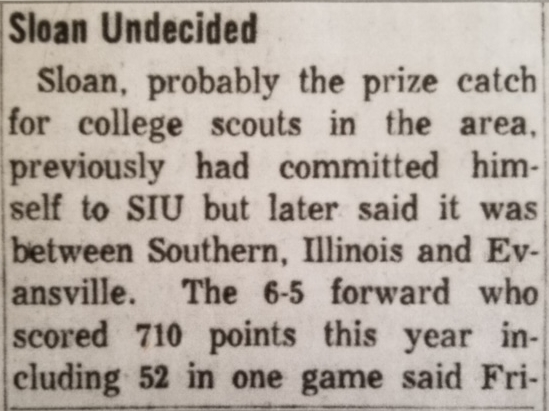 Unknown to the public at that time was the influence of Jerry's older brother, Roger, who was something of a father figure to Jerry after their dad died. The older brother had been a basketball star at McLeansboro too, having once held the basketball single game scoring record.[23] Roger, who had attended UI, told Jerry the hefty Illinois scholarship package would mean Jerry would not have to work, leaving him more time for his studies. Roger also pointed out that Illinois offered Jerry a better chance "to make a name for himself."[24] An Evansville sports writer, after taking a lengthy interview with Jerry Sloan after the Evansville undefeated season of 1965, noted, "Of all the people who have influenced Jerry Sloan, he figures his brother has made the biggest impression on his life. Roger is the man behind Jerry Sloan."[25]
All during the spring of 1960, the drama continued, the soft spoken Sloan not wishing to hurt anyone's feelings, telling or hinting to whichever school he talked to that he was leaning toward them. On June 5, the Evansville Courier, for example, announced, "Jerry Sloan, the McLeansboro cage star, is causing some commotion in the SIU athletic department. SIU sources, who once felt they had Sloan, now feel he is leaning towards Evansville."[26]
In mid-June, the Southern Illinoisan reported Sloan was back to saying his choices were still "Southern, Illinois, and Evansville."[27] Later that week came SIU's last ditch attempt to get Jerry Sloan, with Merle Jones working up a humorous article about the effort.
Don Boydston, SIU athletic director was fully aware of the time and effort Bill Brown and Harry Gallatin have spent trying to land Jerry Sloan, McLeansboro basketball star, for the Salukis next year. Recently he decided maybe the athletic director could make some sales pitch to Sloan that the others had not made. So Don and his wife, Jo Ann, took off one evening in their little car for a drive to McLeansboro. They had almost reached their destination when a torrential rain came and mired their little car on a country road. Don removed his shoes and socks, rolled up his trousers and got out in the mud to push while Jo Ann steered the car out of the ruts. This secondary mission was accomplished and Don was standing in a pool of water washing his feet when the object of his mission, Sloan drove up. "It was the first time I recruited bare-footed." Don laughed in recalling the embarrassment. But everything worked out nicely as Sloan returned home with the Boydstons and they spent an hour talking with him and his mother. He still has not decided where he will enroll.[28]
As fate would have it, the very next day Sloan's final announcement about where he would go was made.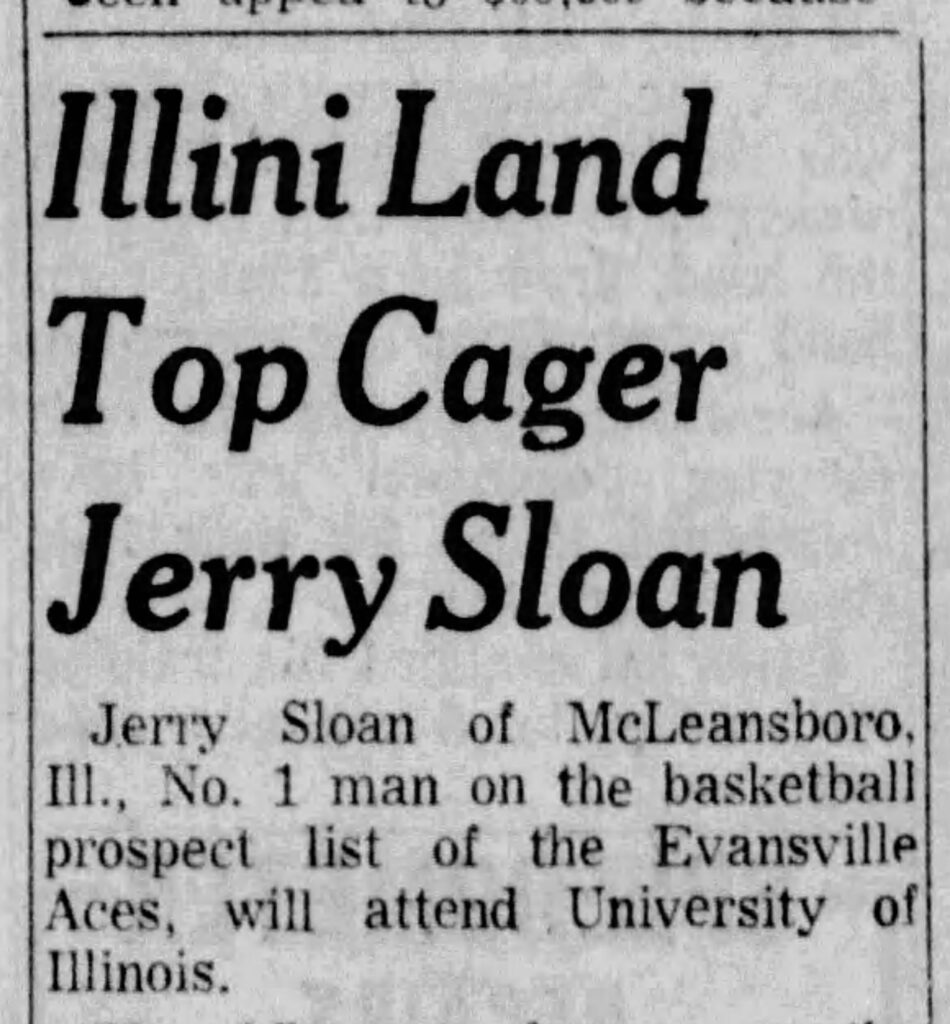 Carbondale and Evansville newspapers, among others, carried the news that Jerry Sloan had chosen to attend the University of Illinois. The Southern Illinoisan reported that Evansville College had fallen out of consideration in the last few weeks, leaving SIU and UI as the two possible choices. Roger Sloan's opinions about the benefits of going to UI, according to the paper, was the main influence on his brother's choice. The paper added, "Sloan, who once told SIU sources he would enroll at Southern, finally told SIU Coach Harry Gallatin Monday night that he had decided on Illinois." Gallatin lamented, "I'm disappointed not to get him mostly because I probably worked harder on this boy than anyone else. He should be a good one."[29] The Evansville Courier carried a shorter piece about the choice, saying Sloan, "had reportedly selected Illinois because he felt he had a better chance to make a name for himself."[30] The Paducah Sun (September 23, 1960) had yet another explanation, asserting that "Sloan apparently favored SIU and told several people, including Coach Harry Gallatin, that he wanted to go to SIU. His mother, though, reportedly wanted him to go to Illinois and he's enrolled at the Campaign school."
Sloan went out and celebrated his announcement by leading the high school South All-Stars team in a stunning defeat of the North All-Stars. And while Sloan may have felt for a short while that a great burden had been lifted off his back, one of the most difficult experiences of his life waited just around the corner.
______________________________________________
Sloan abruptly left the University of Illinois in the early fall, after hardly spending a month there. If it was homesickness, it was a very bad case. Much of that time Sloan was indeed sick, spending time in the school's hospital infirmary. Stunned by Sloan's leaving, Illini coach Harry Combes lamented the loss, saying that Sloan was so good, "He could have stepped in and played on the varsity today."[31] The loss of Sloan even "prompted Combes to call off the annual freshman-varsity game."[32]
Much of what happened at Illinois is shrouded in mystery, but it certainly affected Jerry Sloan's confidence. It did not help matters either that when he decided to leave Illinois, he made the mistake of requesting a transcript before the university had put money into his account for his scholarship. Consequently, he received a large bill for room and board, a debt he felt he needed to work in order to pay off.
The news of Sloan's leaving Illinois hit the regional sports world like a bomb. A Kentucky newspaper reported, "Here is a case of a boy who didn't want to attend Illinois from the beginning, but did so only at the persuasion of his relatives. He even talked of going to SIU the week before he enrolled at Illinois."[33]
There was no sadness at Southern Illinois University. At the time of the announcement of Sloan's departure from UI, the Carbondale Southern Illinoisan carried a headline of rejoicing on its sports page, SLOAN AT SIU, WILL ENROLL. The ensuing article explained,
Jerry Sloan, star basketball player for the McLeansboro Foxes who graduated last June, withdrew from the University of Illinois Wednesday. He is expected to enroll at Southern Illinois University the winter quarter beginning in January. He wanted to enroll at SIU in the first place but was persuaded by his family to go to Illinois. He had been ill for several weeks in Champaign and in fact was hospitalized part of the time.[34]

Now it was Southern's turn to be surprised. Sloan, his head still spinning from his leaving Illinois and being responsible for a large room and board bill, only spent a day on the SIU campus before returning to his Hamilton County home without explanation.
Sloan was left with an overwhelming feeling of failure. Of course, sports reporters were curious to get the story of what happened at Illinois and then at Southern Illinois University. Sloan told one Evansville sports writer, "I'm not even sure I enrolled [at SIU]. Maybe I just registered at SIU or something. Anyway, I made up my mind not to stay. I just gave up and I don't have any plans to go back to college. I don't know what I'll do now."[35] Sloan later said of his decision to leave Illinois, "I didn't like it at all. I guess it was just too big."[36]
Sloan's declaration that he would not return to college may have been turned around by his working in the oil fields. When Murray State University in western Kentucky contacted him in February of 1961, offering him a nice scholarship package, Sloan realized he wanted to get a college education and that basketball was the only path that would allow him to do so.[37] But before he committed to Murray, he remembered the pleasant interaction he had had with Coach McCutchan at Evansville College back before he had signed on at Illinois. While a city of well over one hundred thousand people, Evansville possessed a small town feel and the Evansville College campus was small, attractive, and friendly. It helped too that the Aces played at Roberts Stadium, a facility that held over 10,000 fans. Here, Sloan could have both the feel of big time sports in a quieter campus environment.
Sloan picked up the phone and called Arad McCutchan. After Jerry hung the phone up, he felt a peace that had been missing for a long time—although I am sure that at that moment even Jerry Sloan could not have imagined what basketball greatness awaited him.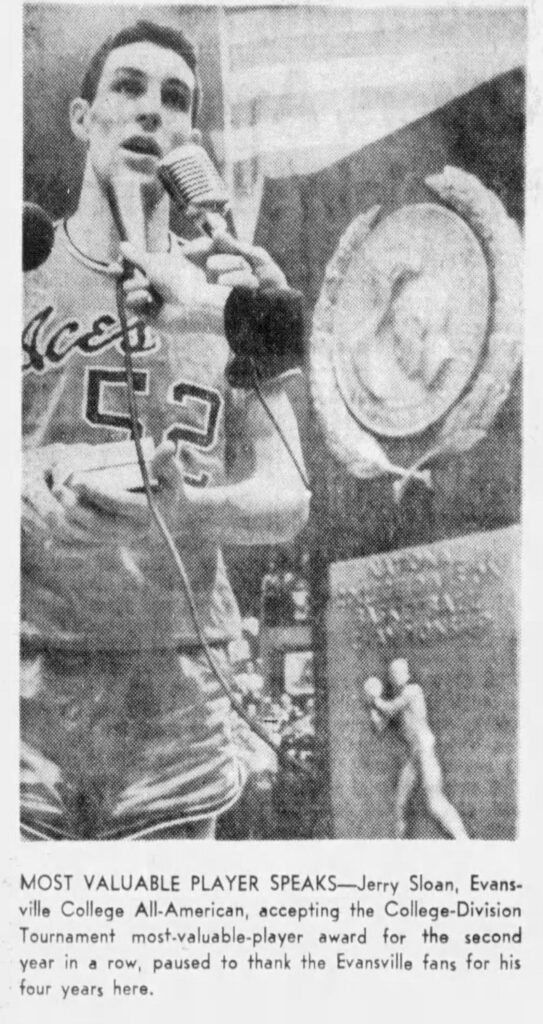 ---
[1] Evansville Courier, December 10, 1961.
[2] Ibid.
[3] Ibid.
[4] Southern Illinoisan, January 14, 1959.
[5] Mt. Vernon Register News, February 4, 1959.
[6] Ibid.
[7] Decatur Herald, February 12, 1960.
[8] Author's interview with Dave Schellhase.
[9] Southern Illinoisan, December 10, 1959.
[10] Mt. Vernon Register News, March 5, 1960.
[11] Ibid. March 7, 1960.
[12] Freeport Journal Standard, July 20, 1960.
[13] Southern Illinoisan, May 25, 1960.
[14] Ibid. April 28, 1960.
[15] Ibid.
[16] Ibid. February 15, 1960.
[17] Evansville Press, May 1, 1960.
[18] Southerner Illinoisan, April 20, 1960.
[19] Ibid. April 22, 1960.
[20] Evansville Courier, May 1, 1960.
[21] Ibid. May 22, 1960.
[22] Alton Evening Telegraph, May 26, 1960.
[23] Southern Illinoisan, December 18, 1955.
[24] Ibid., June 14, 1960.
[25] Evansville Press, February 28, 1965.
[26] Ibid, June5, 1960.
[27] Southern Illinoisan, Jun 10, 1960.
[28] Ibid. June 13, 1960.
[29] Ibid. June 14, 1960.
[30] Evansville Courier, June 16, 1960.
[31] Ibid., December 11, 1960.
[32] Ibid.
[33] The Paducah Sun, January 10, 1961.
[34] Southern Illinoisan, October 25, 1960.
[35] Evansville Courier, January 22, 1961.
[36] Ibid. December 10, 1961.
[37] Ibid.