While it's true, and amazingly so, that Larry Bird could seemingly overwhelm an opposing team all by himself during his senior year of Indiana high school basketball play at Springs Valley; it is also accurate to point out that he had an important supporting cast. Two seniors on that squad, cousins John Carnes and James "Beezer" Carnes, were also essential in helping Larry and the team go 17-3 in the regular season and then go on to win a sectional title before being stopped by Bedford in the regional finals. Two solid juniors, Brad Bledsoe and Doug Conrad filled out the starting five squad that year, along with junior sixth-man Mike Cox. But it was the three seniors, Valley's three musketeers, if you will, who made up the core leadership of that season's potent team.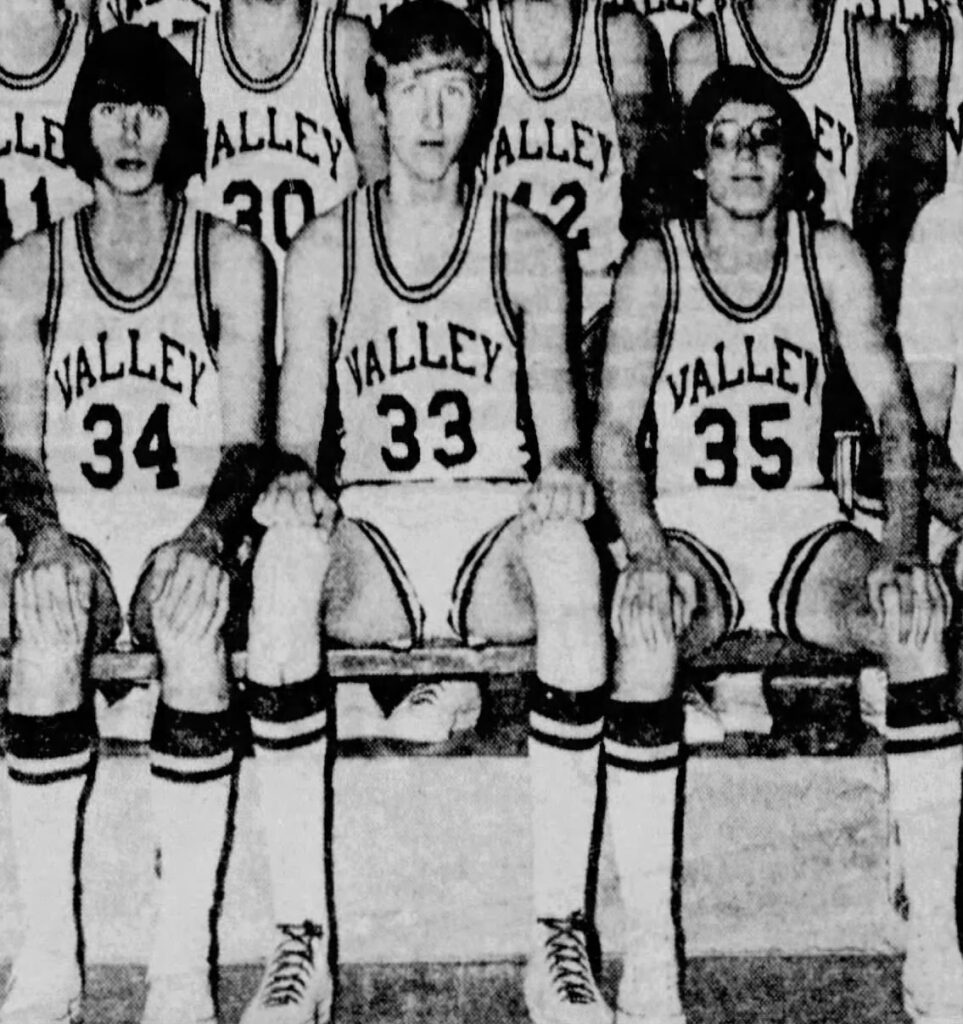 Sportswriters were certainly aware of the dynamic of the three seniors. Jim Plump, a sportswriter for a Seymour, Indiana, newspaper, for example, wrote of the trio after one "explosive" Valley win over a Brownstown Central team.
tick . . . tick . . . tick. It was like a bomb. Springs Valley was ready to explode, but Brownstown kept blowing on the fuse. Finally, midway through the final period, the bomb went off. With Joe Hall, head coach at the University of Kentucky, and scouts from Western Kentucky and the University of Alabama in Huntsville looking on, the Carnes boys, James (Beezer) and John, and the ever-present Larry Bird took control of the game, hitting 13 of 20 shots in the fourth period stanza.
While six foot forward John Carnes would end up as the team's second leading scorer, Beezer Carnes, a 5-8 ball handling guard, was perhaps the most interesting of the Carnes cousins. Part of Beezer's more remembered story stems from the fact that all biographies about Larry Bird highlight a mistake Beezer committed in an epic Indiana high school basketball struggle against Loogootee for the Blue Chip Conference title in the late winter of 1974. In that contest, Beezer called a time out with just a few seconds left after his team had already used up all their time outs, an event that helped Loogootee win a close battle. But Bird had also made a mistake earlier that lost the ball to Loogootee at a crucial time as well. That fact may explain why Larry told Beezer not to worry about the time-out incident, saying instead, "We'll get them in the regional."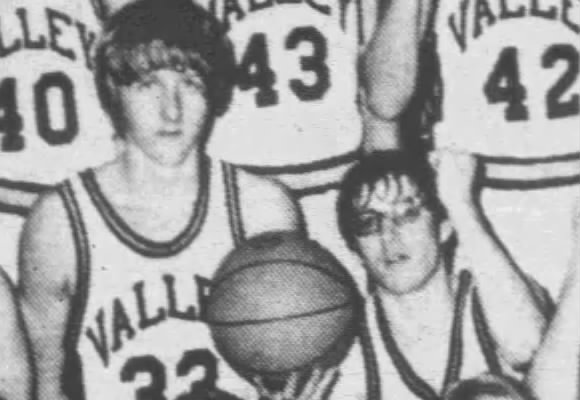 Beezer first came into the spotlight his junior year, playing with Larry on a team that had its own powerful three senior unit—Steve Land, Danny King, and Tony Clark. Larry was the second leading scorer that year on a squad that gained Valley's second-best regular season record ever and Coach Jim Jones' best regular season at Valley, an 18-2 campaign. Beezer, however, held his own when playing with the older crowd.
In Springs Valley's second best record regular season, Beezer preserved a Blackhawk win by scoring two pressure-packed free throws against Southridge with five seconds left in the game. One newspaper noted that Carnes' points "sealed the victory." Beezer was also the second leading scorer in the contest. Against North Daviess, Beezer scored twenty-one points in a Valley victory, beating out Springs Valley's high powered Steve Land for scoring honors. He was also the leading scorer against Brownstown in his junior year and second leading in another crucial contest. These accomplishments are made even more credible by the competition among his own teammates, the likes of Steve Land, who would break the single game and all-time scoring records that season, along with Danny King, Tony Clark, and Larry Bird.
Beezer had one amazing chance at permanent Valley basketball glory when playing his junior year against powerful Loogootee, a team undefeated at that point and highly ranked in the state. In the last few seconds, Beezer had the ball, rushing down to floor to try and tie the score. He let go with a shot at one side of the top of the key, with almost everyone rising from their gym seats to watch. Russ Brown, a sportswriter for the Louisville Courier Journal, reported how the ball began spinning "in and out of the basket, then hanging tantalizing on the back of the rim for a couple of seconds—while the crowd oohed and aahed—before finally rolling off into the hands of Loogootee's Bill Butcher as time expired."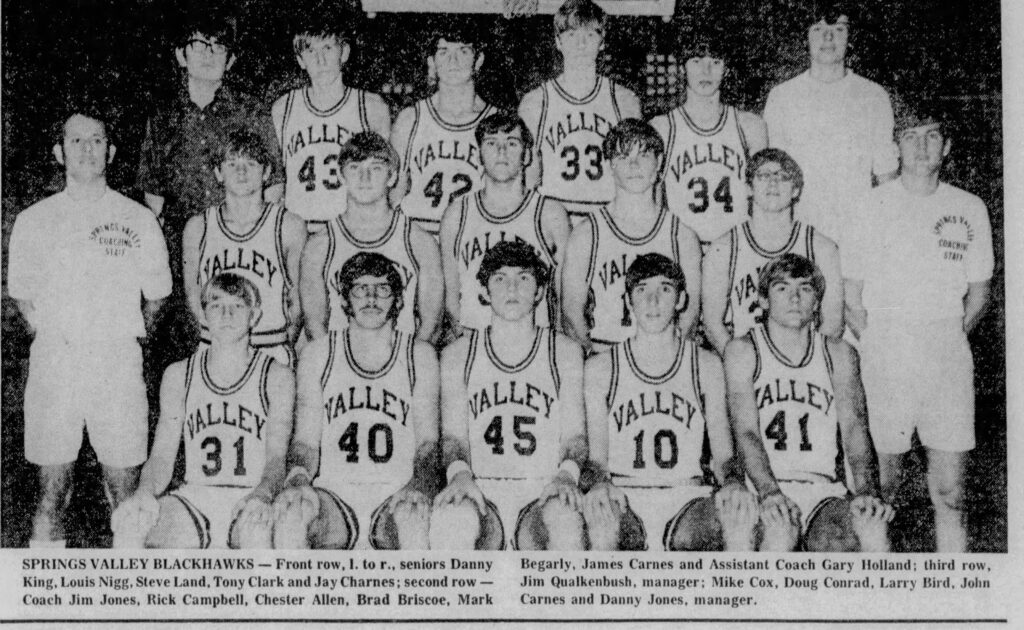 When Beezer's senior year of basketball began, fans, disappointed by Valley's loss to Orleans in the sectional tourney and aware of the graduating senior class of the year before, had little hope for a solid season. The three musketeers would soon change that perception.
Of course, Larry Bird dominated the scoring and rebounding in the 1973-1974 season, but Beezer and John Carnes added most of the remaining firepower. Indeed, in an early game that year, Beezer tied Larry for scoring honors, tossing in twenty-six points in a blaze of accurate shooting. At this point, he and Larry were the top scorers in the Blue Chip Conference, before Beezer's scoring production slowed down. It may have been the only time Beezer's name came before Larry Bird's in a newspaper article. Al Brewster, at the Bedford newspaper wrote, "The 8-team Blue Chip Conference has several top scorers according to stats released for league games through Jan. 5. The leaders happen to be starters for Springs Valley—James Carnes and Larry Bird."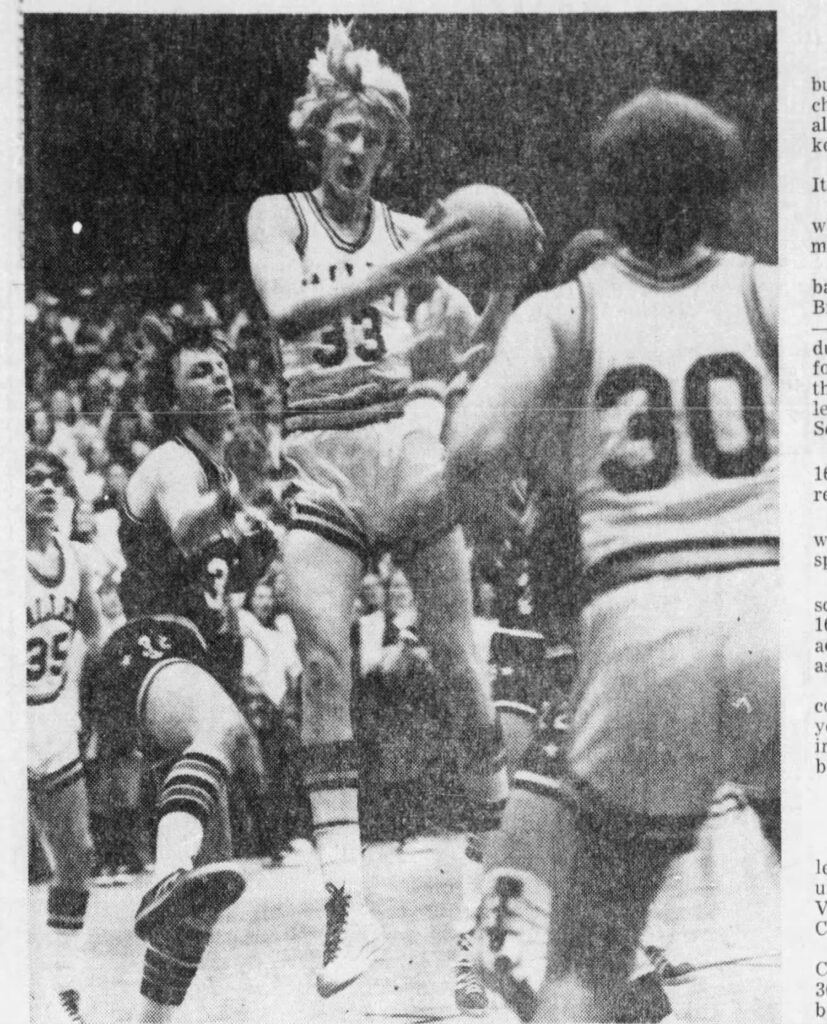 Beezer may have been at his very best that season when playing in a revenge game against arch Orange County rival Orleans at the Paoli Holiday Tournament. The Orleans Bulldogs had beaten Valley in the sectional the year before and earlier in the 73-74 season. In the tourney game against the Bull Dogs, Beezer was the second leading scorer for the Blackhawks, and his defensive play was sparkling. A Bedford sportswriter would label the victory "stunning."
The Blackhawks would go on to whip Paoli for the holiday championship, and Beezer's pivotal role at the Paoli Holiday Tournament would bring him first-team All-Tournament honors in the Bloomington Herald Times newspaper. The overall formidable list, with Beezer's name listed first, included John Carnes, Larry Bird, Tim Eubank (Paoli), Don Cook (Paoli), Brad Tuell (Paoli), Curt Gilstrap (Orleans), Mike McClintic (Orleans), Rick Wilgus (Forest Park), and Mike Becher (Forest Park).
Friends since childhood, Beezer and Larry had their own personal dynamic going that senior year season. Sports reporters caught it occasionally, how Beezer would take off tearing down court as Larry went up for a defensive rebound. Junior high schooler Tom Roach recalled, "It would take your breath away when Larry grabbed a rebound on the defensive end and in one motion throw a baseball pass down court to Beezer for an easy layup. Sometimes Beezer didn't even have to take a dribble, the pass was that long and perfect."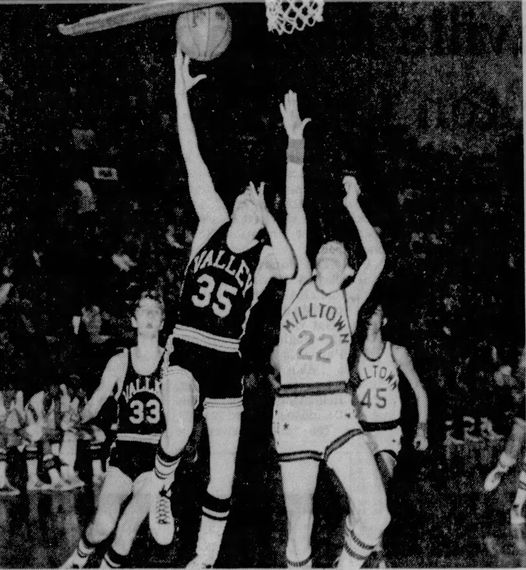 By the end of the season, Valley would be 17-3, just one fewer victory than the great season before. They would also bring home a sectional championship and go to the final game of the regional, where they were upset by Bedford. Beezer, for his outstanding play, would be chosen as a first team All-Tournament member at the Paoli sectional by the Herald Times newspaper.
After Springs Valley won the Paoli sectional, a reporter and a photographer from the Louisville Courier Journal came to the school and did a full-page article about the Blackhawk team. The three musketeers, as I have labeled them, seemed to have had lots of fun during the interview and shoot, being given their own photo, taken in the school library. The three probably hooted and hollered when they saw the photo in the newspaper the next day. The caption read, "Basketball doesn't occupy all the time of John Carnes, Larry Bird and James (Beezer) Carnes, who spend some leisure time in the Springs Valley high school library."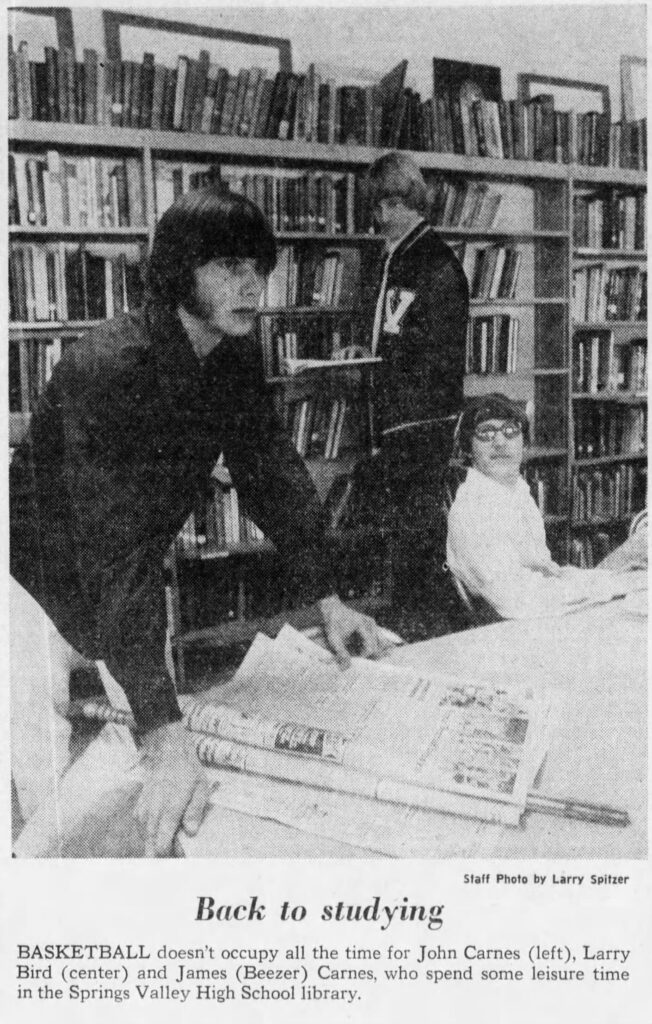 Larry Bird averaged an amazing 30.6 points a game his senior year while John Carnes carried a 16 point average. Beezer Carnes ended the year as the team's third leading scorer, gaining an average of 12 points a game while nailing down forty-seven percent of his field goal attempts. Most surprisingly, as Larry Bird was so well known for his assists, was the fact Beezer had the second highest number of assists at one hundred and twenty-one that year, just four behind the Valley team leader in assists, Brad Bledsoe.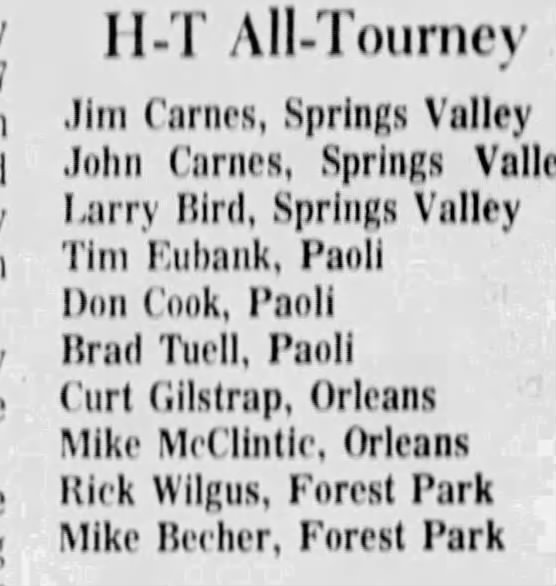 Basketball life went on for Springs Valley after the three musketeers graduated, the next year's team winning another sectional. Gone, however, was the amazing play of Larry Bird and the dynamic interactions of Bird and the two Carnes cousins. Perhaps time has robbed us of the memory of those others who played along side Larry in his unforgettable high school senior year. This narrative, however, seeks to remind us that there were others who were an important part of that season's story and that Beezer Carnes' solid play was one part of it. Beezer was one of Springs Valley's many great players in a long tradition of great teams and players and an excellent example too of the high caliber of Indiana high school basketball over the ages. He was indeed the great third musketeer for the 1973-1974 basketball Blackhawks.