Over the years, Oakland City College/University has sent hundreds of basketball coaches out into the high school ranks. These graduates were often star players at the college before becoming high school coaches.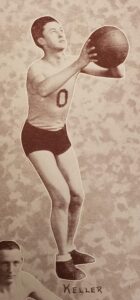 Many of these coaches went on to great success, OCC graduates such as Herman Keller, who guided Bosse High School of Evansville to back-to-back Indiana state championships and Charlie Brauser, who coached Oakland City High School to a perfect basketball season in the 1966-1967 campaign and went on to have one of the best wins to losses ratio in the state are just two of many Oakland City College/University graduates that come to mind.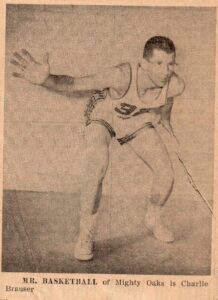 Keller, and five other OCC college players who later became successful high school basketball coaches are in the Indiana Basketball Hall of Fame. They include Jerry Reynolds, who also coached in the college and professional ranks, Ray Roesner, Joe Todrank, Gene Cato, and John McConnell. These OCC player-coaches, and many more are also installed in the Oakland City College/University Sports Hall of Fame.
There is however, one OCC graduate who had great success as a high school basketball coach and is all but forgotten today, Paul Johnson.
Johnson was the son of Oakland City College theology professor Ottis Johnson and attended OCC from 1932-1936. His family's roots were in Pike County, Indiana, with many of his people being prominent leaders in the General Baptist denomination and at the college.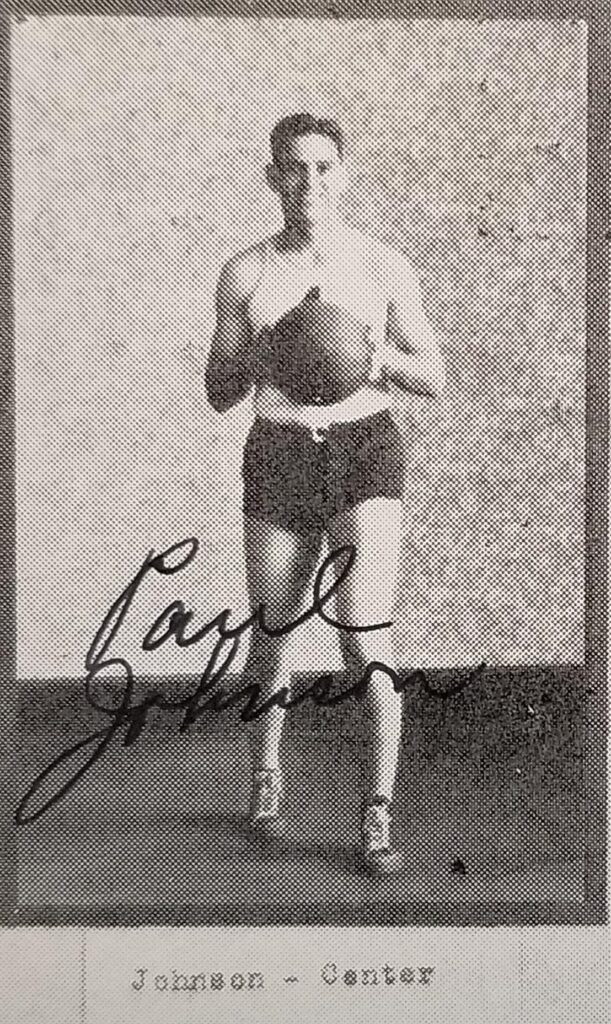 Paul lettered in four sports while at OCC: basketball, baseball, football, and track. He performed well in every sport, with his best sport being baseball. After his graduation from OCC, Paul played in a semi-pro baseball league, the Princeton Clarion noting after one game, "Paul Johnson, the husky Oakland City center-fielder of the Harwood club, had a field day at bat, with a single and two doubles in four trips to bat."
A handsome and highly intelligent young man, Paul also had a knack for understanding sports in a scientific way. Even as a coach, he was always looking for logical ways of getting the most out of his teams and developing support in the community for a team's efforts. Johnson's first high school coaching job, at the tiny Daviess County Indiana high school of Plainville in 1937 was perhaps his most daunting and exciting post.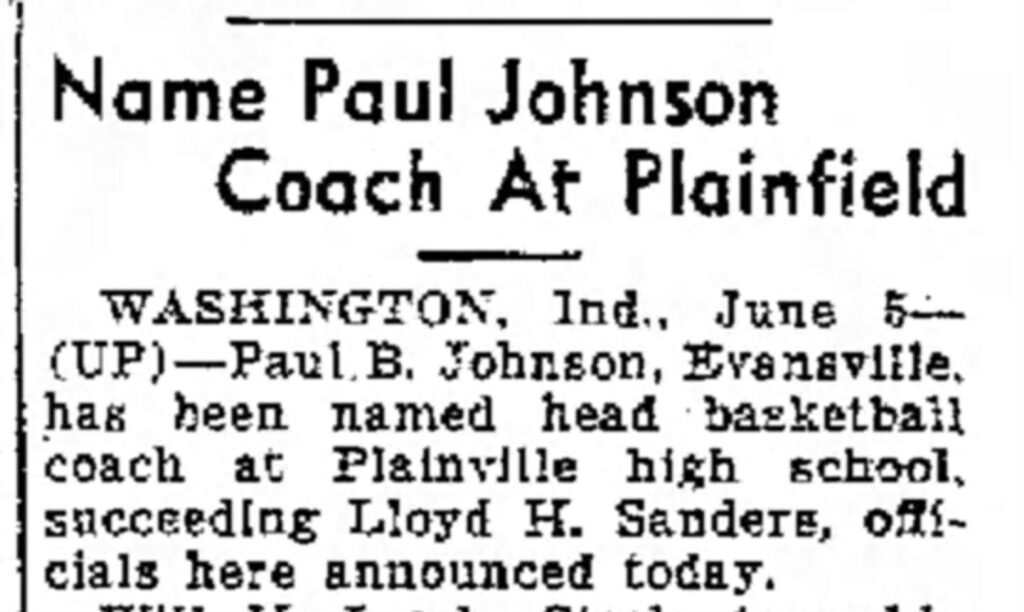 Paul walked into a difficult situation when he took the Plainville job. The prior coach there since 1931, Lloyd Sanders, had been highly successful, his 1936 team winning the prestigious Wabash Valley Tournament that included over one hundred schools. But Sanders could never seem to get over the hump when it came to winning a Washington sectional title.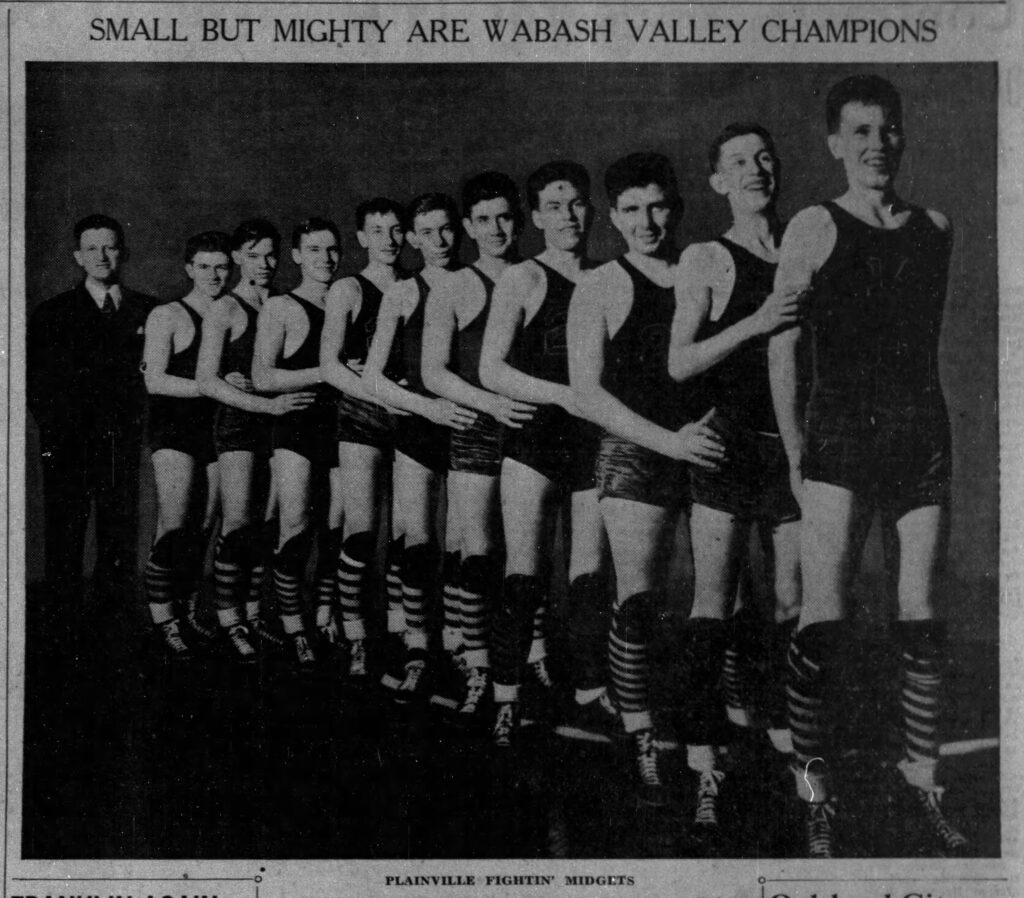 In June of 1937, he was fired by the local school board, an event that shook the high school basketball coaching world. The Indianapolis Star reported that "Despite the fact that Sanders had been unusually successful, the school trustees refused to state why the change was made."
Unfair or not, fan and community expectations on coaches were always high when it came to high school basketball in Indiana.
Whatever the impact of the firing of Sanders on Paul Johnson, he did not miss a beat, guiding his Plainville Midget team all the way to the sweet sixteen high school state tournament in 1938, the highest level a Plainville team would ever achieve. It was one sweet ride.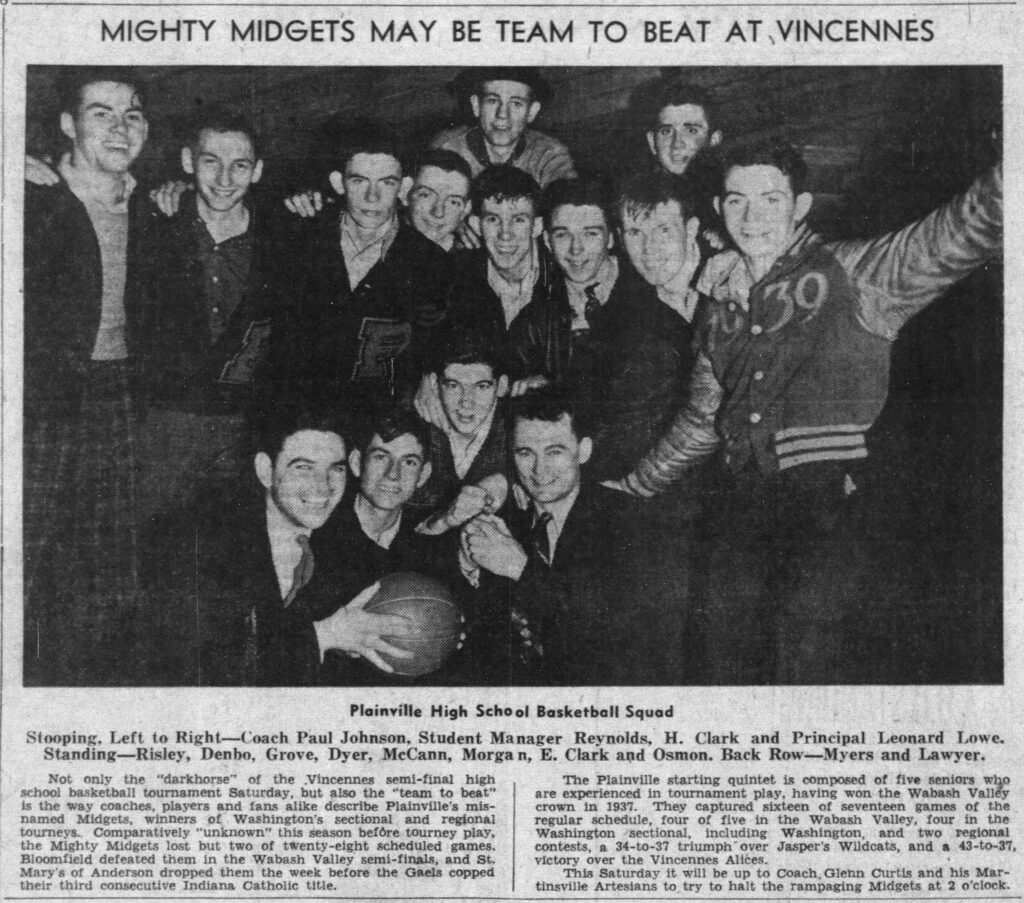 The Midgets only regular season losses were to Bloomfield in the semi-finals of the prestigious Wabash Valley Tournament and to St. Mary's of Anderson, a Catholic school powerhouse that would win it third state Catholic title later that year. In state tourney play, the Midgets beat traditional powerhouse teams such as Washington, Jasper, and Vincennes to advance to the sweet sixteen.
Paul Johnson would probably not see more of a crazy level of community celebration over a high school basketball achievement than at the tiny Indiana school. A few days after the Midgets took the Washington sectional, rival Washington sent 800 fans in a caravan to Plainville to join in a gigantic in town parade and wild pep rally for the Plainville team. The Indianapolis Star reported that "Following the parade, the crowd gather in the school yard for music, yells, and talks by coaches of numerous Daviess County high schools." 
Newspapers across the state reported that Plainville fans were so excited after defeating Jasper and Vincennes in the regional that the town of 700 "celebrated throughout most of the night. A couple of vacant houses went up in flames during the celebration." Such things were typical of high school Hoosier hysteria.
After two years at Plainville, Paul sported a 50-7 record, but in his second year he failed to win the sectional. In 1939, he began a bit of roaming for a while, taking a coaching job in Kansas, Illinois, for five years and achieving a 118-34 record in five seasons there. While at Kansas, Paul also coached the 6-man football teams to the state championships in 1940 and 1942.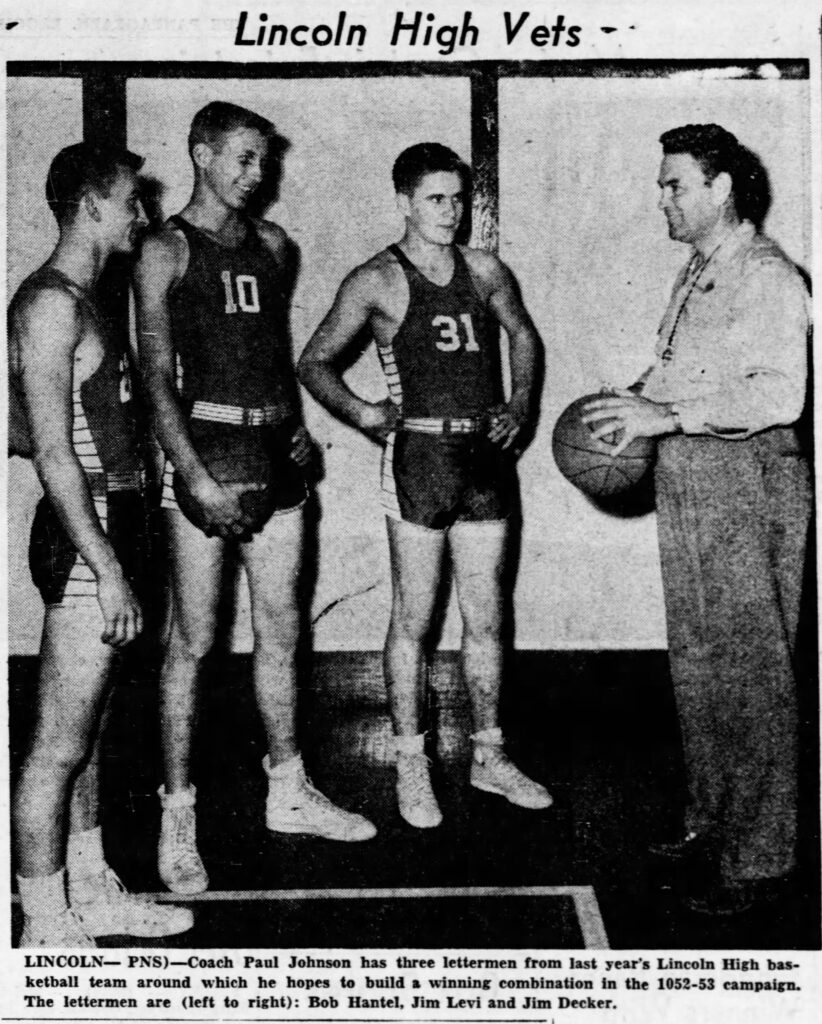 In 1944, Paul returned to Indiana, taking the head coaching job at Princeton. A newspaper account in the Princeton Clarion revealed Paul's growing logical approach to coaching. "A demonstration in the nature of a preview of Princeton high school's approaching basketball season was presented by Coach Paul Johnson and his varsity squad members in the high school gym last night before a body of invited fans."
Johnson explained the new high school playing rules and then had his team to demonstrate. Paul was especially adamant about getting the community involved in developing basketball activities for younger kids, "mentioning the necessity of developing material and building for the future instead of graduating as team every year and starting anew." His year at Princeton, however, saw a difficult season and Paul moved to Tuscola High School from 1946-48.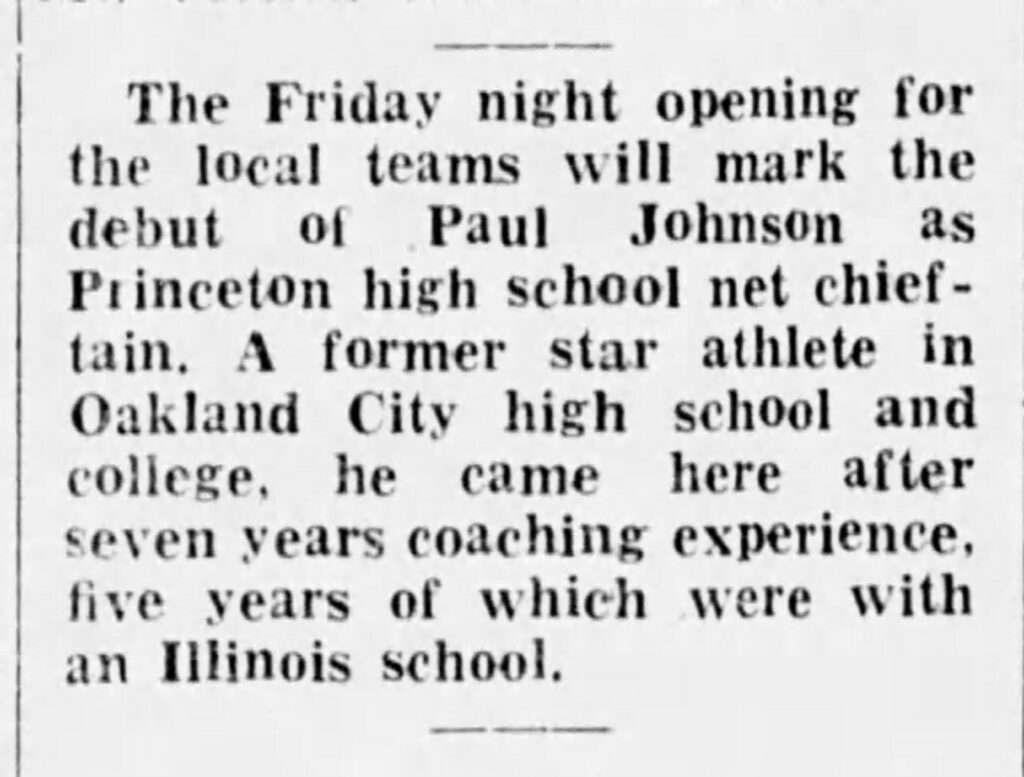 There finally came Paul Johnson's most memorable basketball tenure, a twelve-year run at Lincoln High School from 1949-1961. For his career, Paul's teams won 430 and lost only 231. At Lincoln, his teams won 11 IHSA Regionals (missing only in 1949 and 1959), two IHSA Sectionals (1951, 1959), three Big 12 Conference championships, the Kankakee Holiday Tournament and a 2nd in the nationally famous Centralia Holiday Tournament.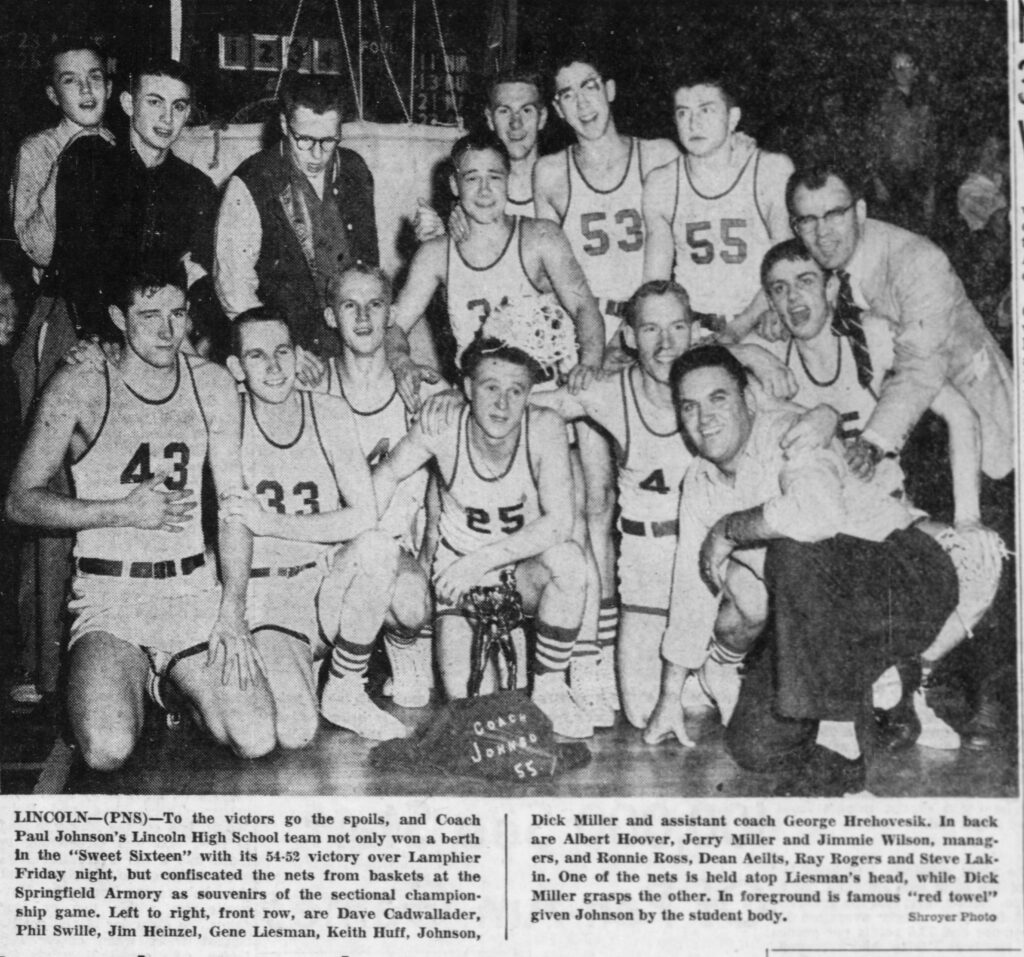 In 1975, Paul was inducted into the Illinois Basketball Coaches Association's Hall of Fame. I would strongly suggest that Paul be considered for the Oakland City University sports Hall of Fame.