In the early morning hours of May 30, 1986, Oakland City College's Student Memorial Gymnasium was destroyed by a fire of "undetermined cause." The college student newspaper mourned the loss in its next issue, lamenting, "Nothing from the building was saved: equipment, records, books, and trophies were all lost." Other losses would become more apparent over time, especially that of one particular era of OCC basketball history that seemed to have gotten lost in the cold ashes of the 1986 fire.

Over many decades, basketball games in the ancient Oakland City College gym were an important part of the school's bonding activities. The antiquated gymnasium, built in 1922, possessed a homey feel for the Oakland City players, and its limited seating meant the place would typically be packed with screaming, supportive students and fans. Given the deeply polished playing floor and the gym's worn wooden bleachers, watching games there was like going back in a time machine.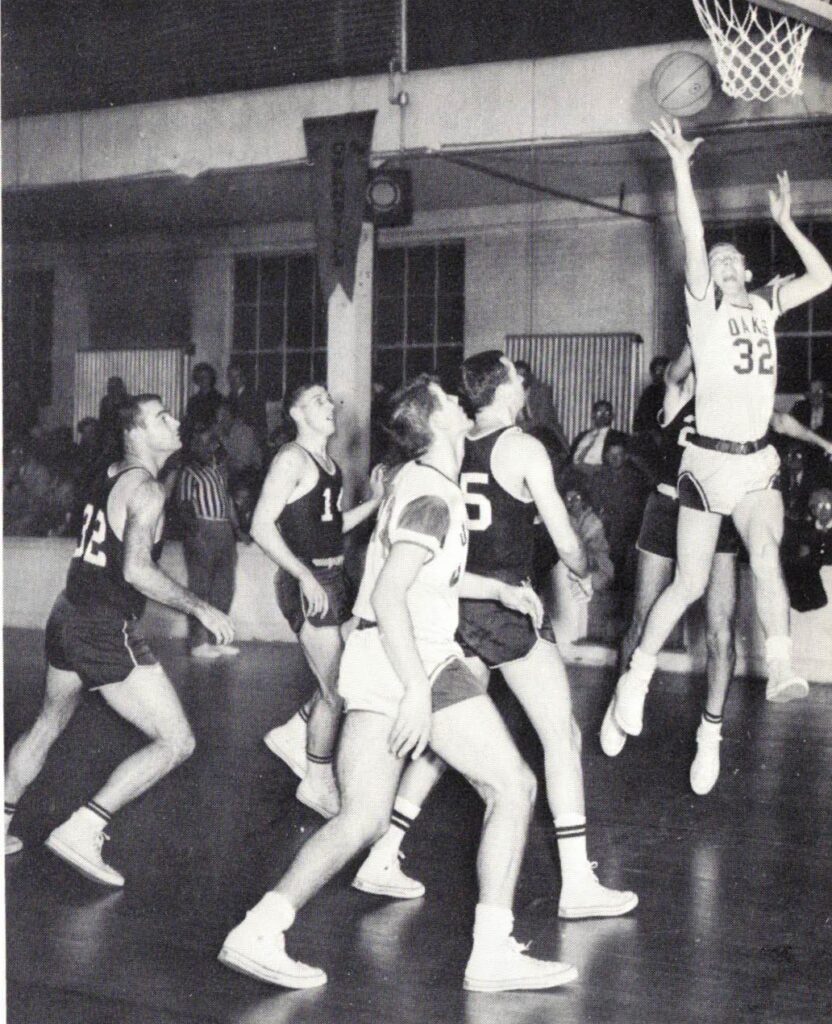 By the late 1960s, however, the college played most of its games in the much larger nearby Wood Memorial High School gym, using the old college gym for practices. Nevertheless, basketball games still continued to play an important role in the vitality of the school. OCC basketball teams were almost always competitive and drew a nice fan base. Under coach Delbert Disler, who took the basketball reigns at Oakland City College just after the end of WWII, the Oaks won the District 21 tournament of the National Association of Intercollegiate Athletics (N.A. I.A.) and advanced to the national finals in 1960. That team also set a school record for the most wins at 19 games.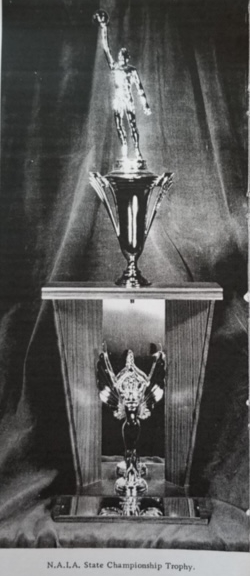 Under the guidance of basketball coach Willis Simpson, OCC teams also experienced solid successes playing N.A.I.A basketball, and competing in the tough Kentucky Indiana Athletic Conference. In the 1971-1972 season, Willis' best, the Oaks won 19 games, tying the old record, and went undefeated at home games. When Simpson left as coach in the spring of 1974, his coaching record showed winning seasons for more than half of his fifteen years of coaching at OCC.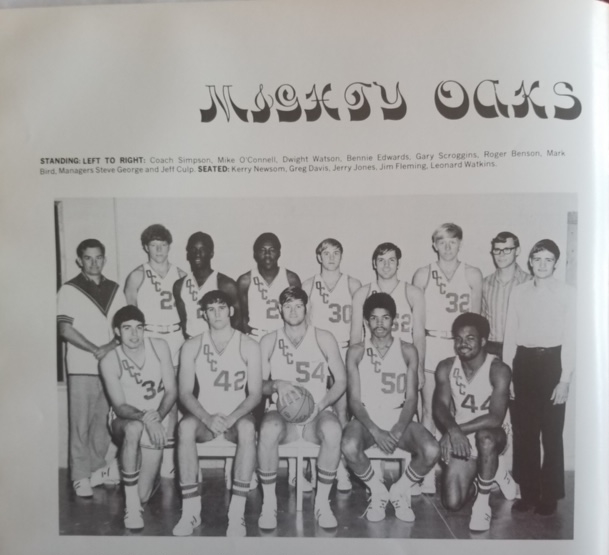 **************************************************************************************************
OCC's new coach for 1974-1975 year, Charlie Trafton, was a novice to college coaching. He would also face a number of difficult issues, including the school's possible closing due to the tremendous drop in male student enrollment, a nationwide problem for many small colleges due to the end of the Vietnam War.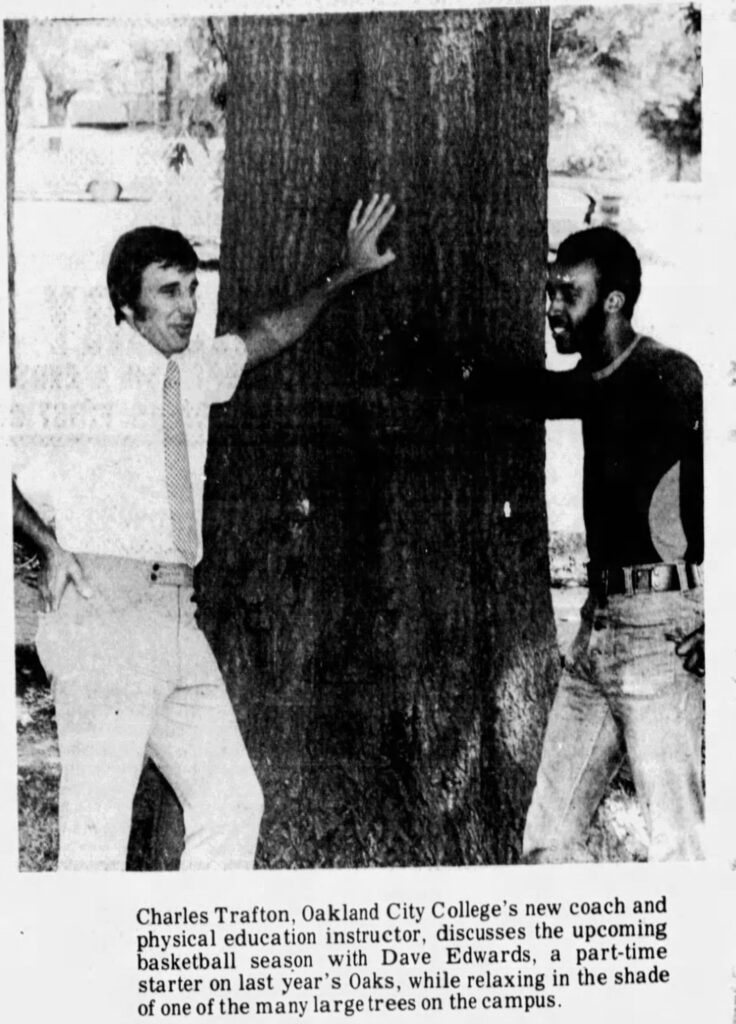 Charlie did not have to inquire to any great degree to understand how bad thing were at OCC. Oakland City College's student newspaper carried this banner headline in March of 1974—OCC Faces Dire Financial Crisis, and there was serious talk of the campus being purchased by Indiana State University or Evansville College, among other schools.

School leadership, however, after a tense emergency meeting, decided to keep the school open and to look for a president that could guide the school through the difficult times. They found such a person in James Murray, who quickly took tough actions to bring the school into the black. Murray also understood the importance of the basketball team to school morale, telling the new head coach to do everything he could to bring in the fans and win games. Of course, Charlie was also told not to spend much money in doing so.
While Coach Trafton would have to navigate the many pressures created by the new financial situation, he was still excited by the returning players he would lead in his first season at OCC, telling a local newspaper his team "could win at least 15 games." There were those in the local sports world who agreed. The Princeton Clarion sportswriter, Rick Hayes, for example, wrote a headline, Oaks Thriving on Veterans. Among the OCC seniors he touted were twins Dave and Benny Edwards, Jerry Jones, and scrappy little guard Gary Scoggins. Juniors George Fleming and Kelly Simpson would also be around. Mark Bird, Larry Bird's brother, would be finishing out his senior year.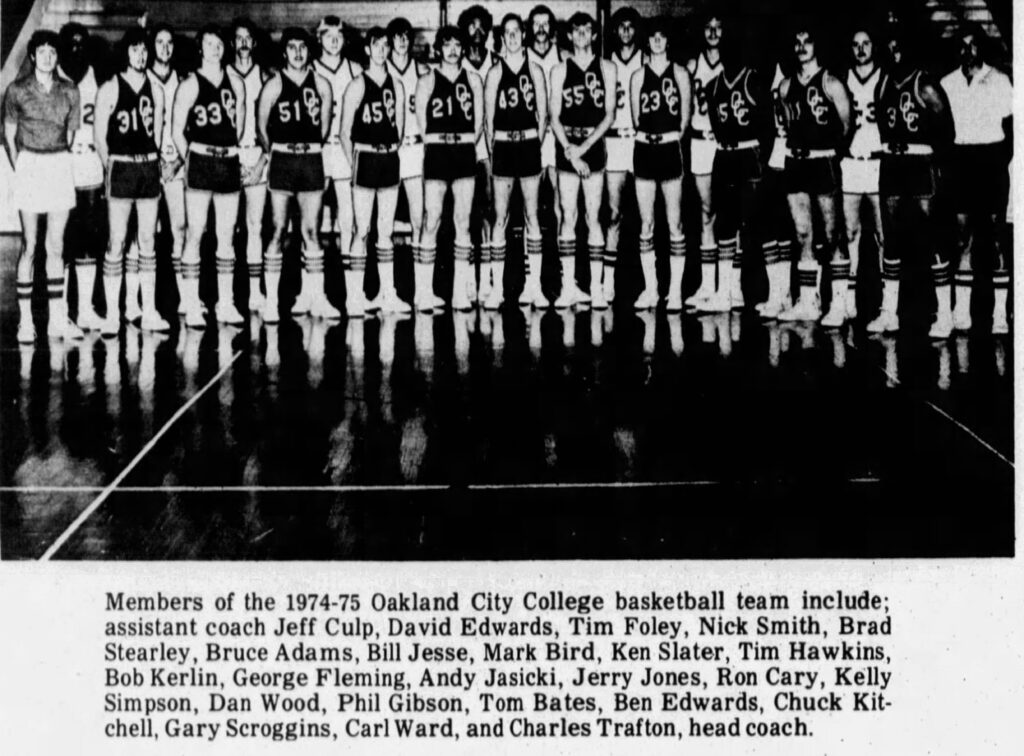 Coach Trafton would soon come to regret his fifteen game win prediction. The team won but seven games, playing against some very tough KIAC competition and always tough Kentucky Wesleyan and Georgetown College.
The next year Charlie was more realistic in his prediction, or so he thought, telling the Clarion sports reporter, "I felt we should have won more games last year, but we didn't, so this year I'm just going to say I hope we win more than we lose. Of course our ultimate goal is to get into the N.A.I.A. District 21 playoff, but that's going to take a lot of hard work." Rick Hayes, the Clarion sports writer, again added his own positive note. "Charlie Trafton can't help being optimistic about the coming season. With five regulars returning and four part-timers from the 7-14 campaign last year, and five aggressive freshmen, Trafton has his sights set on a successful season in his second year at the helm."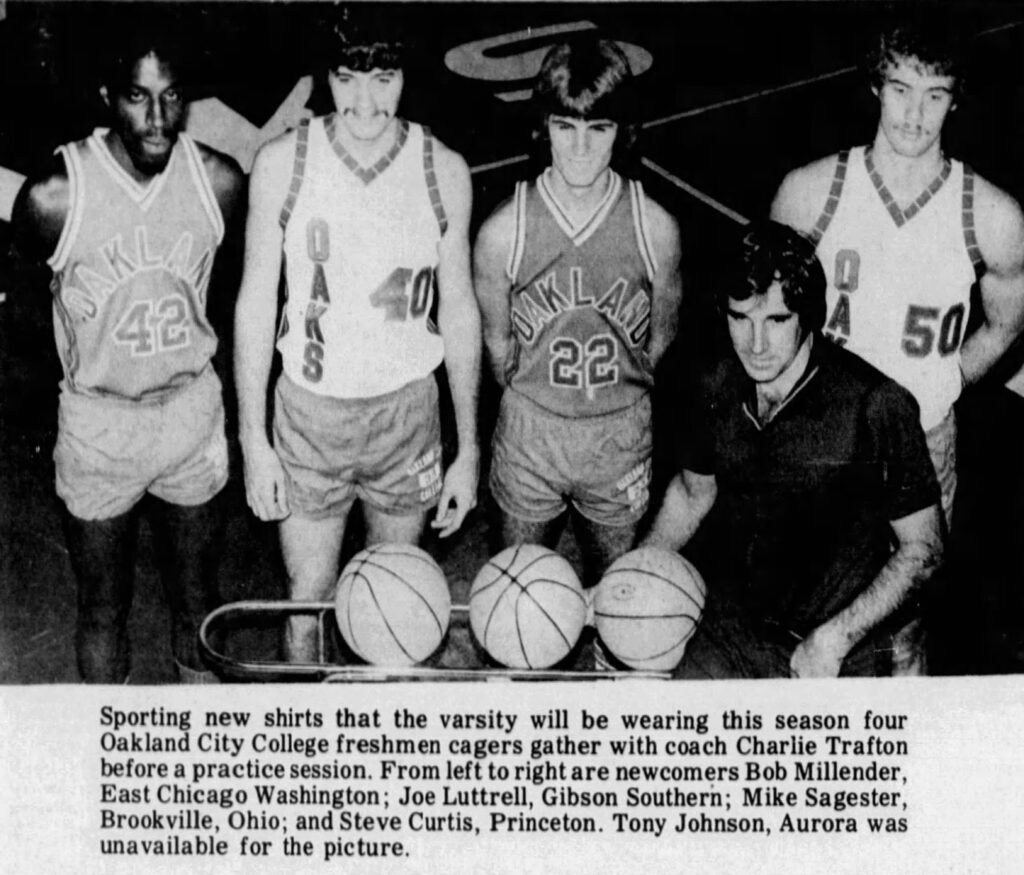 To further add to the upside, the Oaks would be playing some of their home games back in the old gym, newly renovated, and would be wearing snazzy new uniforms. According to one report, the old OCC gym had "undergone a complete face lift including resurfacing the floor, painting it, and leveling it off. Carpeted dressing rooms have been added downstairs with new lighting." Charlie would also have a new assistant coach helping out, Ken Perkins.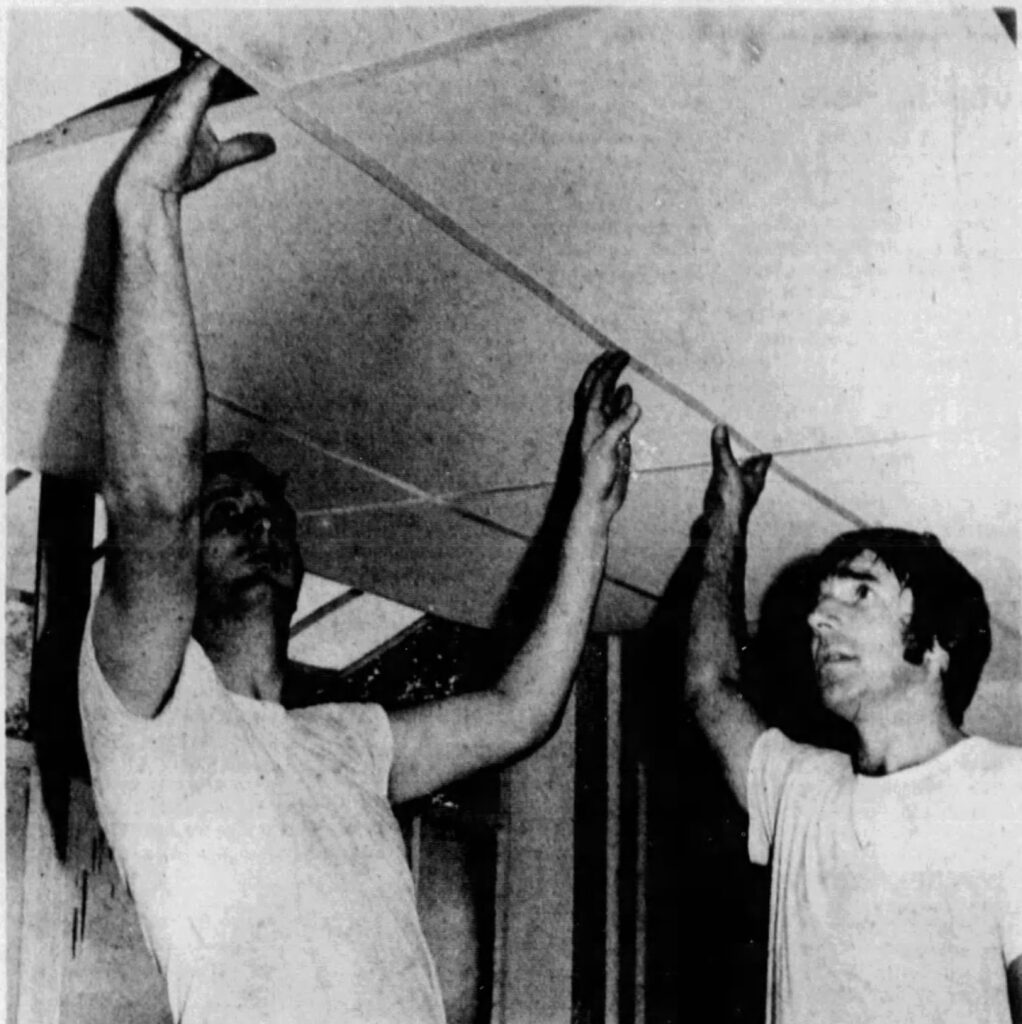 It was hoped that all these new features would bring out the students and fans and that a successful season would add some excitement to the campus as the school continued to struggle with enrollment issues and fewer activities.
The basketball season was a disaster. By late winter of 1976, Trafton was finishing the most dismal coaching campaign of his career. The team ended the year at 3-18, giving Charlie a 10-32 mark for his first two seasons in the small college ranks.
Charlie was almost ready to throw in the towel, later telling Evansville Courier sports writer Don White, "We had lost a lot of close ones, and I knew that losing those could be blamed on the coaching." An intense coach on the sidelines, Trafton was also a caring coach and a religious man, someone who believed his coaching job had more to do with developing his players as human beings than with just winning. "When spring rolled around," he told the reporter, "I changed my mind [about stepping down]. I felt I could coach and I just decided to go out and get some good kids, kids with a winning attitude, and see if we couldn't turn around the whole thing around." Trafton also said a little prayer that things might occur to help him make the upcoming season more successful for him and his players.
Prayer or no prayer, the task that lay before the OCC basketball coach was a daunting one.

After the dismal 1975-1976 season, Charlie led the charge in moving the college to a different level of competition early in the 1976-1977 basketball campaign, the National Little College Athletic Association (NLCAA), hoping to play more schools around the size of OCC and ones closer to home. In this league, schools had to have an enrollment of 500 or fewer male students. Still present on the new playing schedule, however, was perennial Division II basketball power Kentucky Wesleyan, along with the likes of Division II Indiana State University Evansville, Franklin College, Indiana University Southeast, Southern Illinois University Edwardsville, and always tough Transylvania College in Kentucky.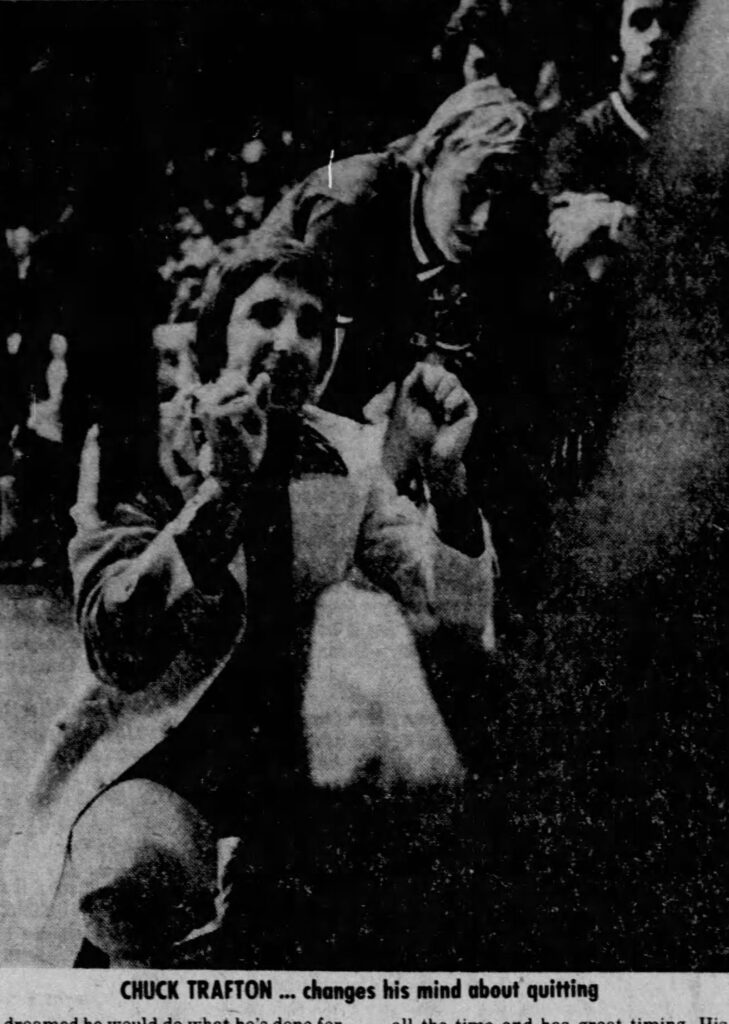 While Charlie Trafton struggled to find ways to create a solid men's basketball program at Oakland City College, a young southern Indiana player, Orleans High School basketball star Curt Gilstrap, would be having his own basketball journey, one with its own share of ups and downs. Ultimately, Curt's journey and Coach Trafton's would converge.
****************************************************************************
The 1973-1974 high school basketball season had been almost perfect for 6-7 senior Curt Gilstrap. He had been playing at the varsity level since early in his freshman year, and his Orleans Bulldog team, during that time, had advanced to the regional level of high school tournament play in his sophomore and junior years. His most exciting experience, however, involved playing against soon to be legendary Larry Bird and his Springs Valley Blackhawks.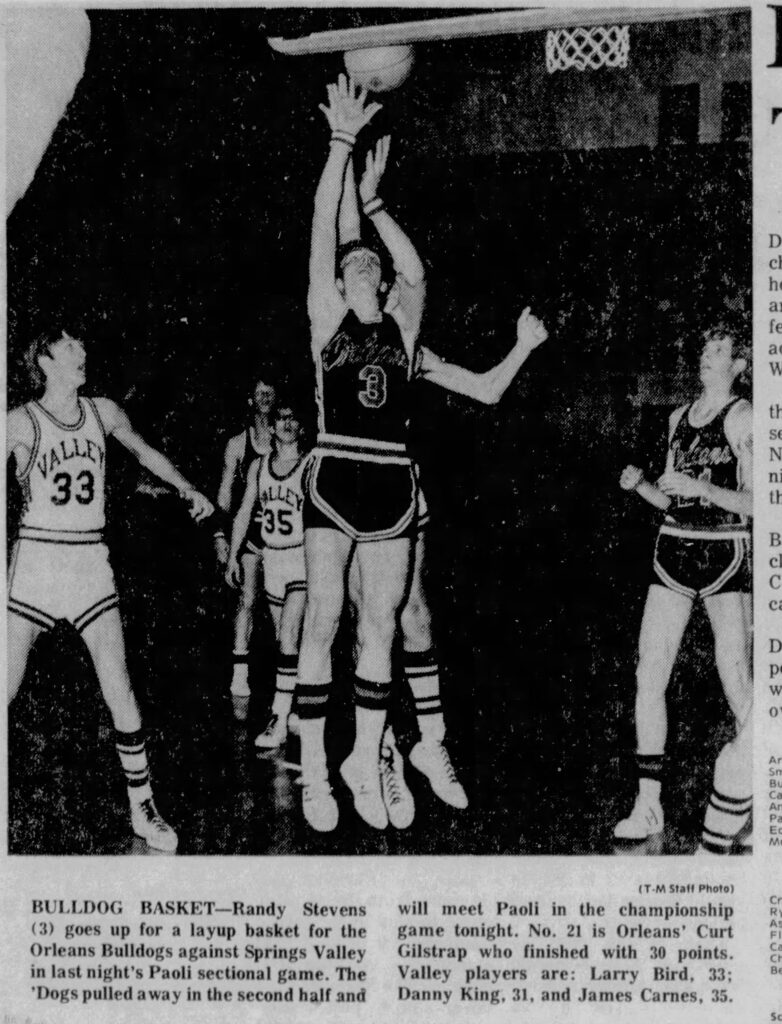 In the first meeting of the two teams during their senior year, Gilstrap led the Bulldog charge with 31 points and out-rebounded Bird in an Orleans victory. In the second match-up, Valley won the game, but Curt outscored his rival, Larry Bird. Curt was also the primary force that year in Orleans' upset victory over perennial small-school basketball power and highly ranked Loogootee on the Lions' own court. It was Loogootee's first defeat that season in the next-to-the-last game of the regular playing year.
Orleans finished Curt's senior high school year with eighteen wins in the regular season, and Curt had been the primary reason for the team's success. But there was a big disappointment as well that year. Orleans looked to have another match-up with Bird and his Valley team in the finals of the sectional, a win that would take them to the regional level of state tournament play for a third year in a row.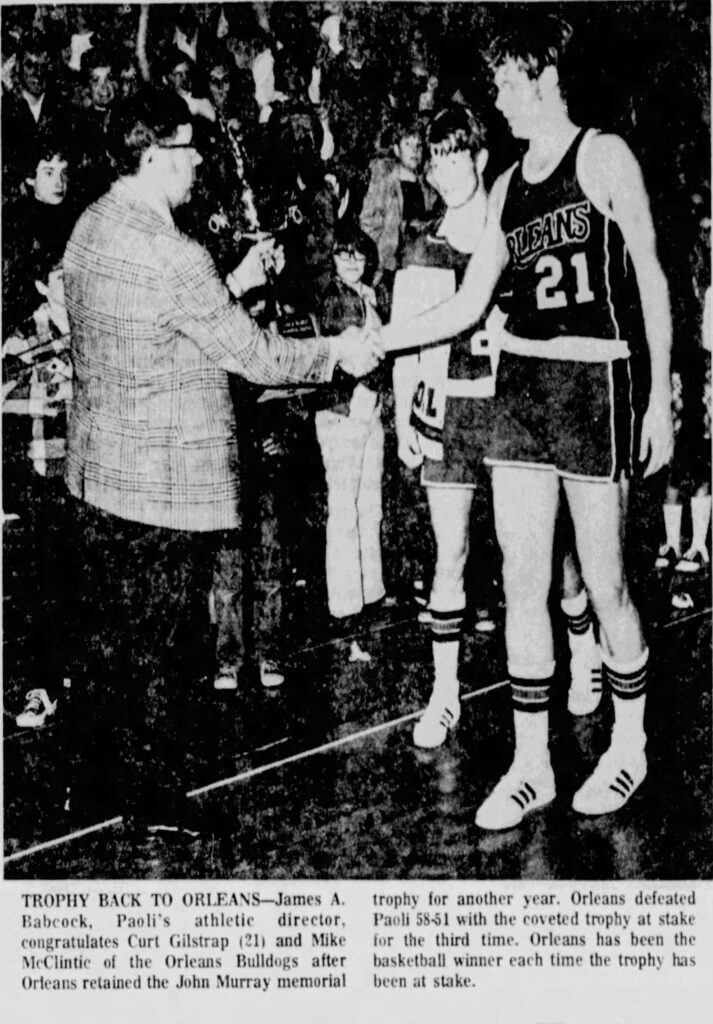 However, Orleans was knocked out in the early round of the sectional in a loss to Milltown and their 6-8 center, David Smith. Still, Gilstrap ended up his four years of varsity play with high scoring and rebounding averages and a reputation for being a physical force under the basket. He broke his high school's scoring and rebounding records and made the Huntingburg Regional All-Star first team two years in a row, along with a third tier position on the Indiana high school basketball All State list his senior year.
College scouts were everywhere, hoping to sign Curt to a letter of intent. It helped too that scouts looking to sign Larry Bird got to watch Curt's awesome play. And when it came down to who would get Gilstrap, Coach Denny Crum and the University of Louisville Cardinals would win that contest.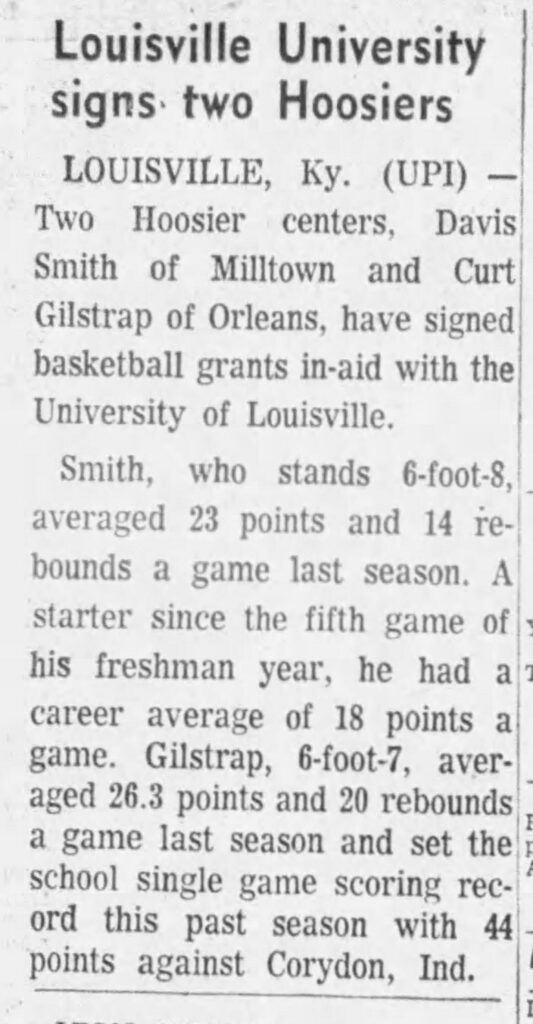 It looked to be a big jump from playing at tiny Orleans High School (250 students) to playing for a Division I team in an urban setting, a team that was consistently ranked in the top twenty. Curt, however, received the Outstanding Junior Varsity Basketball Player Award (freshmen were not allowed to play varsity) at the end of his freshman year for leading the UL Jayvee team to a twenty game winning season after leading the team in scoring and rebounding. When his sophomore year began, Curt was on the UL traveling team.

His sophomore year as a Cardinal was an up and down experience for Curt. Denny Crum's team started out the season rated sixth in the nation. Before the season started, Coach Crum called Gilstrap, "an excellent interim passer," an observation that would be supported by year end statistics after one takes into consideration Curt's limited playing time.
In a tune up contest against Athletes in Action, before the regular season began, Curt came into the contest with four other subs and turned the game around, leading Coach Crum to say to a sports reporter, "I liked the play of our subs. They came off the bench and gave us a lift." In the article, Curt Gilstrap was specifically mentioned as the key player among those subs.
Curt's high point during his second year at Louisville probably occurred in the team's annual four-team tournament at Freedom Hall, in the final game against Texas A & M. One Louisville newspaper sports reporter noted that "Sophomore Curt Gilstrap played a key role in Louisville's second straight championship in the three-year-old tourney." Replacing starting 6-11 center Ricky Gallon, who got into foul trouble early in the second half, Curt, "added 10 important points" in sixteen key minutes of play.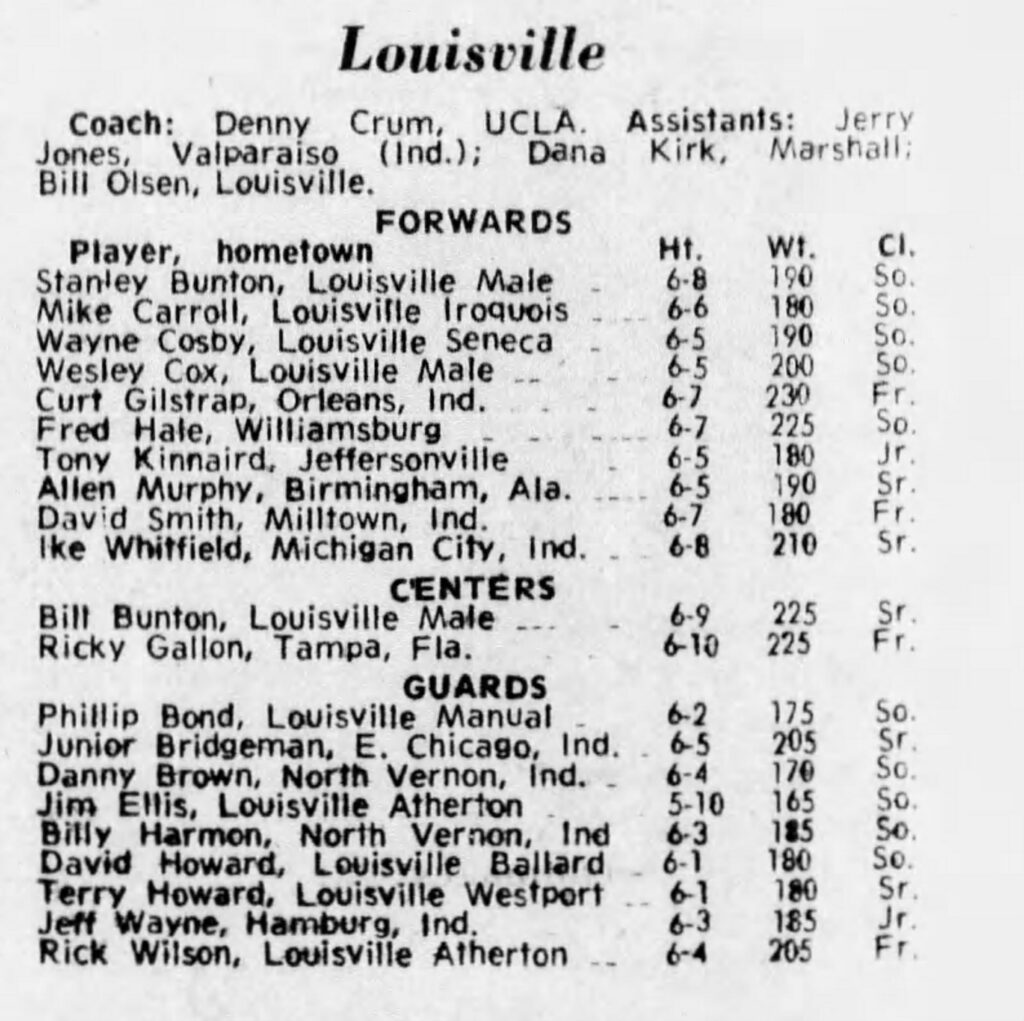 Things could go wrong too. In a game against Southern Illinois University, Curt and four other subs came in and lost a big lead before the starting five came rushing back in and took back the game. The next day's sports headline read, "Subs blow 15 point lead." A sportswriter noted, "Crum, who has seldom had the luxury of wholesale substitutions, vowed this would not happen again." The miffed coach went on to say, "The lead was safe if the guys had done what they were supposed to do—work within the patterns and be careful with the ball. But this is the nature of young people. We shot a couple of 20-25 footers and made dumb mistakes."
The Louisville team was 7-3 and ranked high in the nation's top 20 when they played Providence on the east coast in a nationally televised game. Curt would have his picture in the next day's Boston Globe, although the Cardinals lost their third game in a row and Curt did not score.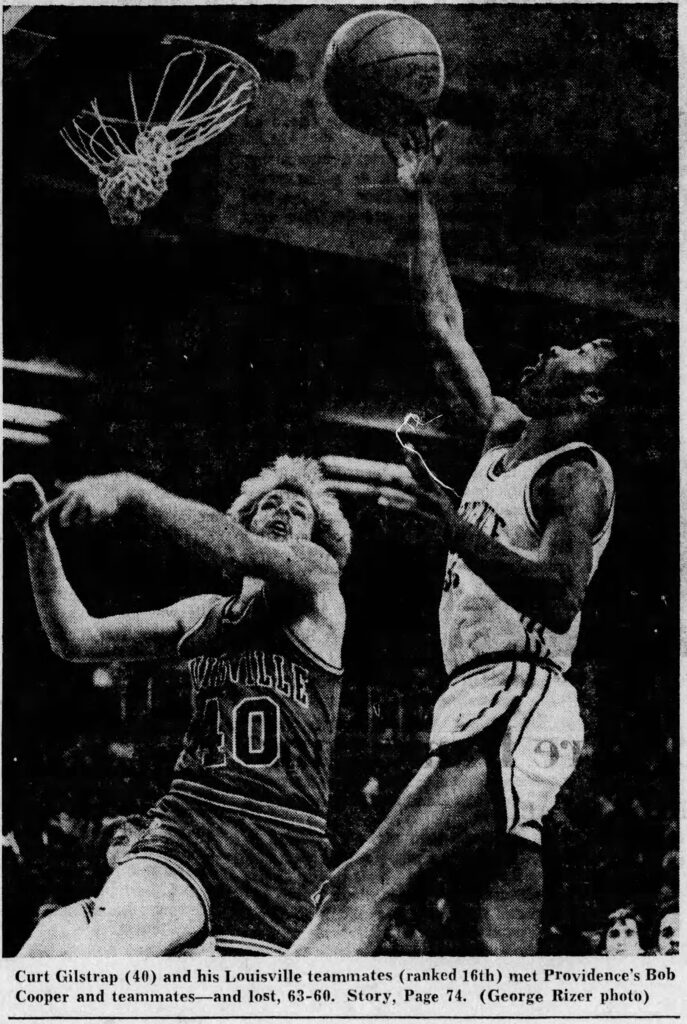 As the season progressed, Curt's playing time seemed to depend on the starting center, 6-11 Rick Gallon, getting into foul trouble or a blow-out victory game, situations that rarely happened. In a game against Bradley at the end of the season, an easy win, Curt saw only three minutes playing time, while former high school rival Dave Smith from Milltown High School turned in twelve minutes. Final statistics showed Curt played in seventeen of twenty eight games for an average of five minutes. Given that Rick Gallon was only a sophomore, Curt knew he would get little playing time in the future. Like many players in his situation, he could continue to play with few or no minutes per game for a nationally ranked Division I team, or transfer to a smaller school.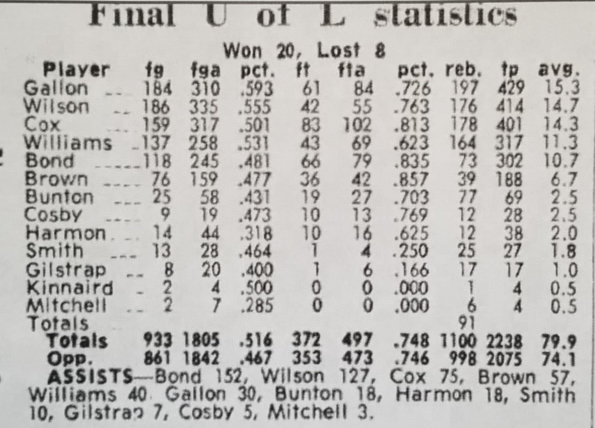 As it would turn out, Oakland City Coach Charlie Trafton's earlier prayer was about to be answered.
******************************************************************************
Prayers work best when they have wings. After two tough seasons, the latter seeing but three games in the win column, Charlie Trafton aggressively sought new players before his third season started. The Oaks already had seniors George Fleming and Tim Hawkins, along with a solid 6-7 sophomore named Steve Curtis. To this core, Trafton initially added Dave Emerson, Bobby Hall, Dennis Jones, and Mike McClintic. Other players coming back included Robert Millender, Robert Jones, Andy Jasicki, Joe Luttrell, Mike Burnett, Ricky Minton, Mitch Mitchell, Mike Walters, and John Merrill.
When Mike McClintic told the Oaks' Coach Trafton about his former high school playing mate, Curt Gilstrap, being available, Charlie really began to get excited. Trafton later explained to Evansville Courier sportswriter Don White,
I hadn't heard of Gilstrap, but when Mike told me he was 6-7 and that he was not going back to Louisville, I told him to bring him along and it's been like a miracle. I feel like God answered my prayers by sending Gilstrap to Oakland City. When he got here I told him he was the kind of kid we were looking for. The kind of kid who could help us turn it around. He liked the idea of there being no pressure and he definitely wanted to go somewhere where he could play more basketball.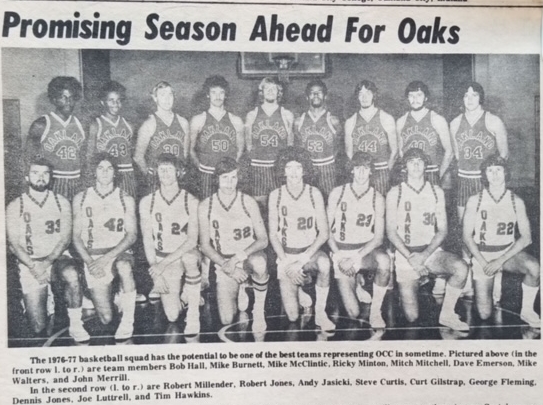 Trafton thought Curt would have to wait until the next semester to play. But after the Oaks withdrew from the N.A.I.A. and joined the Little College Athletic Association, the coach discovered he could play Curt after nine games. Meanwhile, the college newspaper, perhaps in an attempt to keep fans from expecting too much, noted the upcoming season presented "the toughest schedule in the school's history."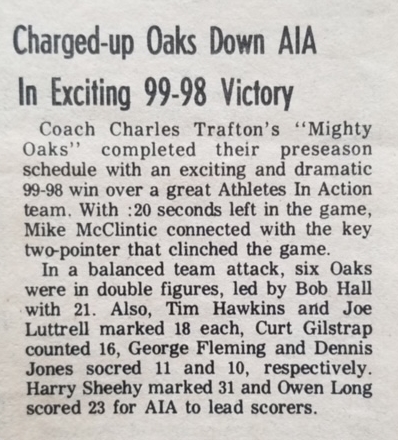 In a warmup game, the Oaks played a very strong Athletes in Action team in a pre-season contest at the Oaks' newly renovated gymnasium. In what one Oakland City College sports reporter called "an exciting and dramatic win," the Oaks came out on top with a last second shot by Mike McClintic. OCC would go on to win their next four games and stood at 6-4 when Curt Gilstrap walked onto the floor of Owensboro's Sports Center to play in his first game as a Mighty Oak against NCAA Division II powerhouse Kentucky Wesleyan.
The Panthers owned a long and storied history of Division II successes, and in their game against Oakland City they would be seeking their 700th overall victory. The Oaks, on the other hand, sought to achieve a different historical accomplishment.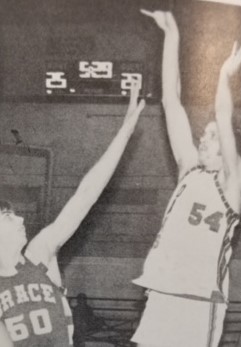 A large and enthusiastic crowd of fans was present to watch the contest, mostly Wesleyan supporters. There was certainly little or no worry among the Owensboro school crowd that the Oaks might win, Wesleyan teams having pounded the Oaks in the ten previous meetings the two teams had played over the years, including by 22 and 31 points in the last two season tilts. Interestingly, Coach Trafton, as a courtesy, called up Coach Bob Jones a day before the game to tell him he had a player, Curt Gilstrap, who had just gained eligibility and would be on the court for the Oaks.

The next day, an Owensboro sports writer, Rich Suwanski, wrote,
Telephone rings. Kentucky Wesleyan College basketball Coach Bob Jones answers. Charlie Trafton, the Oakland City College coach is on the other end. Trafton informs Jones that 6-7 Curt Gilstrap will be eligible for the Wesleyan-Oakland City game Wednesday Night. "Big deal,' Jones says to himself. End of phone call.
Turns out Coach Jones should have paid more attention to the phone call.
It was a nail-biting, see-sawing affair until the final seconds, although Oakland City had jumped on the Panthers and were ahead eleven points six minutes into the game. Just a few minutes before the half, however, momentum swung the Panthers' way. John Stock hit two free throws, tying the game. Another Panther made a free throw, and, just before the first half ended, two Wesleyan players went coast to coast for easy layups, giving the Panthers a five point edge. These two plays brought the Panther fans shouting and to their feet.
Things were gloomy in the Oaks' dressing room during the half. While Kentucky Wesleyan had eased ahead, Curt Gilstrap had sat out ten minutes of the first half with three personal fouls and had scored only eight points.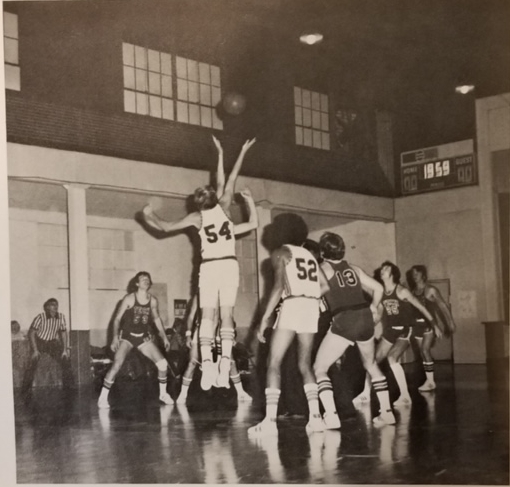 Throughout the second half, Wesleyan continued to build up a solid lead. At the 3:03 mark, James Frazier made a fast break layup, putting his team ahead 84-77, leaving the home town fans breathing sighs of relief. Then Oakland's Dave Emerson shot a 25-footer from the wing but missed. Rugged Curt Gilstrap kept fighting under the basket, rebounding and shooting three shots through the swinging arms and hands of Wesleyan players before the last one went in.
On the next play, the Oaks got the ball back on a Wesleyan error, allowing Dennis Jones to chop the score down to 84-81 with 1:53 left. After another Panther mistake, Oakland came storming down the floor, and Curt made another offense rebound basket, again muscling his way among the opposition and pulling his team to within one point.
Fans, coaches, and players for both sides were now on their feet, no one more excited than Coach Trafton.
With 40 seconds to go, Gilstrap fouled out, having made a spectacular 13 of 15 shots. The fouled Wesleyan player, however, missed the first of a one and bonus and Oakland rebounded. Steve Curtis, Curt's replacement, hit a wide open ten foot shot to win the game.

Several Oak players contributed to the win, including Bob Hall, who had 15 markers and Steve Curtis, who had 14 points, including the winning basket. But as Owensboro reporter Rich Suwanski observed,
Curt Gilstrap did more damage than Coach Jones or anyone else anticipated. He drilled 29 points and snatched 20 rebounds and helped lead Oakland City to an 85-84 victory over Wesleyan at the Sports Center. The lean but physical pivot pumped in 21 points after intermission, bombarding the basket with turn-around jumpers and rebound shots.
The reporter further suggested that the Wesleyan coach could have greatly benefited by paying more attention to Charlie Trafton's earlier phone call.
The O. C. Collegian called the game "a heart-stopping victory" and asserted "Curt almost single-handedly kept the Oaks in the game down the stretch." The Evansville Courier sports page simply noted that "Curt Gilstrap demolished Wesleyan with his all-around play."
The next game was almost as sweet, the OCC team defeating a highly touted Transylvania College team 90-79. With a starting five of forwards Dennis Jones and George Fleming, guards Bob Hall and Dave Emerson, and big Curt Gilstrap in the pivot, the Oaks played a solid game. Freshman Dave Emerson scored 21 points for the Oaks and Gilstrap had 19 points and 23 rebounds.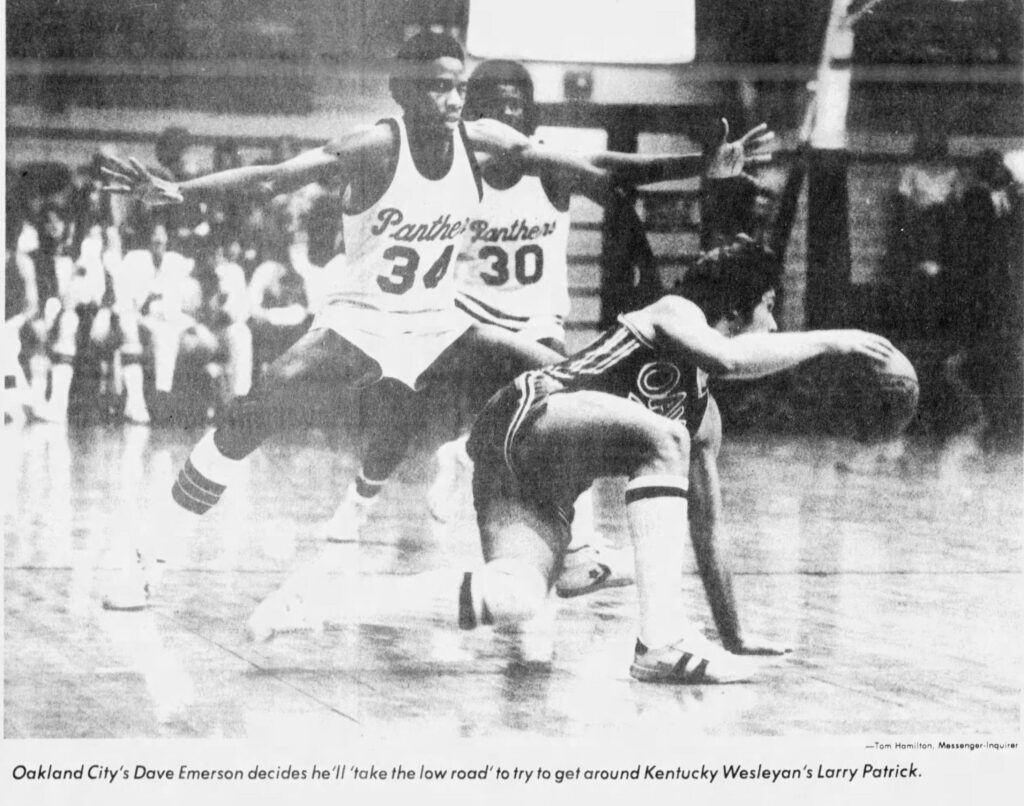 After the Transylvania victory, Don White, at the Louisville's Courier-Journal, declared that Oakland City College's basketball team was "the most improved basketball team in the Kentucky-southern Indiana area. The player making the most difference is 6-7 Curt Gilstrap, a transfer from the University of Louisville." Coach Wayne Boultinghouse at arch rival school Indiana State University Evansville told a reporter around this same time, "The addition of Curt Gilstrap really makes them a much more formidable basketball team."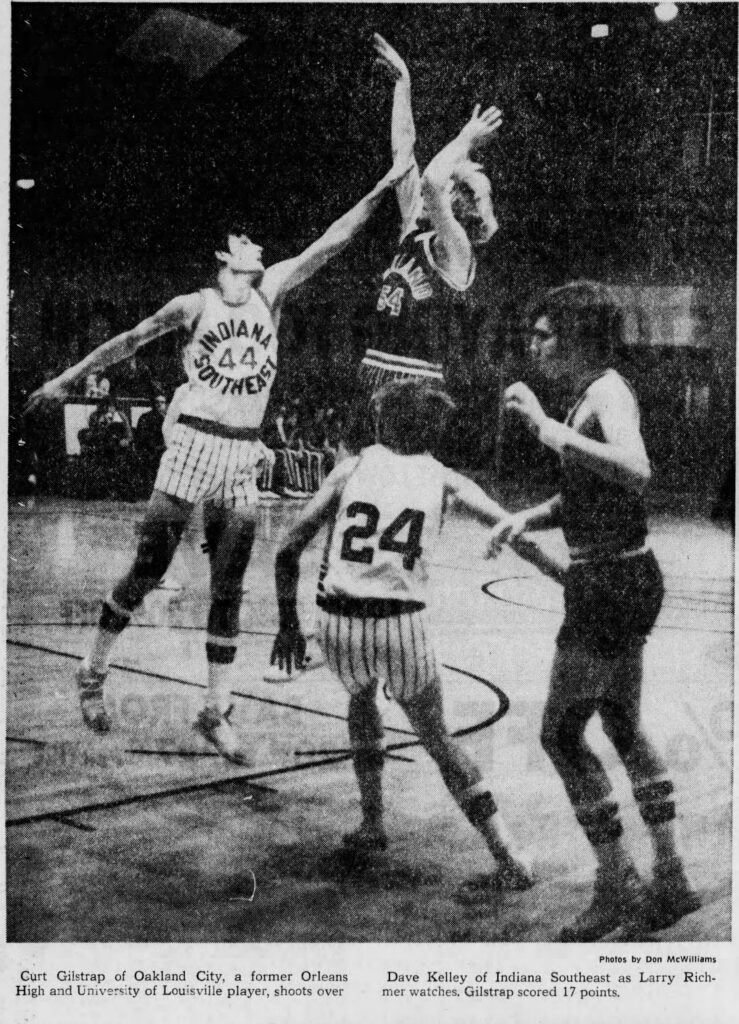 While Curt was adjusting to playing small-college basketball, and getting better each game, he was also getting used to life at Oakland City's small but homey campus. Although Curt was physical under the basket, in public, he was a gentle giant. In an "Athlete of the Month" column in the school newspaper, the writer labeled the transfer student as "cool," and pointed out that when "watching him play basketball, one has to notice that he enjoys himself very much. A step into Curt's room in Dearing Hall shows immediately a touch of class and style that explains the cool nature of Curt. Usually you will find the stereo beating out his favorite LP. He also enjoys fine food. It would be hard to find a wardrobe equal to Curt's. The most outstanding attribute Curt has, however, is personal control, whether on the court or off. Yes, he is a cool customer."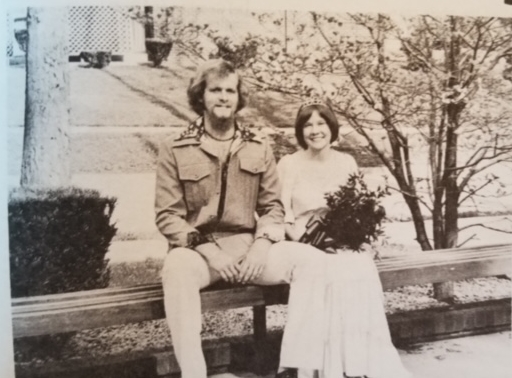 In late February, the Oaks rolled into the NLCAA district tourney with a 19-11 record, two wins away from going to the sixteen team NLCAA finals. Winning their first game gave them a 20 win season, the best in the history of the school. In that contest, Gilstrap led all scorers with 29 points while Dennis Jones and Mitch Mitchell each had 18. The Oaks came up short in the final district game, however, losing to a tough Northwood team by four points. Nevertheless, their improvement from the previous year's 3-17 record to 20-12 was all but miraculous.

That March, more great news arrived. Curt was named to the NLCAA All-American team. Gilstrap had averaged 17 points and 16 rebounds a game, but there lay more than that to his selection. No one was happier than Coach Trafton, who noted, "Gilstrap provided confidence and leadership in a quiet yet energetic way that made the rest of the team go." In accepting the award, Gilstrap, a quiet, humble person, said, "This is really an honor, but I hope to do much more for the team next year. They are the reason I have received this award."
As the school year ended, OCC basketball players and coach Trafton were in a happy mood, trying to imagine what the next season would bring.
*********************************************************************************
Oaks fans certainly had much to be excited about as the 1977-1978 year drew close. In October, the sportswriter for the O. C. Collegian, John Hartley, explained, "This year the coach's eye is on something bigger: a national championship. With the newcomers combining with the returning lettermen, prospects are good for just that." After singing the praises of Curt Gilstrap, the writer lauded returning guards Mike McClintic and Dave Emerson, two players who showed "Oakland City fans something that they hadn't seen for years: long bombs from outside, exciting passes inside, and knee- skinning drives headlong for loose balls." Also returning were key players Mitch Mitchell, John Merrill, Andy Jasicki, Rick Minton, Robert Jones, Bob Millender, and Steve Curtis. Among the new recruits were Nick Owens, Rick Van Meter, Russ Newman, and a splendid junior college transfer, Bill Dickerson.
In November, on the cusp of the first game, the optimistic OCC sportswriter discussed the pent-up excitement at the school and made a bold prediction.
It started after the pain of an upset loss to Northwood Institute in last year's NLCCA District Championship. It lasted through the recruitment months last spring. It remained through the summer. It grew and strengthened itself as practice hours grew longer and longer. And now, this evening, finally, the dreams and hopes of a dominating season will begin to unfold for Charles Trafton and his 'Might Oaks.' Not being partisan, on paper, this looks like a team that could win all 26 of its regular season games, 5 post season games and walk away with that once-in-a-lifetime goal, a national championship. Coach Trafton, the team, this writer and all those connected with the program think that this is the magical year—a National Championship year. It begins tonight and tomorrow night. We invite everyone to come over to the Gym and share in the magic. You don't know how much you can help. This article was written a week ago, and already this writer was 'pumped.' Get 'pumped up' yourself and yell tonight. Be a part of a very special year.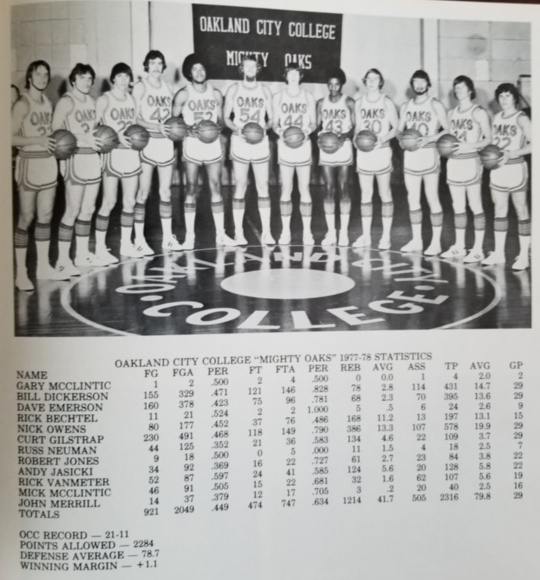 The Oaks, as expected, easily won their first two games, but the notion of an undefeated season was dashed in the third contest, a 84-73 road loss to Marian College. In the next game, two free throws in the final seconds by Dave Emerson led to a one point victory over Georgetown College. By mid-December the Oaks were a respectable 6-3, two more losses coming at the hands of bitter rival ISUE, the first defeat by a humiliating 38 points, and the second loss at the Screaming Eagles' holiday tournament by a single point.
The Oaks had a disappointing14-9 record by mid-February, the causes explained earlier in January by Evansville Courier sports reporter Don White. In a headline, Oaks rebuilding, White noted,
Most coaches do their rebuilding during the off-season. Not Oakland City College's Charlie Trafton. He's doing it in the middle of the season. Just when it looked like Trafton had put together one of the school's best ball clubs—the Oaks had won six of their first eight games—the roof caved in. Trafton's roster dropped from 15 players to ten.
White went on to explain that three of these player losses involved essential veterans. Hard-nosed guard Mike McClintic broke a finger in the ISUE holiday tourney and was out on sub-par for some time. One of the starters, Nick Owens, became academically ineligible for several games, and another player left for personal reasons. McClintic and Owens' absence was a major blow. At this time too, Trafton suspended two other reserve players.
Through all this unexpected turmoil, Coach Trafton had one constant—the steady dependable play of Curt Gilstrap. "He can carry the load, no matter how heavy," Trafton told one sports reporter.
Things did get better. Dave Emerson was still available and new recruits Bill Dickerson and Rick Van Meter began picking up some of the slack. And although the overworked Gilstrap went home for Christmas break with bronchial pneumonia, he came back from the break rested and ready to play. Meanwhile, a new team dynamic was beginning to jell.
On February 11, 1978, Charlie Trafton and his 14-9 Oaks played Indiana State University Evansville for a third time in the season, a team that had beaten Oakland City, as noted, by thirty-eight points in their first meeting and one point in the second. Both of those games were in Evansville. Now the Screaming Eagles, in the running for a Division II regional tournament spot, would be playing the Oaks at the Wood Memorial High School gym in Oakland City to better accommodate the expected large crowd.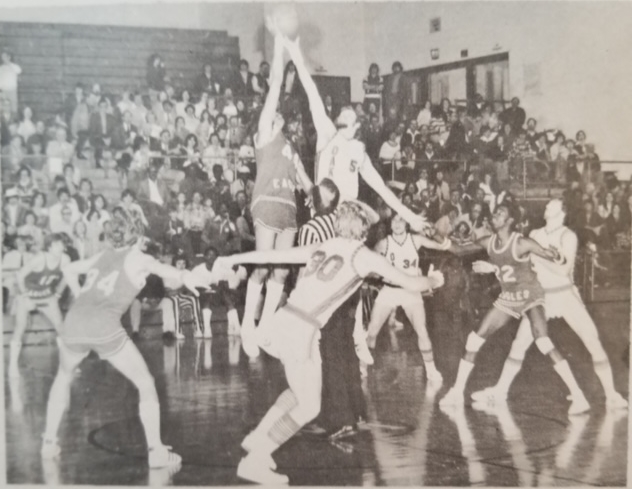 The Oaks would leave the gym with a 15-9 record, Trafton calling the 67-60 win "one of Oakland City's biggest wins ever. Bigger than last season's win over Kentucky Wesleyan." Curt Gilstrap told Evansville Courier sportswriter Pete Swanson how he had been "psyched-up for a big one in my last home game." He must have been. Curt tallied a game high16 points and grabbed as many rebounds, although he missed almost eleven minutes in the first half with three fouls. Bill Dickerson helped the Oaks cause with 15 points, while Rick Van Mater scored 12, as did Dave Emerson. But the fun wasn't over. Shortly before the NLCAA district round, Curt made a last second shot to defeat another rival, Northwood.

OCC easily won their first game of NLCAA district play, but then had to face the tough Northwood squad again, a team whom they had split with during the season. After the game, Northwood coach Jack Johnson said it was the best game he had seen Curt Gilstrap play. Curt knocked down 27 points, but it was Oakland City native Rick Van Meter's three point play late in the game that was the key to the Oaks 79-76 victory.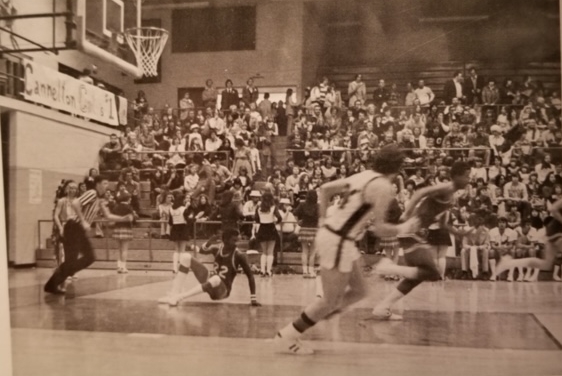 OCC advanced to the sixteen team NLCAA national finals in Norfolk, Nebraska, with a record of 18-10. They faced a tough draw, however, playing the second seed team, Daeman College of New York, in their first contest. The good news was Nick Owens had his eligibility back and would be suiting up for the Oaks.
Midway in the game, Gilstrap had already scored 16 points and the Oaks held a slight lead. In the second half, the game began to see-saw. Daeman forged ahead by four, 60-56, until Curt's and Nick Owens' play brought the Oaks back to a 62-60 lead. Trafton's troops hung on to the lead and Oakland City was leading 70-68 with thirty-five seconds remaining when it made a costly turnover. Daemen and Oakland City players came swiftly down the floor, Daeman looking for a good shot and Oakland City players playing tight defense and trying not to foul.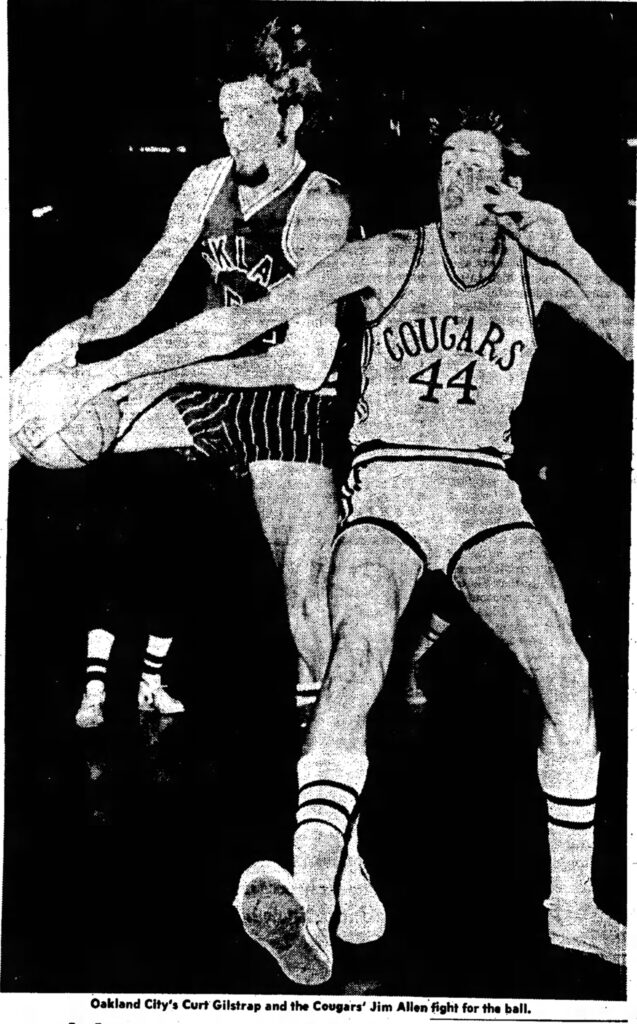 With fifteen seconds on the clock, Daeman's Ted Jenkins hit a bomb, a 25-footer, tying the score. When Oakland came back down the floor, an alert Daemen player stole the ball, hurried down court, but missed a 15-footer at the buzzer. Overtime.
Gilstrap was never more dominating than he was in the extra session, scoring10 points in the overtime and tallying 38 for the game, the Oaks winning 87-80. The post-game celebration was emotional, the Oaks having defeated the second seed team in a close contest.
The Oakland team now faced a lower seed, the Durham, North Carolina college squad, but that morning the Oaks received some bad news. Guard Dave Emerson was too sick to play. Coach Trafton told feisty Mike McClintic he would be starting in Emerson's place. The sportswriter for the college paper reported, "Mike gave the team his most productive game of the season," running the offense and scoring 14 points. Gilstrap scored 27, Owens 19, and Dickerson 18, and the Oaks won 94-86. They were two wins away from a national championship.
The semi-final game brought Oakland City face-to-face with the number one seed, 27-5 Southern Union of Alabama. After seeing Oakland City and Curt Gilstrap play two games, Southern Union's coach Frank Gourdouze told a reporter, "We're expecting a very tough game with Oakland."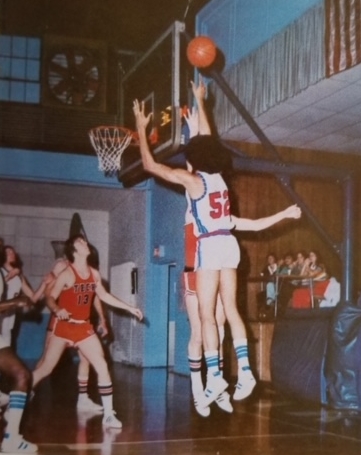 Oakland City College led much of the contest, until an incident changed the momentum. The Oaks were holding the ball, protecting a four point lead when Bill Dickerson caught an elbow that left his face cut and bloody and knocked him out of the game. Mike McClintic came in and played with his usual intensity, but the OCC sports reporter thought many of the other team players seemed "in a trance that they would not awaken from until it would be too late."
After Dickerson went out, the Southern Union Bison ran off a 14-2 scoring run that Oakland was not able to overcome. The final score was 60-56. Curt had 18 points, Mike McClintic 12, and Dave Emerson 10.
There may not be a more difficult game to play in basketball than one for a third place trophy. Charlie Trafton, however, reminded his players how far they had come and what honor they had brought to the school. He told them how wonderful it was to go from having coached the worst record in the school's history, to coaching the best. Another victory, he reminded them, would bring the school another best winning season record.
The Oaks went out of the locker room and led the game from beginning to end. Bill Dickerson iced the game with two free throws and had 20 points. Super guard Dave Emerson had 24, but, as usual, Curt Gilstrap led the team in scoring with 25 points.
In the locker room after the game, Coach Charlie Trafton broke down in tears, telling his team, "There'll never be another group like you." Curt would be named to the eight man All-American team for the second time, and Nick Owens and Curt would make the all-tournament team.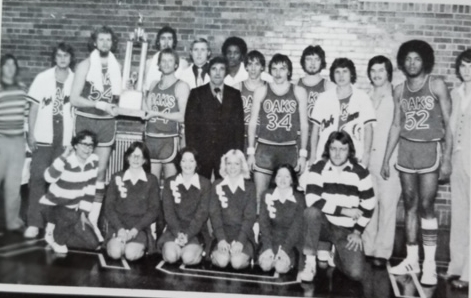 *****************************************************************************
Charlie Trafton would go on to coach at Oakland City for several more years, leading the school to a NLCAA runners-up trophy and a national championship. As for Curt Gilstrap, the heart and soul of Charlie's 1977-1978 team, he had two more nice surprises at Oakland City College before he graduated in May of 1978. He was chosen by the students as bachelor of the year during the school's annual May Day celebration and had his picture taken with the school's pretty May Day queen, Rita Cantrell.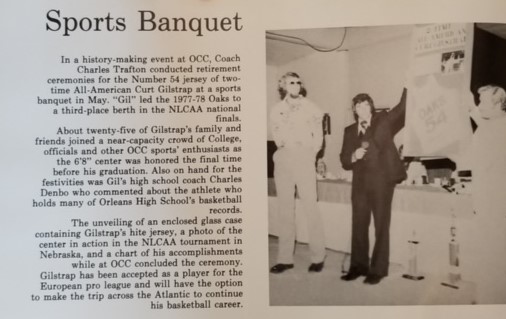 Then, in a history making event at OCC, Curt's jersey, number 54, was retired, the first in the history of the school to be so. The jersey still hangs in the Oakland City University gym, the Johnson Center, as a reminder of one of the best athletes to ever play basketball for the Oakland City College/University Mighty Oaks. Some might even say the jersey is a physical reminder of an answered prayer.
---