I've always enjoyed doing research, seeking out and discovering interesting but unexplored stories about people that reveal long hidden dramas about their lives. Interestingly, my first subject was my mother who, it seemed to me when I was younger, kept parts of her early life's story under wraps. I sensed, however, that there was something there, something unspoken, and, perhaps, traumatic. Luckily, for my ten-year-old curiosity, her old high school yearbook, her teenage diaries, and a small box bulging with letters, among other things, were stored away in a deep closet at our house. These personal items provided me "research material" that I often pondered on rainy days when my siblings and I could not go out to play.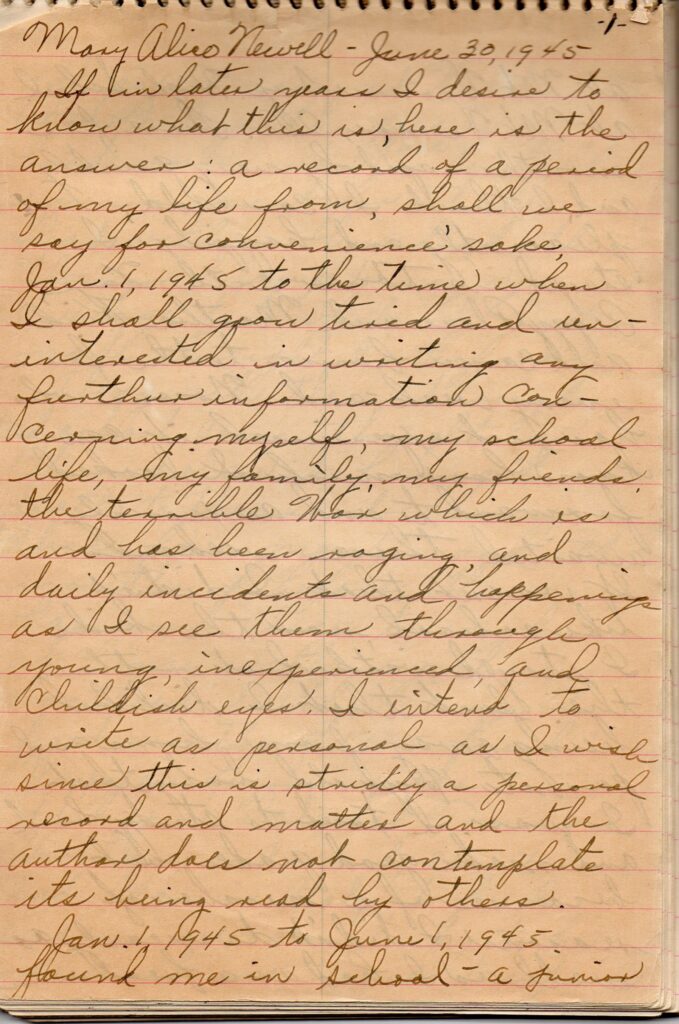 Over the years, in bits and pieces, as I approached her with questions that these resources dredged up, she told me her story. Also, as I grew older, and reread the written material, I brought new knowledge from my own life experiences into my pondering, experiences that increased my understanding about a difficult time in her life.
Recently, my sister, Karen, sent the last bunch of material of my mother's things that she had discovered while preparing to move. It is some of these items I wish to share, as they certainly underscored my mother's journey.
My mother, Mary Alice Newell, was highly intelligent, making all A grades and having perfect attendance throughout her years in grade school and high school. Still, it was a shock to her when she was called one day into the Waltonville High School's principal's office and told of the usually high score she had achieved on an IQ test sophomore students had taken a few weeks before.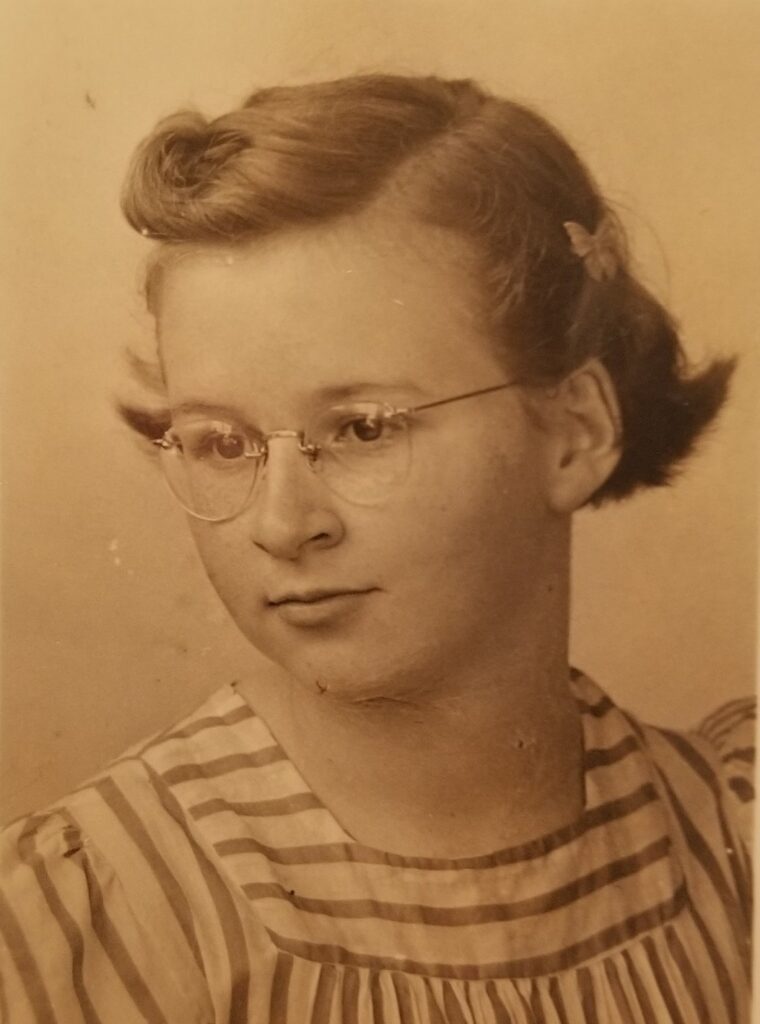 Mom's father, James Newell, had dropped out of Northwestern University as a young man, after growing homesick for Waltonville. Perhaps it was this event, one of a perceived failure, and Mom's high IQ score that made my Grandfather Newell so encourage his daughter to go to college. In fact, both of Mom's parents decided that Mom, and her sister, Faye, should transfer from tiny Waltonville High School to the largest high school in southern Illinois at Mt. Vernon.
Mom's second diary is full of narrative about her difficult junior year at Mt. Vernon and her struggle with her parents to let her come back to Waltonville to be with her friends and the teachers she loved.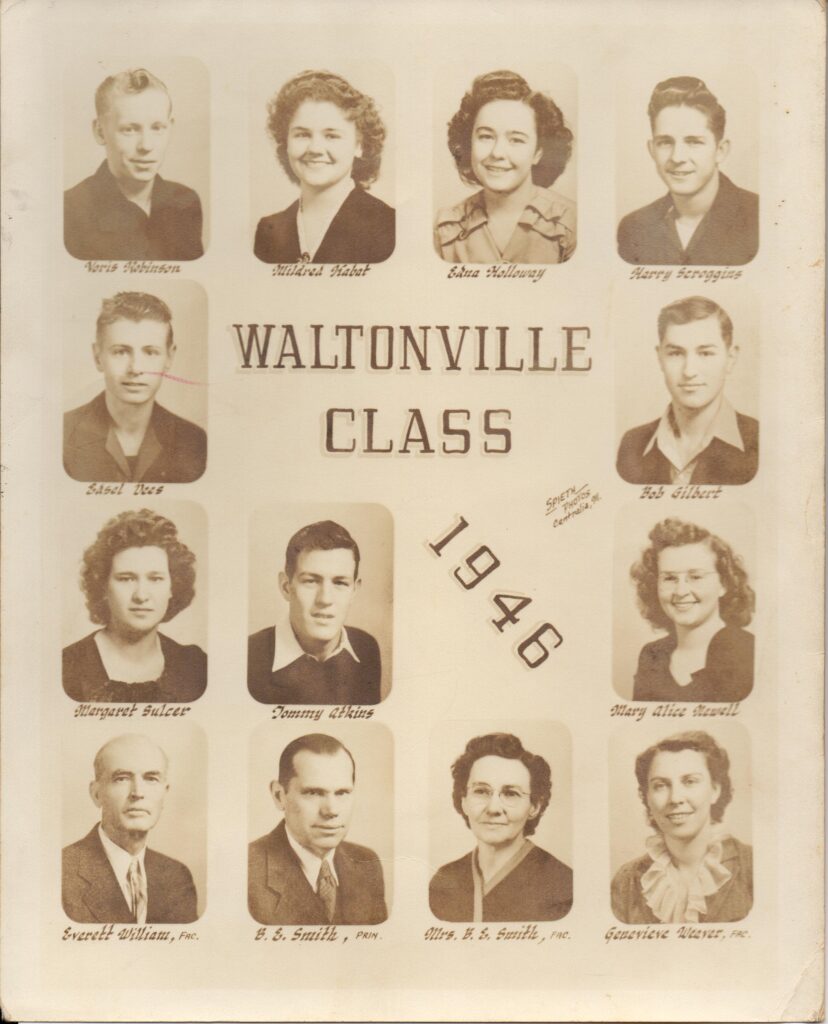 James and Vera Newell finally conceded to my mother's wishes and Mom returned to Waltonville. She graduated with perfect attendance and was the valedictorian of her class, receiving a number of award pins for her accomplishments.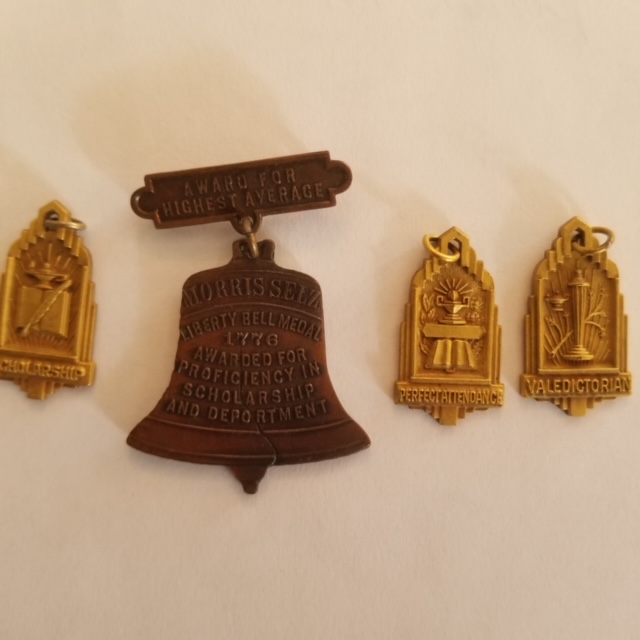 Her father was happy too when Mom announced her plans of going to Southern Illinois University and study to eventually become a doctor. That wish was made possible when Mother received an academic scholarship to attend SIU.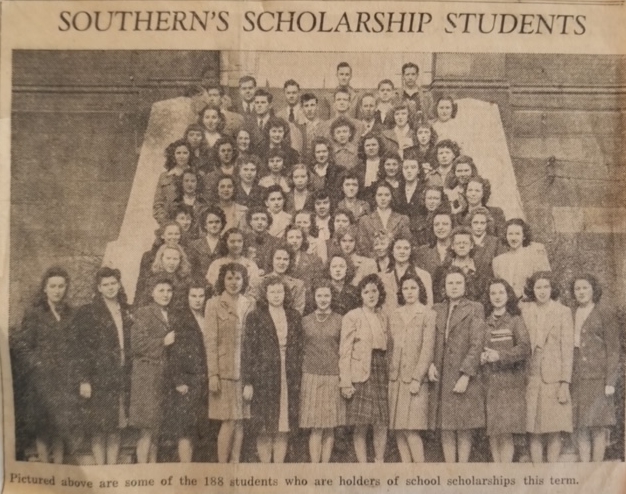 The story takes a twist here, the portion of her journey she found difficult to talk about. Her diary, however, gives a glimpse into her struggles at SIU.
Mom came to the university at the end of WWII when the school's enrollment hit an all-time high. It was crowded and rooms were hard to find. The large enrollment also meant that signing up for classes and finding one's way around the large campus verged on chaotic.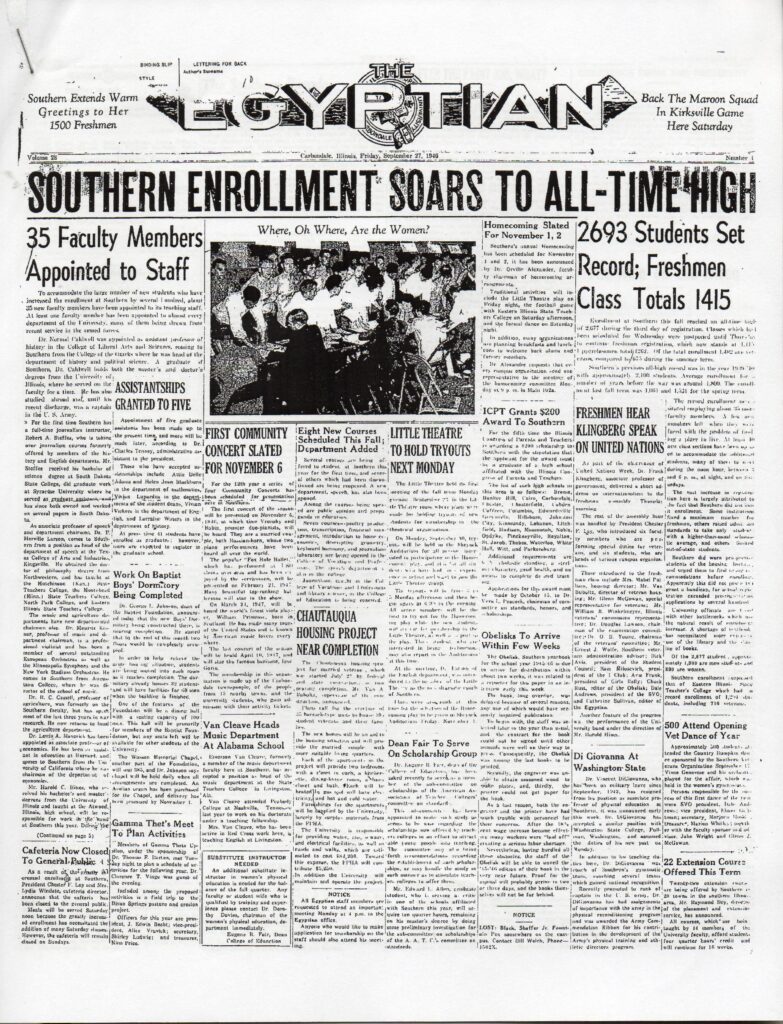 Mom might have stuck it out if her roommates, three fellow Waltonville classmates, had not all dropped out soon after school started. Mom finally found a place to stay, but was very unhappy and homesick. She stayed with and worked for a wealthy family in Carbondale, but she felt out of place in the household. One day the wife gave Mother one of her expensive but now less fashionable coats, the woman saying the coat was too worn for her and that Mom could have it. This is the coat Mom wore in the scholarship photo.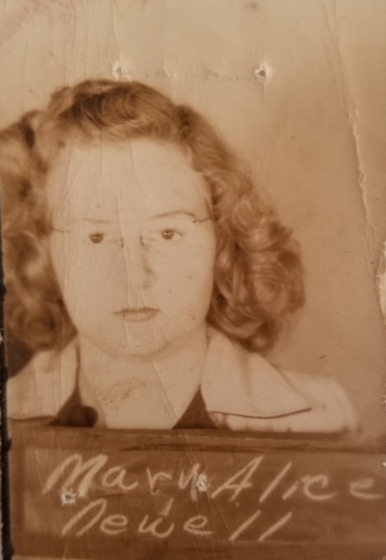 When my Mother returned to Waltonville for the Christmas break, her diary indicated she was ecstatic to be home. When it came time to go back to SIU, she told her parents she wanted to take a break and work for a while to make some money. Mom was able to get permission to step away from her scholarship but not lose it.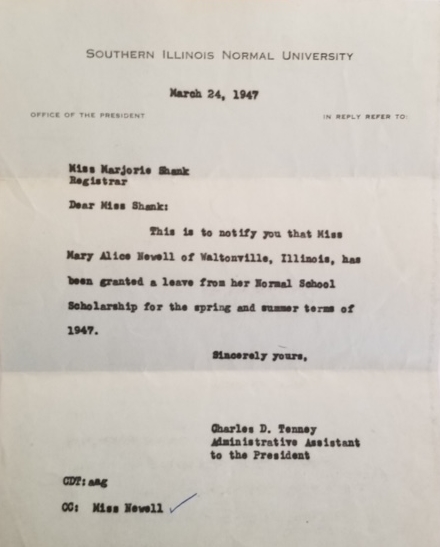 As it turned out, my mother would take a different road than she had planned. While working as a secretary for Holman Motor Company in Mt. Vernon, she met a young man shopping for a new car. Thus began my siblings and my history. Mother would have been ninety-four today.
Happy Birthday dear Mother.